The EMUI 11 update has begun to roll out for the HUAWEI MatePad Pro users, offering a new and refreshing experience. EMUI 11 adopts multiple human factor-based approaches to its interaction design. With the update, HUAWEI MatePad Pro is now more fluid as it's able to improve users' productivity with new features that will enhance creativity on-the-go.
The EMUI 11 update introduces an updated version of the Multi-screen Collaboration feature. It now goes far beyond than just simply mirroring the mobile phone screen to a tablet. Not only does it support a full-screen mirroring on the tablet for mobile apps, but also allow users to operate other apps on their phone simultaneously without interrupting the mirrored display on the tablet.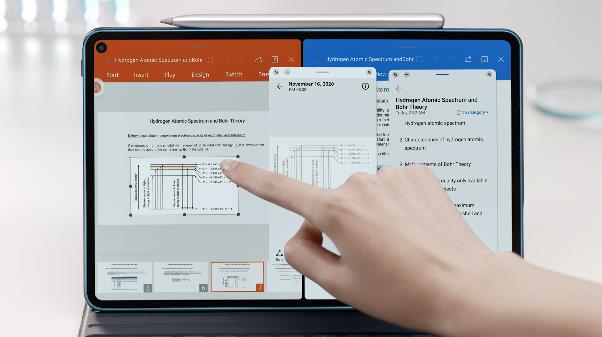 Let's imagine yourself in a brainstorming session with your team and it is your turn to share your ideas. With the Multi-screen Collaboration, you can project the document on a mobile phone to the big screen of HUAWEI MatePad Pro, facilitating a more intuitive presentation with the larger display. Meanwhile, you can quit the sharing interface on the mobile phone for replying to personal messages or browsing information elsewhere. Such independent operation also serves to secure privacy protection.
Tablets are often used in landscape mode – so the display is like that of a PC – where users can use the peripherals like keyboards to improve work efficiency and get into a focused state more easily. Therefore, the industry needs to launch corresponding optimisations for tablets, aiming specifically at their landscape orientation.
For instance, to optimise the app experience on landscape orientations and to enhance the split-screen experience for various apps. At the same time, it is also essential to consider the interconnection between various devices and the way of gathering data from different screens, so as to ensure a smooth operation across distinct devices within the same ecosystem.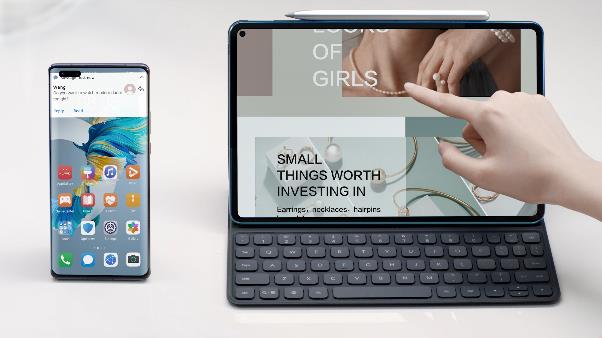 Suppose you were editing a document or compiling a table at home, you might need to constantly refer to other supporting data. That normally, you would have to switch back and forth between different files repeatedly on the tablet, resulting in a rather inconvenient experience. This is exactly the pain point which the Multi-window feature serves to tackle. With the EMUI 11 update, HUAWEI MatePad Pro can now support up to four apps at once on a single screen, together with the new App Bubble to group all the inactive apps, to realise swift navigation and multitasking experience between multiple apps.
In a nutshell, Huawei has been improving its tablet experience in landscape orientation via the continuous improvements on its Multi-screen Collaboration and Multi-window features. With the emphasis on user efficiency and experience of tablets, Huawei continues to work on enhancing the landscape system performance for this productivity tool.