DJI, the global leader in civilian drones and creative camera technology, today reimagines what a drone can be with the new Mavic 3, a bold and brilliant update of the iconic folding camera drone that once again redefines how to create magic from the sky. Mavic 3 is the most comprehensive improvement to the world's most popular drone series in three years, boosting performance in every function to create new aerial possibilities for flight, photography, and fun.
Mavic 3 is redesigned from tip to tail as worthy of the Mavic series' reputation as the world's best and most popular drones. From its 4/3 CMOS Hasselblad camera and 28x hybrid zoom camera, to its omnidirectional obstacle sensors with a maximum 200-meter range, [1] to its redesigned batteries that provide up to 46 minutes of flight time, Mavic 3 provides unprecedented flight performance and a peerless content creation experience. Its upgraded hardware and software can process 5.1K video at 50 frames per second in supple and nuanced color with heightened low-light sensitivity, and support 4K/120fps for higher-quality results for slow-motion footage. An enhanced Mavic 3 Cine edition offers Apple ProRes 422 HQ encoding for richer video processing, with an internal 1TB SSD onboard for high-speed data storage.
Imaging Above Everything With A Dual-Camera System
DJI pioneered the folding drone category in 2016 with the launch of the original Mavic Pro, which for the first time put professional-quality imaging in a body that could fit in a backpack. Two years later, Mavic 2 Pro launched DJI's collaboration with iconic Swedish camera maker Hasselblad, integrating a one-inch sensor to push the boundaries of drone imagery further. With its new dual-camera Hasselblad system, Mavic 3 once again sets the new standard for imaging excellence.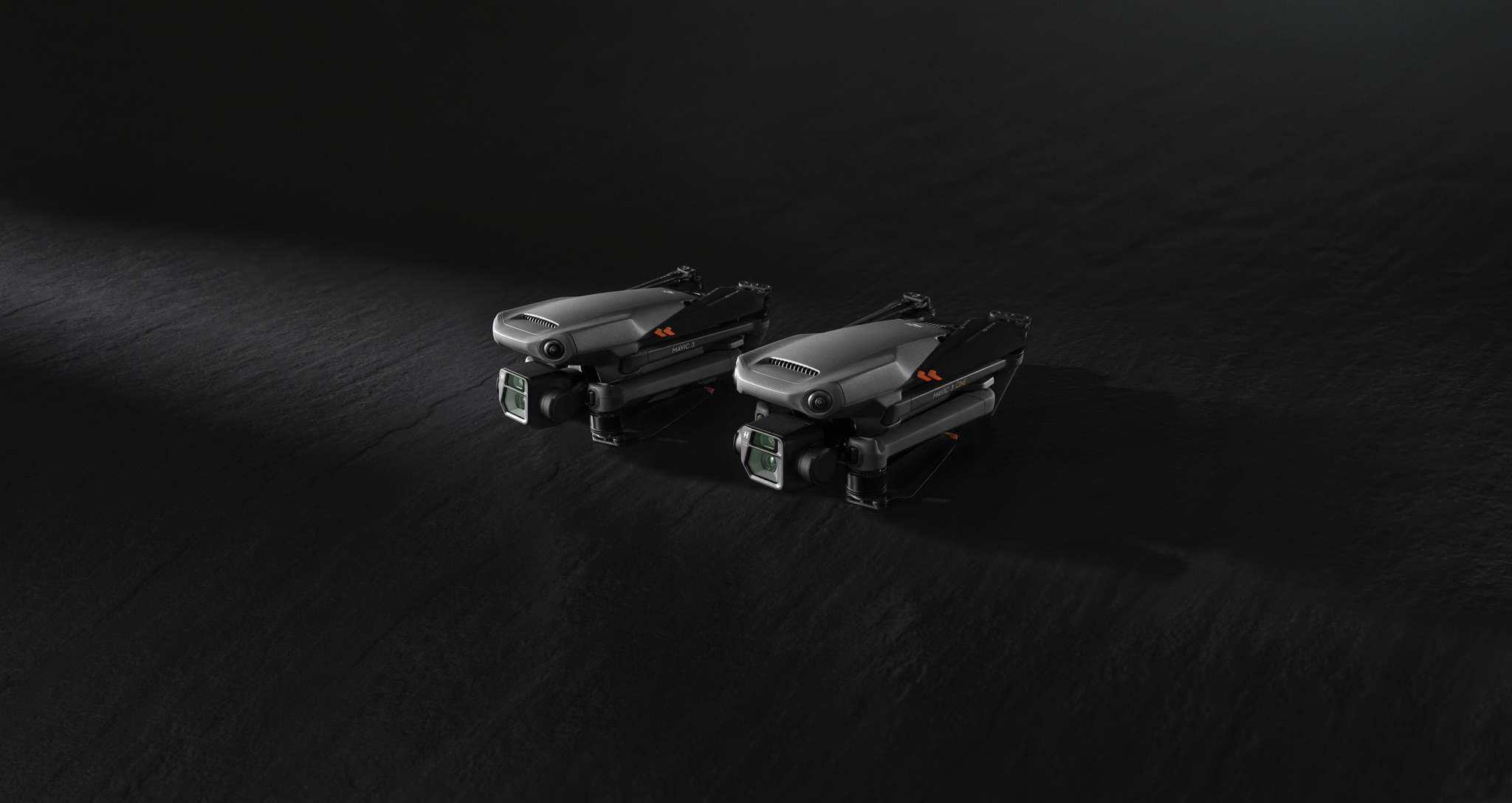 DJI Mavic 3's customized L2D-20c aerial camera embeds a professional-grade 4/3 CMOS sensor with a 24mm prime lens in a sleek and compact form. Rigorous Hasselblad standards for hardware performance and software algorithms allow it to shoot 20MP still images in 12-bit RAW format and videos in 5.1K at 50fps, 4K at 120fps.The higher video definition creates smoother footage and more generous cropping possibilities and allows for slow-motion video at 120fps.
Weighing just 12.5 grams, the 24mm equivalent autofocus prime lens has an 84° FOV to capture more details with sharp clarity. Mavic 3's second camera features a 162mm tele lens with 28x Hybrid Zoom (digital + optical) and aperture of f/4.4 that can freely bring distant objects visually closer, offering the user more dynamic perspectives and creative possibilities at a distance. The new Vision Detection Auto Focus technology for quick focusing allows the Hasselblad camera to work with multiple vision sensors on board to capture distance data to optimize focusing speed.
Mavic 3 Cine is a version with Apple ProRes 422 HQ encoding for a maximum data rate of 3772Mbps, giving professional users a powerful tool to satisfy post-production needs in their daily business.
Effortless Flights With Enhanced Flight Safety
DJI has always led the drone industry in developing innovative safety features, and Mavic 3 continues this tradition with improved obstacle sensing and navigation systems to give drone pilots the guidance they need to stay safe. APAS 5.0  combines inputs from six fish-eye vision sensors and two wide-angle sensors, which seamlessly and continuously sense obstacles in all directions and plan safe flight routes to avoid them – even in complicated environments.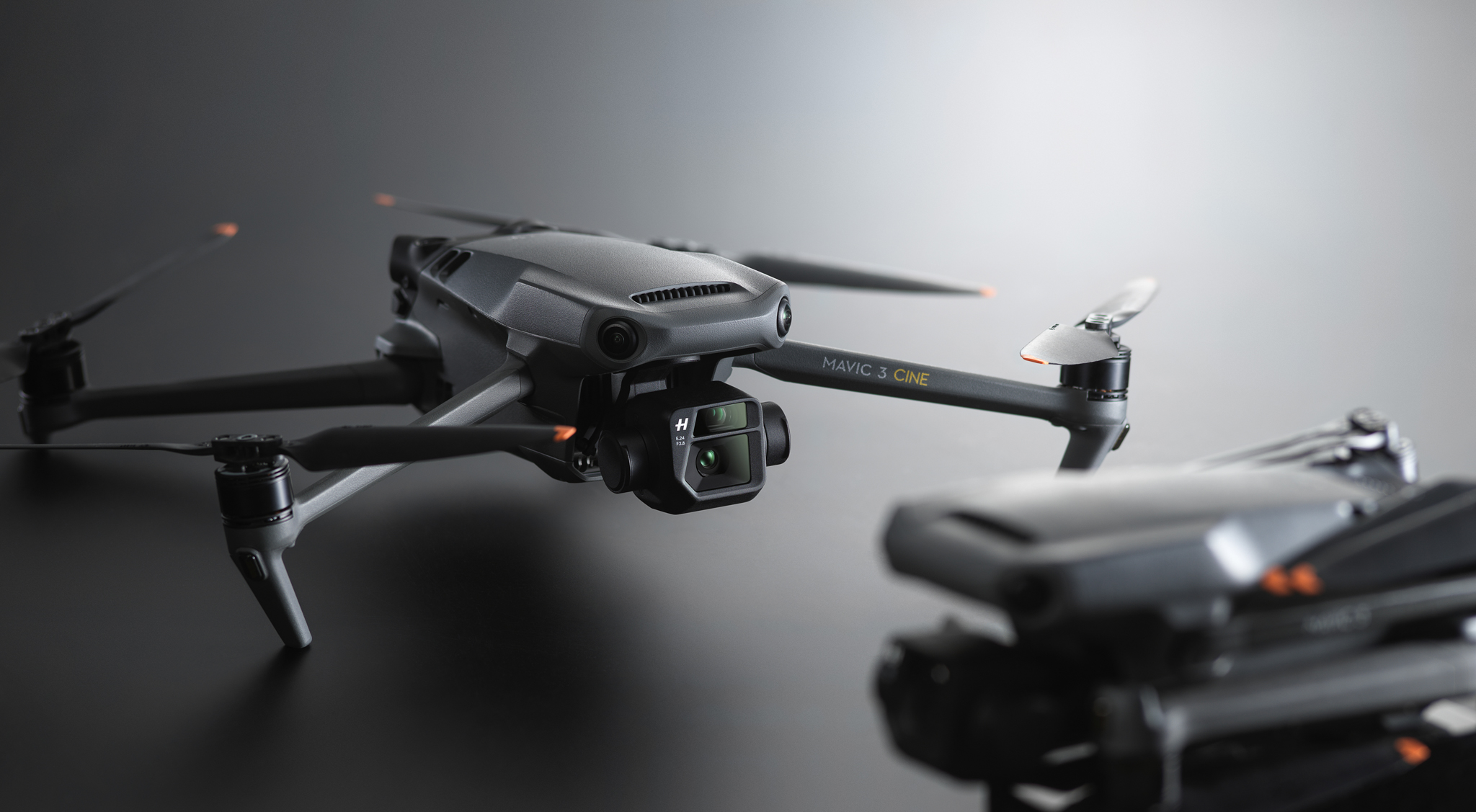 The omnidirectional obstacle sensing system also enables more intuitive subject tracking with the upgraded ActiveTrack 5.0, allowing users to sense obstacles even in Normal mode. Previous iterations of ActiveTrack enabled the camera to follow a subject as it moved directly toward and away from the drone while remaining largely stationary as well as fly alongside a moving subject.
ActiveTrack 5.0 allows Mavic 3 to move with the subject as it moves forward, backward, left, right, and diagonally, and fly alongside as well as around a moving subject. In addition, if the subject moves too fast and temporarily goes out of frame, the visual sensors on the aircraft will continue to track and frame the subject intelligently and pick it back up when it reappears. These new directions enable much more fluid and diverse drone and camera movement while using ActiveTrack.
Mavic 3 features other robust safety systems that DJI has pioneered to keep the skies safe in the drone era. These include geofencing to alert drone pilots when they fly near sensitive locations, altitude limits to ensure pilots are aware of altitude restrictions, and the AeroScope Remote ID system that allows authorities to identify and monitor airborne drones in sensitive locations.
Longer Flights With Extended Battery Life And Improved Aerodynamics
DJI set a benchmark for drone endurance in 2016 with the Phantom 4 and the original Mavic Pro, which each featured maximum flight times approaching 30 minutes. In the succeeding years, new drone models have slowly increased those times thanks to incremental improvements in flight technology. With Mavic 3, DJI has reshaped every element of the drone's flight envelope and power management to enable drastically longer flight times – up to 46 minutes in ideal conditions – giving unprecedented freedom for aerial photographers to shoot dynamic scenes.
Intelligent Modes for Unlimited Possibilities
Mavic 3 offers a new array of Intelligent modes for creating and editing compelling photos and videos by controlling the flight path and camera movements in compelling new ways. These features, such as MasterShots, Panorama mode, and QuickTransfer,  allow users to make the most out of their drone.
MasterShots lets users create high-quality content more easily and quickly. After automatic editing and dubbing in the app, videos can be created in minutes and directly shared with friends.
Panorama Mode in Mavic 3 allows pictures to be directly stitched and processed by the drone, without the DJI Fly App or any post-production, allowing users to capture breathtaking landscapes with sweeping breadth and rich detail.
QuickTransfer lets users store and process materials on their mobile devices without linking with the remote controller. Mavic 3 can now transmit materials from the drone to the mobile device more quickly through the Wi-Fi 6 protocol.
Price and Availability
DJI Mavic 3 is available for purchase today from store.dji.com and authorized retail partners in several configurations:
The Mavic 3 Standard version retails for $2199 USD and includes Mavic 3 drone × 1, Intelligent Flight Battery × 1, RC-N1 Remote Controller × 1, RC-N1 Cable × 3, Battery Charger × 1, Storage Cover × 1, Propellers (pair) × 3, and other essential items.
The DJI Mavic 3 Fly More Combo retails for $2999 USD and includes Mavic 3 drone × 1, Intelligent Flight Battery × 3, RC-N1 Remote Controller × 1, RC -N1 Cable × 3, Battery Charger × 1, Battery Charging Hub × 1, Storage Cover × 1, Propellers (pair) × 6, ND Filters Set (ND4\8\16\32), Convertible Carrying Bag × 1, and other essential items.
The DJI Mavic 3 Cine Premium Combo retails for $4999 USD , includes a built-in 1TB SSD, and supports Apple ProRes 422 HQ video recording. The Mavic 3 Cine Premium Combo also has more extensive contents, including: Mavic 3 Cine drone × 1, Intelligent Flight Battery × 3, DJI RC Pro × 1, Battery Charger × 1, Battery Charging Hub × 1, Storage Cover × 1, Propellers (pair) × 6, ND Filters Set (ND4\8\16\32), ND Filters Set (ND64\128\256\512), Convertible Carrying Bag, DJI 10Gbps Lightspeed Data Cable, and other essential items.