The EQS is the first all-electric luxury sedan from Mercedes-EQ. With it, Mercedes-EQ is redefining this vehicle segment. The EQS is also the first model to be based on the modular architecture for luxury and executive-class electric vehicles. Fusing technology, design, functionality, and connectivity, the EQS delights both drivers and passengers.
As part of its Ambition 2039 initiative, Mercedes-Benz is working on offering a carbon-neutral new car fleet within 20 years from now. By as early as 2030, the company wants more than half the cars it sells to feature electric drive systems – this includes fully electric vehicles and plug-in hybrids. In many areas, Mercedes is already thinking about tomorrow today: the new EQS is designed to be correspondingly sustainable. The vehicles are produced in a carbon-neutral manner, and resource-saving materials such as carpets made from recycled yarn are used. This is because Mercedes-Benz considers the entire value chain, from development and the supplier network to its own production. Mercedes-Benz AG has had its climate protection targets confirmed by the Science-Based Targets Initiative (SBTI).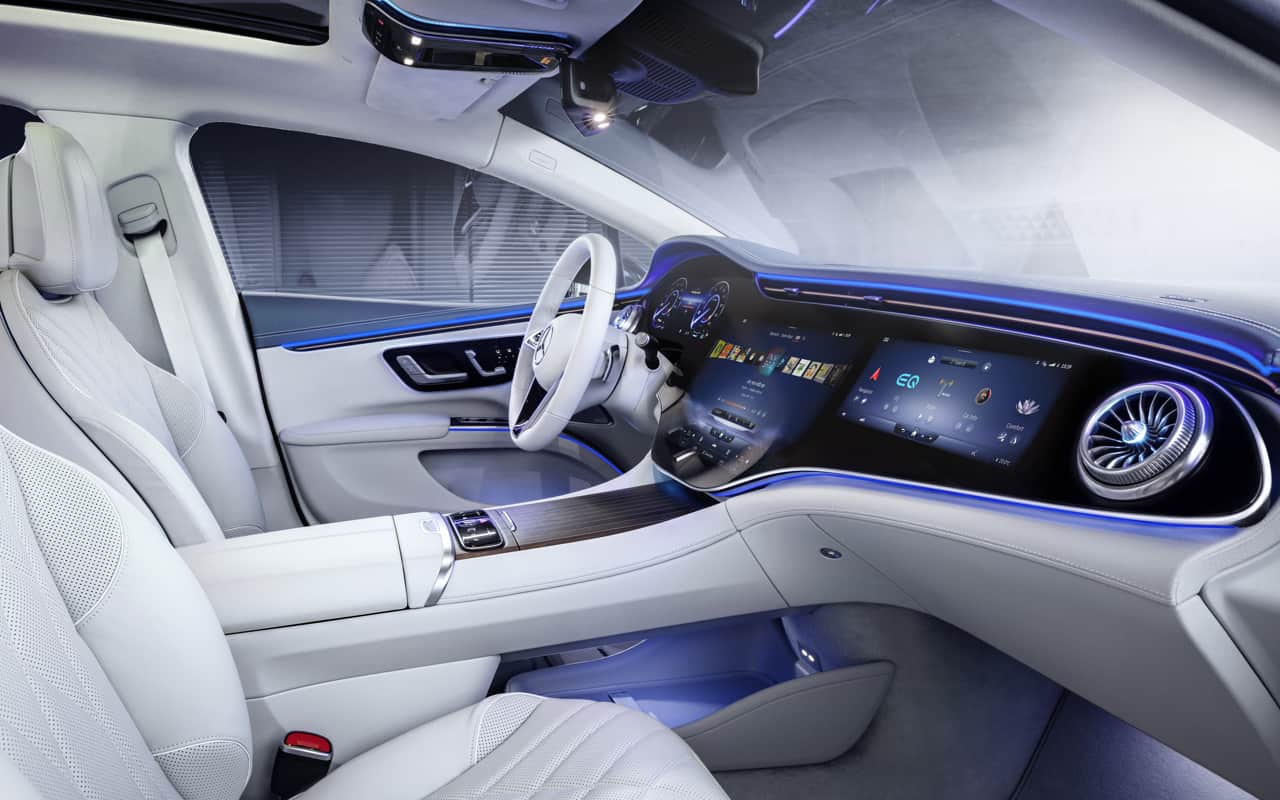 With a great deal of meticulous detail work and on the basis of the Purpose design, the aerodynamicists, in close cooperation with the designers, were able to achieve a new cd best value of 0.20. This makes the EQS the most aerodynamic production car in the world.
The EQS also currently sets a very good value for recuperation: Of the maximum deceleration in the auto recuperation program of 5 m/s², up to 3 m/s² is achieved by recuperation (2 m/s² by the wheel brakes).
Intelligent energy recovery is situation-optimized with the aid of ECO Assist and acts with foresight, taking into account traffic conditions or topography, among other things. The driver also can set three energy recovery levels and the coast function via paddle shifters on the steering wheel.
With ranges, up to 770 kilometers (WLTP) and an output of up to 385 kW the powertrain of the EQS also meets every expectation of a progressive sedan in the S-Class segment. A performance version with up to 560 kW is being planned. All EQS models have an electric powertrain (eATS) at the rear axle, while the versions with 4MATIC also have an eATS at the front axle.