In today's tech-savvy world, it's likely that your home is brimming with gadgets that hunger for wireless power. From smartphones to smartwatches, and even wireless earbuds, the demand for a convenient charging solution has never been greater. While the idea of a single-device charging pad or stand may have served you well in the past, it's clear that it's time to upgrade to something more versatile.
But here's the catch: the market for multi-device wireless chargers can be a bewildering maze of options. Not only do you need to navigate through varying levels of device support, but you also have to factor in the aesthetic compatibility – because let's face it, that sleek charger won't do much good if it doesn't fit on your nightstand.
Fear not, though, because we've got you covered. In this comprehensive guide, we'll demystify the world of multi-device wireless charging stations. We'll break down what you need to know to make an informed decision and help you uncover the hidden gems in this crowded market.
So, if you're tired of the clutter of cables and the chaos of charging, join us on this journey as we explore the best options for multi-device wireless charging. By the end, you'll be armed with the knowledge to choose the perfect charging station to meet your needs, and we'll even recommend a few top models that deserve a spot on your shortlist. Let's dive in and transform the way you power up your devices.
Number 1. Belkin MagSafe 3-in-1 Wireless Charging Pad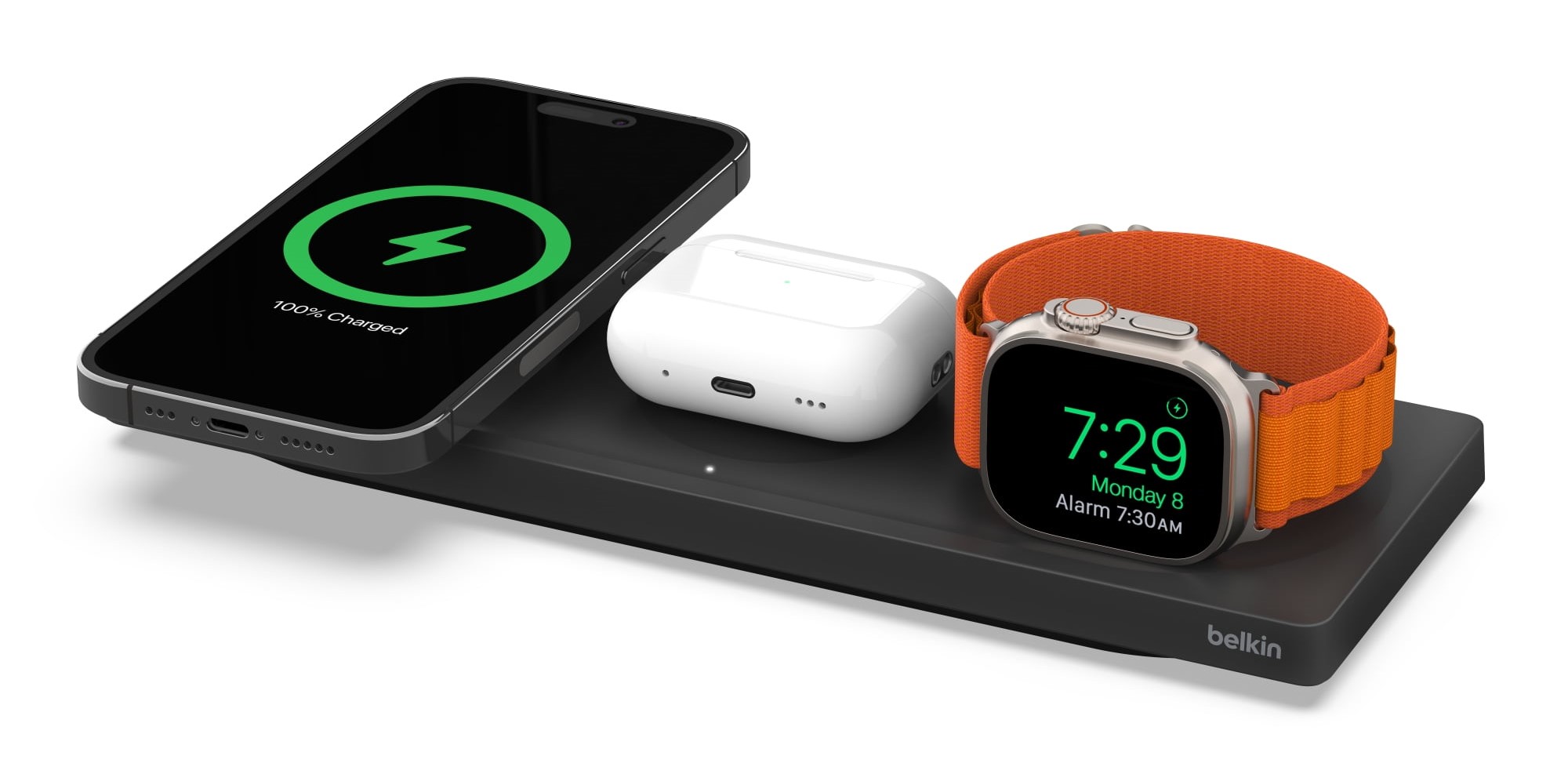 When it comes to catering to the needs of Apple enthusiasts, Belkin's top-tier offering in the wireless charging domain is nothing short of exceptional. The BoostCharge Pro 3-in-1 pad represents the pinnacle of wireless charging sophistication, providing a trifecta of functionality that will leave any Apple aficionado in awe.
At its core, this premium wireless charger boasts 15W MagSafe charging capabilities, ensuring rapid and secure power delivery to your cherished iPhone. Beyond this, it serves as a swift-charging hub for your Apple Watch, elevating the convenience factor to new heights. Moreover, there's a dedicated compartment perfectly tailored for your AirPods Pro or any other earbuds equipped with Qi-compatible cases.
Crafted with meticulous attention to detail, the charger's base exhibits a substantial weightiness, rendering it stable and steadfast on your chosen surface. Its outer surface is coated with a tactile rubberized plastic finish, which not only exudes a premium feel but also enhances grip and durability. Notably, a discreet status indicator discreetly illuminates to keep you informed about the charging status of your earbuds.
Now, let's talk versatility. Despite its prominent MagSafe technology integration, the charger's horizontally oriented layout makes it compatible with a broader range of devices than you might anticipate. While non-Apple devices may experience slightly reduced charging speeds, the inclusivity is commendable.
Speaking of commendable features, the Apple Watch charging component of the BoostCharge Pro 3-in-1 pad deserves special mention. This ingenious charger accommodates your watch in both horizontal and vertical orientations, accommodating different watch sizes and even those protected by third-party cases, thanks to an adjustable knob – an innovation that sets it apart.