HP has announced the HP ENVY Rove20 mobile All-in-One PC, the company's first mobile All-in-One PC, which frees the desktop PC from the desk and allows families and friends to enjoy a shared entertainment experience with a built-in battery, unique design and advanced touch technology.
HP also announced new consumer notebooks, all-in-one PCs and printers that give people more flexibility in how they access and share information. With affordable touch technology and new form factors, HP's new additions provide seamless integration of technology into customers' busy lives.
The desktop that leaves the desk behinds
The HP ENVY Rove20 can easily move from upright to completely horizontal for a tabletop entertainment experience. Using advanced multiple-touch technology, numerous users can interact with games and more at the same time. Multiplayer games such as Electronic Arts' Monopoly™, Fingertapps™ JigsWar Puzzle, Fingertapps Musical Instruments, and nsquared makewords are an ease to play when the PC is laid flat.
In addition to sharing games, families and friends can enjoy multimedia content on the  50.8cm (20-inch) 1,600 x 900 IPS LED panel that enables wide viewing angles, rich colors and sharp graphics, while built-in Beats Audio™ offers crisp, clear sound. Powered by 4th generation Intel® Core™ processors, Intel HD graphics and 10-point touch, the HP ENVY Rove20 packs power for productivity tasks and an immersive entertainment experience with the ease of touch interaction.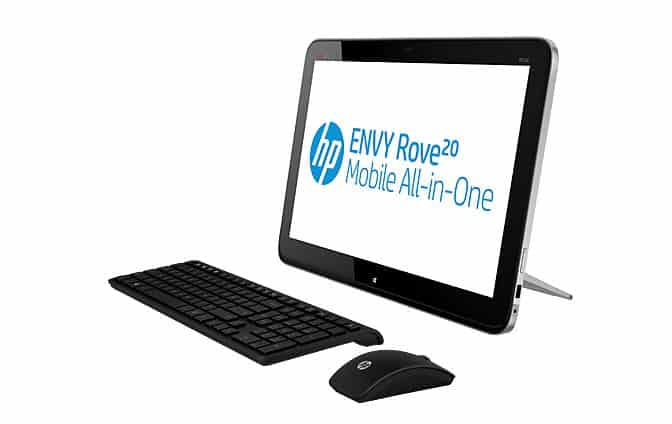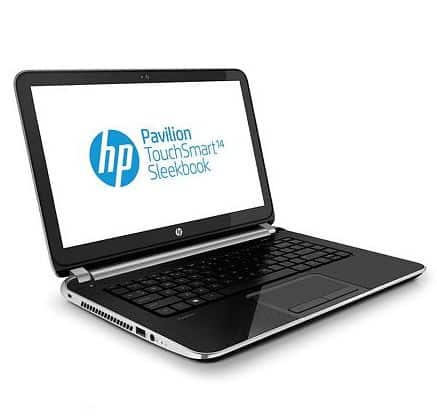 Additional information about the HP ENVY Rove20 is available on The Next Bench.
Affordable touch for every task
HP offers an intuitive Windows 8 touch experience at great value with new all-in-one PCs and powerful consumer notebooks that feature multitouch display technology. With products that offer great value at a range of price points, touch has never been more accessible. Users will benefit from new design elements that enhance durability, usability and performance.
The new

HP Pavilion 23 TouchSmart All-in-One PC

offers a great user experience for the value-conscious consumer. The HP Pavilion 23 TouchSmart features a 58.42cm (23-inch) diagonal full HD(1) display and an IPS panel with wide viewing angles for a stunning view of websites, videos and movies.

The

HP Pavilion 14 TouchSmart Sleekbook

is the best-value touch-optimised HP Sleekbook, ideal for work or entertainment. Movies and gaming come alive powered by AMD A-series processors.
HP also introduced additional TouchSmart PCs and a selection of stylish, reliable notebook PCs that offer performance for everyday computing, at a reasonable price.
Enhanced solutions for an intuitive experience
HP complements its new PCs and printers with a suite of exclusive solutions and services that enhance the Windows 8 experience and help users create, organise and print the content that matters.
HP PLAY streaming music service allows consumers to create personalised playlists and enjoy unlimited online streaming and downloads at no cost from Universal Music. World class catalogue. HP PLAY offers users the chance to build up their own music collection, use the cloud service to upload their personal music and manage their own personalised music library. HP PLAY guides the user on what to listen to (Top & New Released album/track/playlist sections) and entertains you with its dedicated radio stations and web TV station.
With HP Printables, your printer is the daily stop for a wide selection of kids' activities, news, puzzles (Sudoku, crosswords and more), business tips, recipes, weekend planners, and more. Choose and print pages that are delivered directly to your printer for free, exclusively from HP.
Customers can receive greater phone and online support, beyond the standard product limited warranty, for these and other new products with the HP Care Pack.  HP's Care Pack offers an easy-to-access suite of services including Accidental Damage Protection to help consumers breathe easier when theft or accidental drops, spills, and surges occur.
Pricing and availability
The HP ENVY Rove20 will be available in the Middle East at the end of July, with a starting price of AED 4,299.
The HP Pavilion 23 TouchSmart All-in-One PC will be available in the Middle East on July 15, with a starting price of AED 3,699.
The HP Pavilion 14 TouchSmart Sleekbook is available today in the Middle East with a starting price of AED 1,999.