When it comes to selling more products, one of the most important practices for any product company, is a branding strategy. Nowadays, it's not enough to just have the best products on the market. Customers are looking for that whole brand experience. Apple has been getting their branding strategy spot on for years, and one of the elements that have been very understated, but heavily impactful, is the Apple stickers that are bundled with each product.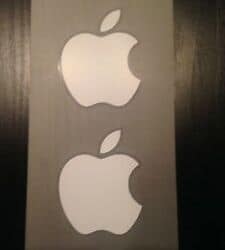 Now, Apple's whole branding experience for their customers starts with its stores. Every Apple store is constructed around a fixed list of guidelines, and with Apple acquiring some real marquee locations around the world for their stores, its clear that they are going for the art gallery vibe, where customers can come, take their time with the products, get a hands-on, get advice from in-store Apple executives, and once satisfied, they can purchase the product they want.
The product itself comes in very attractive packaging. The box has been designed in such a way that the lid comes off in around 15-30 seconds to build up that inherent suspense in the customer.
Once the lid is off, we see a neatly laid out mini folder with all the instruction manuals and a few Apple-branded stickers. These stickers are a way for you, the customer, to show off your new purchase and loyalty towards the brand.
The most common place for customers to stick these Apple-branded stickers is on their cars. But, whenever you decide to put these stickers, Apple achieves two objectives. They instill a sense of loyalty towards the brand in your mind, and they also get free advertising. So people, who see the stickers on your car, computer, or even water bottles, can get curious about the brand, and Apple gets free press. It is sometimes very surprising to see people actually buy Apple products just to get the stickers.
All in all, the reason Apple gives your those stickers with each product you purchase, is just a very smart marketing gimmick, and if nothing else, they should be applauded for it.