When the mode of communication transitioned from SMS to an online chat messenger, the biggest player that came to the party was WhatsApp.
Whatsapp Messenger is the most popular instant messaging app in the market today. Now a part of the Facebook ecosystem, Whatsapp offers multiple functionalities to users including the ability to create and talk in groups, host video calls, send media and enjoy end-to-end conversations across the platform.
Whatsapp started off as a simple free-to-use 'Instant Messaging' app, which soon rose to popularity and eventually ended up replacing the standard messaging app on our phones. Recently, Whatsapp also rolled our business-centric features, including a Whatsapp for business app, making the product a versatile and must-have app on all smartphones. Today, Whatsapp is the most downloaded messenger and is available as a free download on iOS, Android, and even PCs.
When it comes to messaging apps, now of the elements that are visible on most of the chat boxes are checkmarks. Whatsapp chats also feature ticks on each chat window of the messages that you send and these tick marks serve as indicators to you and help you understand what is the status of receipt of the messages.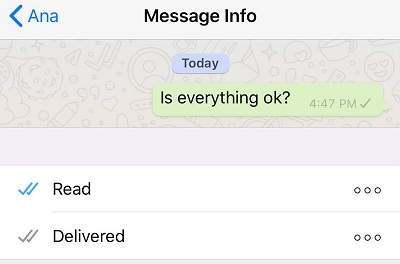 If you are someone who is new to Whatsapp, you may be wondering what these tick marks mean, when you send a message to someone on Whatsapp. In this tutorial, we will show you exactly what the tick marks mean.
Single Tick – When you send a message to someone on Whatsapp, the first thing you will see is a single tick on the chat window. This means that the message has been sent from your end successfully. If you are facing internet connectivity issues, you will not receive a single tick on the chat window till the connectivity is restored on your device and the message is delivered successfully.
Double Tick – If the single tick changes to a double tick, this means that the message has been received by the recipient. Now, if the recipient is facing connectivity issues, then there are chances that the double tick transformation will not take place until they actually receive the message. This helps in clearing up unnecessary misunderstandings.
Blue Tick – The double ticks turn blue, this means that your message has been opened and read by the recipient. It's as simple as that.
If you are someone who doesn't like the whole blue tick concept, you can even turn it off from the settings and the message sender will only see the usual double ticks in the message window.
Download Whatsapp
If you do not have Whatsapp on your device, you can download it from the links below.
Whatsapp for Android – Click Here
Whatsapp for iOS – Click Here
Whatsapp for PC – Click Here