Under the technology umbrella of ConnectedDrive, BMW has developed a comprehensive range of technology services and apps that connect BMW drivers to the outside world. It makes tasks easier, quicker and safer to perform – making their driving experience safer and more convenient.
BMW ConnectedDrive services fall under two pillars: Services & Apps and Drive Assistance – under which are a growing range of technologies.
BMW ConnectedDrive Services & Apps
The below innovative features fall under the Services & Apps element of ConnectedDrive and are all exclusive to customers at AGMC, the official BMW Group importer in Dubai, Sharjah and the Northern Emirates.
TeleServices: Via the BMW Teleservice Call, your BMW knows exactly when your next servicing appointment is due, and informs you about any maintenance requirements. Your BMW Service Centre will then call you to arrange an appointment, wherever you are, with professional remote diagnosis as well as quick problem resolution via remote electronic error correction Similarly, the BMW Teleservice Update ensures your mobile devices and media players are automatically updated and continue to work optimally with your vehicle, providing the latest driver units and software for download.  This innovative function provides comfort in the fact that you are always up to date.
Finally, BMW Teleservice Battery Guard monitors the energy level of your BMW.
The BMW ConnectedDrive service that prevents battery failure: if the state of charge of the battery drops below a certain level, the BMW Teleservice Battery Guard will inform you or your preferred BMW Service Partner directly or the next time you start the engine.
Intelligent Emergency Call: Auto-activated in the event of an accident, crash sensors via the passenger restrain system automatically alert the Dubai Police. The sensor, which can also be activated by pushing the SOS button, tells police the vehicle's position and data, such as airbags deployed and passenger occupancy. This not only ensures speedy action, but also that the rescue services know the type of accident and are prepared when they arrive on the scene.
Exclusive to AGMC, this safety feature provides AGMC customers 24-hour access to the Dubai Police Emergency Control Centre – the only market in the Middle East to have a direct link to the local police force in the case of an accident.
Real Time Traffic Information (RTTI): Real Time Traffic Information (RTTI) keeps you updated on the traffic situation as it develops and to the nearest 100m. The system also calculates what delays are to be expected and recommends detours. This keeps you precisely informed of the traffic situation on the planned route and potential alternative routes at all times. As a result you can react to tailbacks and road closures in good time and avoid them.
BMW Online: An online-based and Google-supported mobility service, which provides fast and convenient news updates to the driver while driving, offering:
Easy email correspondence – BMW ConnectedDrive brings your office into your BMW. Make yourself comfortable and set up your office right inside your vehicle. With BMW ConnectedDrive you can receive, read and reply to e-mail. Dictate and send notes or messages and synchronise your data with the vehicle.
Easy information access – to weather, route, directions, nearest gas stations, flight schedules, news and more…your BMW also knows what you are interested in and reads you the latest news during the journey via the audio system.
BMW ConnectedDrive Services: With the ConnectedDrive Services special equipment option, you are able to use many smartphone applications in your vehicle via the operating concept of your BMW. This way you can experience new features every day: embark on a voyage of discovery, obtain tips on your journey, and take your office into your vehicle with you. 

BMW ConnectedDrive Drive Assistance Features
Parking Assistant: The Park Assistant makes everything easy – even the search for a suitable parking space: Up to a speed of 35 km/h and a maximum distance of 1.5 m to the row of parked cars at the side, the ultrasonic sensors of your BMW measure potential parking spots, which the system then displays to you. Simply select a spot and keep pressing the Park Assistant switch – your BMW then selects the gear on its own, guides the steering and automatically accelerates or brakes. During the search for a spot and the parking manoeuvre, all relevant information is shown on the Control Display.
Rear View Camera: With the Rear View Camera you have everything conveniently in sight at the back too. A wide-angle lens depicts every obstacle in fine detail on the Control Display in colour and from the optimum perspective. Interactive lane lines indicate whether the parking space is large enough for the vehicle and make the actual parking operation easier. There's also an extended zoom function for if you are manoeuvring with a trailer.
Surround View:  Providing considerably improved vision, particularly when driving in and out of difficult entrances or parking in tight spaces. That is made possible by a combination of cameras in the exterior mirrors and a Rear View camera. In addition, two digital cameras on the left and right at the front of the vehicle capture the situation at the side and transmit it onto the Control Display. This allows you to see crossing traffic approaching in good time and to react accordingly.
Park Distance Control: Parking and maneuvering in confined spaces are made easy for you. Park Distance Control (PDC) at the front and rear uses ultrasound to measure the distance to any obstacles that may be present, warns you acoustically and shows how far any obstacles are away in the Control Display. The system switches on below a distance of 80 cm when the vehicle is moving and below 30 cm when stationary.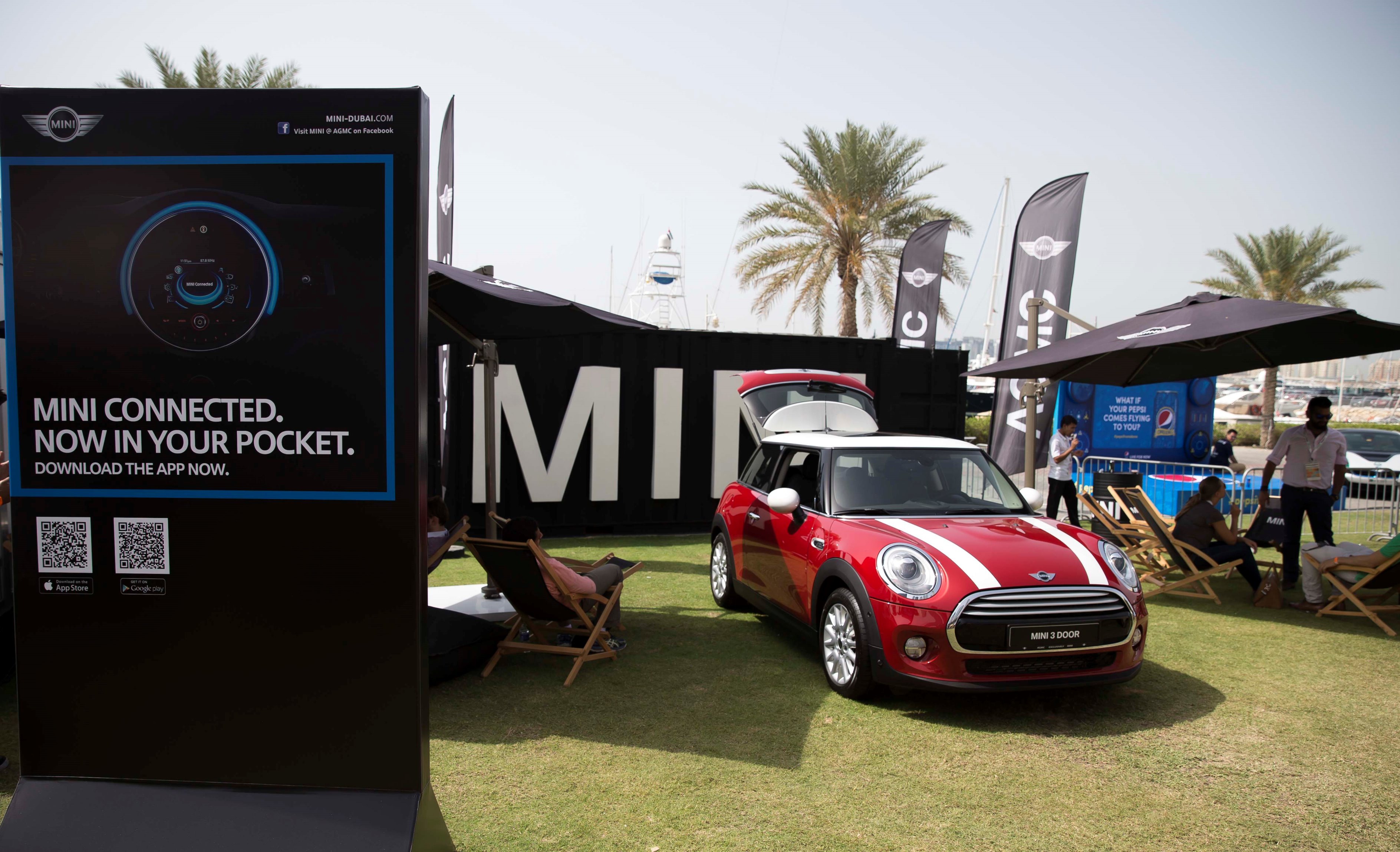 Active Cruise Control: Keeps a safe distance, so you can relax. Active Cruise Control with Stop & Go including radar-based approach control warning with Brake Activation provides you with effective support at all times. Radar sensors permanently scan the carriageway, adapting your speed and maintaining your distance from the vehicle ahead. When the road is clear again, the system accelerates automatically. And, thanks to approach control warning, you can enjoy a safe drive in any situation – even when Cruise Control is not currently activated. If the vehicle brakes sharply, it first warns you with an optical and then an acoustic signal. If you do not respond by braking, your BMW will react and brakes for you.
Active Protection: Reacts precisely to every hazard: In a critical situation, Active Protection initiates measures to protect you such as tightening the seat belts, placing the seats upright and closing the windows and sunroof. After an accident, automatic braking can bring the vehicle to a standstill, thus preventing or reducing the likelihood of follow-on collisions. In addition, the Attentiveness assistant recommends breaks whenever there are any symptoms of fatigue to prevent hazards arising.
Lane Departure Warning: Stay on course. The Lane Departure Warning including camera-based Collision Warning registers lane markings at a distance of 50 metres and beyond a speed of roughly 70 km/h. As soon as you drive over the lane markings at the left and right without activating your indicators, the camera-based system warns you by gently vibrating the steering wheel. Camera-based Collision Warning detects vehicles ahead and warns you if the gap ahead becomes too short or if there is a looming risk of collision.
Lane Change Warning: Your BMW looks out for you. When another vehicle is approaching at high speed from behind or is in your blind spot, the Lane Change Warning helps to appraise the situation correctly. If there is already a vehicle in the neighbouring lane, radar sensors warn you by means of a symbol in the exterior mirror. If you then operate the indicator, the steering wheel vibrates and the symbol flashes up.
BMW Head-Up Display: While you concentrate on the road, the full-colour BMW Head-Up Display projects all the data relevant to your journey directly into your line of sight: this includes information such as current speed, collision warnings, Speed Limit Info or control messages. Without having to constantly switch your gaze from road to instrument panel, you travel in greater safety and comfort.
Night Vision: A revolution in safe driving at night: BMW Night Vision with Dynamic Light Spot makes people and larger animals in the dark recognisable in thermal imaging – even at a significant distance – and illuminates them selectively. As a result, you get a particularly clear view of everything that you shouldn't miss at night. Should a critical situation arise, a warning is shown in the display and in the BMW Head-Up Display. In the event of acute danger, a blinking red symbol (animal or person) is displayed. An acoustic warning is also heard and the brakes are primed for optimum responsiveness.
High-Beam Assistant: More light means more safety. The High-Beam Assistant automatically takes care of raising and dipping the beam when you're driving your BMW at night. The camera installed close to the interior mirror monitors the traffic situation and reacts immediately to any light sources at distances of up to 1,000 metres away. Depending on the visibility, the system decides when the headlights should be switched to high beam.
Side View: See what's coming sooner. With Side View you can "peek around the corner" at blind junctions or exits while your line of sight is still actually obstructed. Two cameras built into the front wheel arches enable you to observe crossing traffic. You can see the video image in the Control Display and thus keep an eye on everything.