E Ink tablets forego the dazzling LCD panels and lightning-fast CPUs of Apple, Microsoft, Samsung, Google, and Amazon in favour of E Ink technology's crisp and energy-efficient grey scale. While most E Ink tablets have a basic web browser, these gadgets aren't designed to surf the web or offer social media updates. They're designed to provide the most paper-like reading and writing experience imaginable.
While you won't be able to watch your favorite program or the newest TikTok video on these tablets, you will be able to use them in class without bothering the professor or your classmates. While the Kindle devices are by far, the top players in the E-Ink market, there are a few options from other brands as well, and in this article, we are going to look at some of the best E-Ink tablets you can buy in the market.
.
ReMarkable 2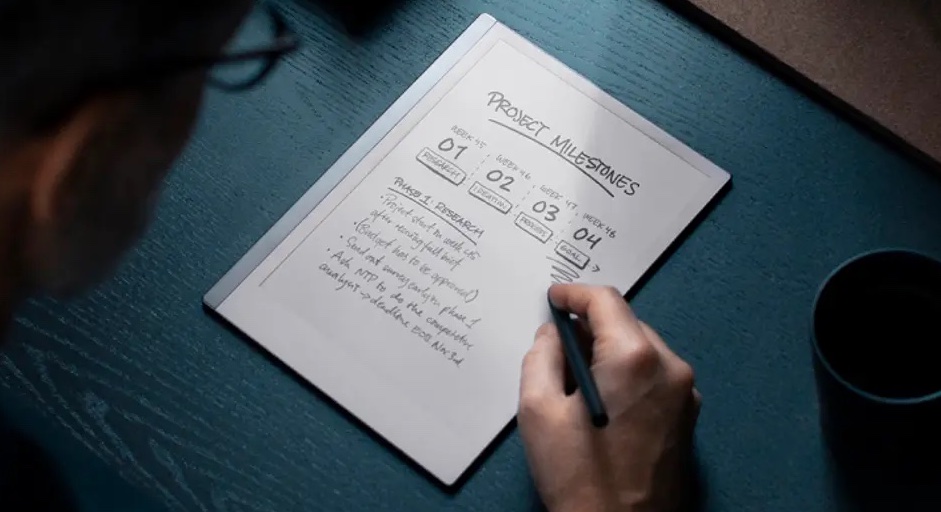 For students who want to take a lot of handwritten notes, the ReMarkable 2 is the ideal E-Ink tablet. This 10.3-inch tablet has a monochrome digital display with a resolution of 226 DPI and is just 0.19 inches thick and 0.88 pounds, making it light and simple to carry in your bag. The lettering and text are crisp and sharp, and you may choose from over 40 distinct note sheet styles, including seven alternatives just for musical notation. The program is simple to use, with large buttons at the top for adding notes and folders. It now offers 8GB of internal storage, as well as handwriting conversion and connection with Google Drive, Dropbox, and OneDrive. Those features were formerly part of ReMarkable's Connect membership, but are now offered with every device for free. The Connect membership is still available, but it now costs $3 per month rather than $8. It includes a ReMarkable 2 protection plan, unlimited cloud storage, and the ability to add notes to your notebooks from mobile and desktop devices.
The bundled stylus does not need pairing or charging and has a standard pressure sensitivity of 4,096 levels. In practice, it provides the most realistic writing experience of any tablet we've ever used. The screen has a paper-like feel to it, giving the pen a degree of roughness that seems quite realistic.
The ReMarkable 2 excels at PDFs as well. Highlights automatically straighten and become a readable shade of grey without needing to be adjusted. You may easily add pages to PDFs for additional notes or scribble in the margins. The ReMarkable was our top E Ink tablet because of its thinness, two-week battery life, pen input, and PDF management features.
However, ReMarkable 2 is not without flaws. The main problem is that there is no illumination, which might be a deal breaker. This item, like a book or notepad, needs an additional light source to be used in the dark. Even the most basic Kindle now features front-light lighting for usage at night. It also doesn't work well as an e-reader since the only formats it supports are PDF and unprotected epub. That implies you won't be able to access your Kindle material or any other epub books if you use digital rights management software, which covers practically all legally purchased ebooks on the market.
.
Onyx Book Note Air 2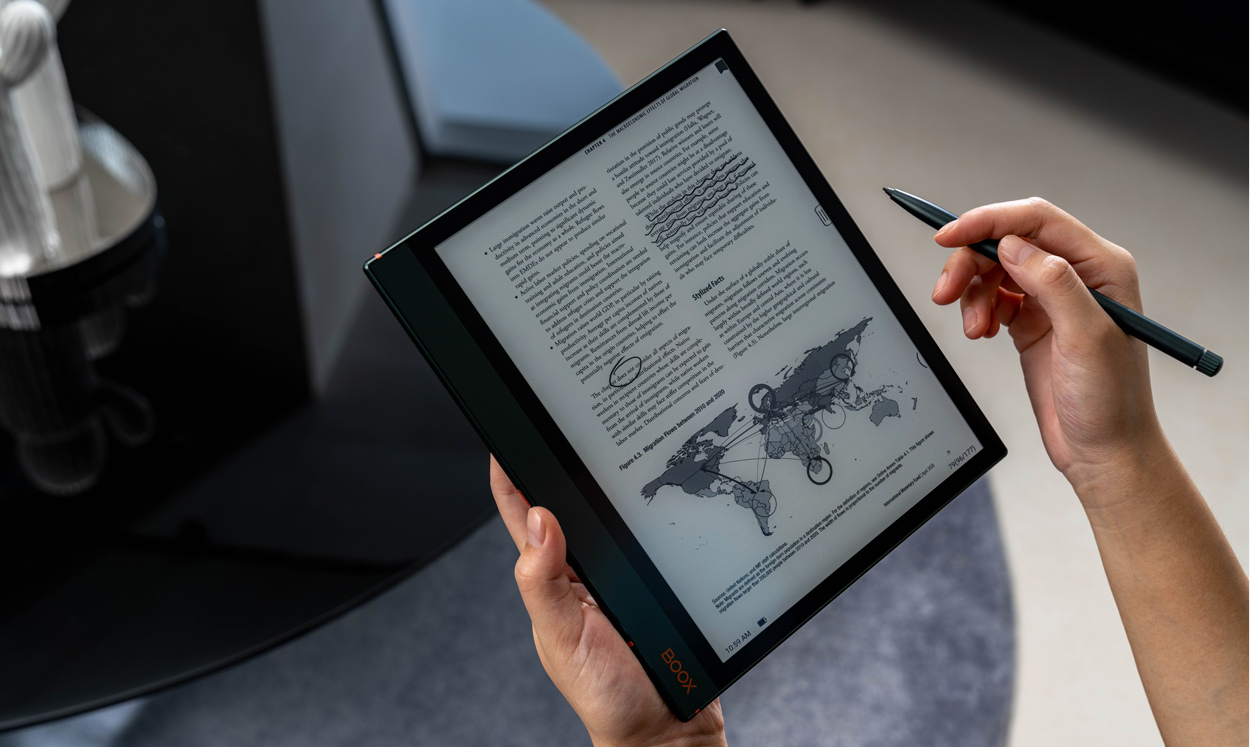 This 10.3-inch tablet boasts a resolution of 227 DPI, operates on a modified version of the Android 11 operating system, and even has its own app store where you can download optimized third-party programs. Yes, there is a method to access the complete Google Play store, but we wouldn't advocate it for anything other than installing an e-reading app, since the Boox still has an E Ink display and isn't designed for games or video.
Furthermore, the Book has just 64GB of non-expandable storage, so you don't want programs clogging up your system. To assist move documents to the tablet, the business provides 5GB of free cloud storage via its own service, but users may also use Dropbox, Evernote, and OneNote.
The most significant advantage of the applications store is that you will have access to your full library of books from your Kindle, Nook, and Kobo devices. You can also download the Libby app for library books, and Marvel Unlimited subscribers may use the app to view comics in color. The Note Air 2 comes with speakers and a microphone for listening to audiobooks via Audible or other audiobook applications.
Although this is an excellent selling feature for the gadget, we found the in-app experience to be less than optimal. Many of the features that distinguish the Note Air 2 are deactivated in third-party applications. You can't, for example, use a pen to take notes or highlight passages in books on the Kindle app. Instead, you'll have to write in the notes you wish to capture, just as you would with any other tablet app. To write directly on books, they must be in DRM-free ebook format. Fortunately, the Book supports a variety of formats, including PDF, epub, DOC, and Mobi.
The Note Air 2's note-taking and PDF management capabilities are robust, though not as fluid as the ReMarkable 2. Highlights are not automatically corrected, and users must choose the marker's color and width. The Note Air 2 has 16 grayscale color selections, but they all appear the same on the tablet, leaving highlights dark and smudged. The supplied stylus has 4,096 levels of pressure sensitivity as well, however it lags significantly while writing across the page. On the positive side, audio recordings may be included for more accurate recollection. The Note Air 2 also allows you to open a PDF and a notepad in a split-screen view at the same time, allowing you to read and take notes at the same time.
The Boox Note Air 2, like the Kindle Paperwhite and Oasis, has a warm and cold front light to assist make the screen easier on the eyes and give it a more paper-like appearance. A swipe-down menu allows you to effortlessly change both lights. It also measures battery life in weeks rather than days.
While this tablet is by far the most costly on our list, it is also the most flexible of the E Ink tablets, performing well but not spectacularly.
You may have noticed that the business just unveiled a Note Air 2 Plus. We haven't tested it, but it's almost similar to the original Air 2 save for a larger battery, which makes it significantly heavier.
.
Kobo Elipsa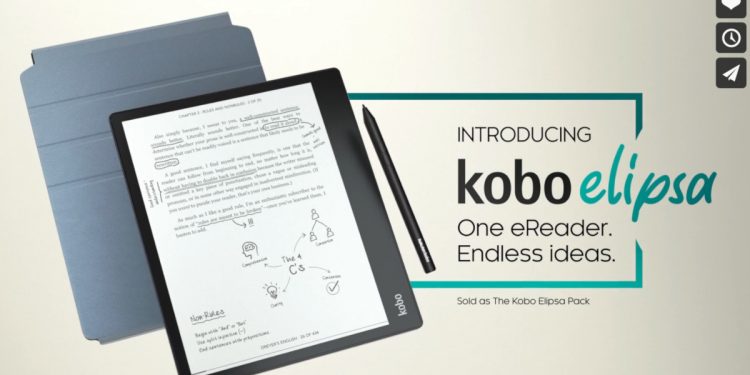 Kobo may be a smaller firm than Amazon, but it has been producing e-readers for almost as long. Amazon originally produced a 9.7-inch Kindle, however, it never supported natural input through a touchscreen or pen and was discontinued in 2014. Recently, Kobo was the first to release a waterproof e-reader, and it is the first of the big e-reading companies to release a 10.3-inch tablet with a pen.
The Elipsa, like other Kobos, is a superb e-reader with a battery life measured in weeks, depending on use. Unlike Kindles, Kobos seems to offer an infinite number of ways to tailor the reading experience. You may experiment with margins, line spacing, typefaces, and font size indefinitely to create a page that looks precisely as you want it to, regardless of screen size. The accompanying stylus works on any PDF or Kobo ePub, so it may be used on library books as well as books from the Kobo store.
When it comes to libraries, Kobo is well-known for its close cooperation with the ebook library service OverDrive. If your local library utilizes OverDrive, you may simply access, browse, and download library books right from your smartphone. Borrowing an ebook from the New York Public Library was a breeze, and all Kobos are a must-have for library fans.
Unfortunately, Elipsa lacks note-taking skills. When writing with the pen for any length of time, there is a significant latency, and the notebook functions are pretty rudimentary. The basic notebooks only have four templates while the advanced notebooks only have one lined template. Advanced notebooks allow you to enter drawings, diagrams, arithmetic equations, and a free-form area, as well as transform your handwriting into text. There are just a handful of pen kinds and five pen brush sizes to pick from.
The Kobo Elipsa features 32GB of storage, a 227 DPI resolution, and blue front light, but it lacks the Boox's warm light. While this E Ink tablet falls short when it comes to long-form writing, it shines as a large-screen, library-friendly e-reader with the option to doodle in the margins.