When it comes to Windows Laptops, one segment that is not respected enough is the affordable segment. With the demand for high-performance machines at an all-time high, these sub $500 laptops have been a bit ignored by avid users, which, in our opinion, is not fully fair. There are many users out there who want a laptop that can help them do their daily browsing, content streaming, and use some light software, but they don't want to pay a premium for a machine. Maybe, some users want a laptop that their children can use as a daily driver, but don't want to splurge exorbitantly on a machine that they know, will go through a bit of rough and tough usage. The solution to all these challenges and more is affordable Windows Laptops.
So, what can you actually do on a low-cost Windows laptop? A lot, particularly if you're just doing one item (or a small number of activities) at a time. They're wonderful for online surfing, email, movie streaming, and more — but, sure, Chromebooks can do all of those things as well. However, Windows laptops have a significant edge in Microsoft Office. While there is a browser-based version, many people prefer the native, desktop programmes, which work nicely on even the most basic budget laptop. The one caveat is that if you're dealing with huge data sets in Excel or a lot of photographs and graphics in Powerpoint, you may experience some delay on low-powered devices.
Storage is a strong suit for Windows laptops in terms of specifications. Even the most inexpensive gadgets often contain at least 128GB SSDs. This will be useful if you like to keep your most crucial files on your laptop. Cheaper Chromebooks, on the other hand, often have less storage since they are designed with the expectation that you would keep all of your work in the cloud. This is not only inconvenient while working offline, but it also restricts the number of apps and data that you may download. As a result, it's not ideal for stockpiling Netflix episodes before a lengthy journey or using a Chromebook as a gaming laptop.
Windows also include a marketplace where you can download hundreds of programmes. Chromebooks have some Chrome applications, a plethora of browser extensions, and the ability to download Android apps, but quality control is… erratic. Android applications, in particular, are often not optimised for Chrome OS, resulting in a jerky user experience. Although Windows may not have as many applications as Android, the overall experience is quite consistent.
Having said that, let us take a look at the BEST affordable Windows Laptops that you can buy in 2022.
.
Number 1. Acer Aspire 5
.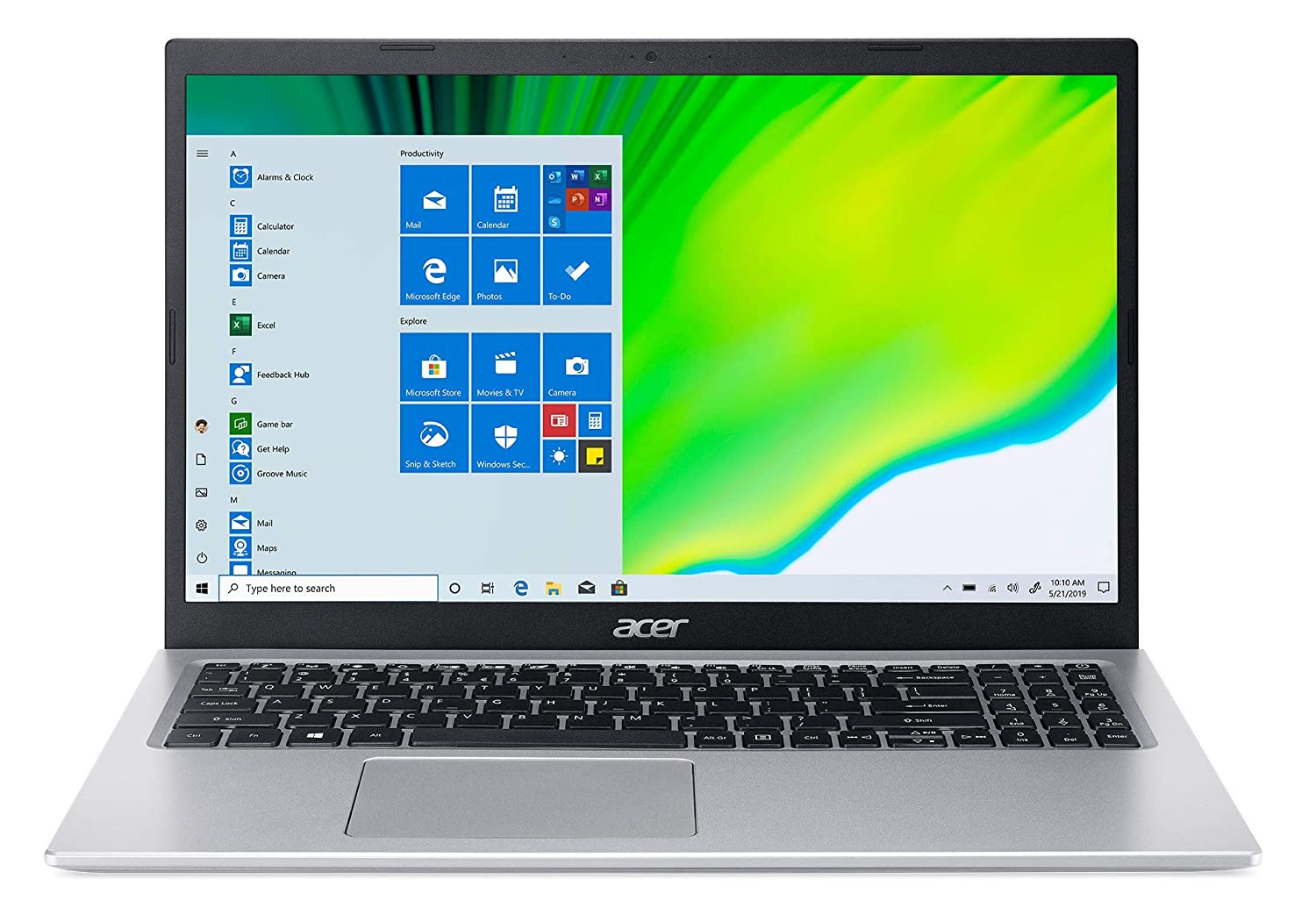 .
For quite some time, Acer's Aspire 5 series has been a trustworthy choice. We recently examined the A514-54-395V, which has a 14-inch 1080p display, an 11th-generation Intel Core i3 CPU, 8GB of RAM, and 256GB of storage.
The performance was comparable to the last Aspire 5 model we examined, however there are notable design variations on the A514-54-395V. It's a 14-inch laptop, not a 15-inch machine, and it lacks a complete number pad on the right side of the keyboard. It still has an aluminium top cover, which gives it a more premium feel, but Acer eliminated the keyboard lighting, which is a shame. Fortunately, the keyboard is as pleasant to use as the one on the prior generation.
In addition to improved WiFi 6 capabilities, the updated Acer Aspire 5 has an important USB-C port. This was missing on the last model we tried, so we're glad to see it on this one. It joins the existing ports, which include three USB-A ports, one HDMI socket, a headphone jack, a lock slot, and a drop-jaw Ethernet connector. Acer raised the average battery life on this model to 10 hours, as stated. We were getting around six hours of battery life on the prior model, so this is a welcome upgrade.
.
Number 2. Lenovo IdeaPad Flex 5
.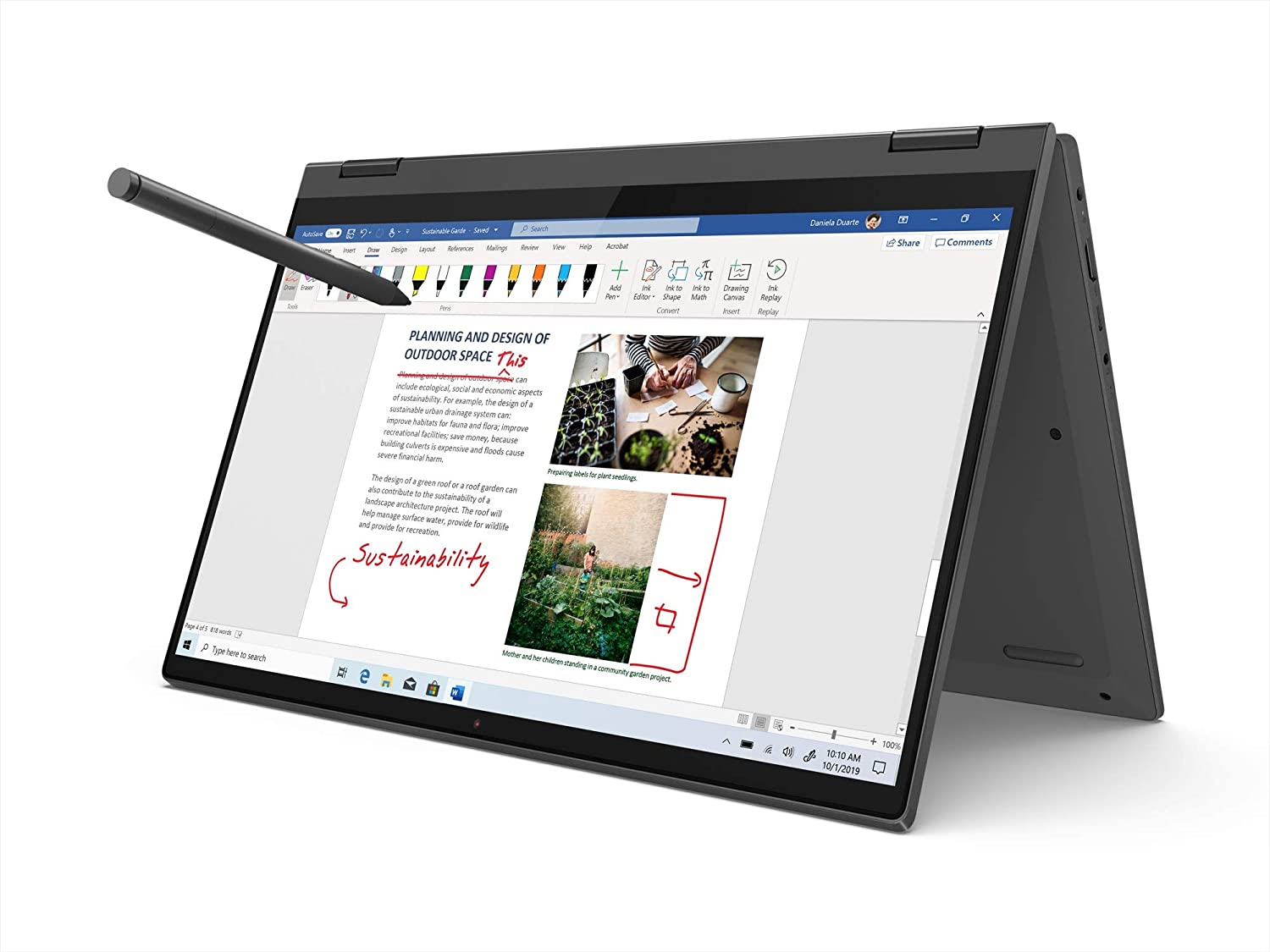 .
If you want a more portable laptop with a battery life that will last all day, Lenovo's Flex 5 14 is a wonderful option. It has an AMD Ryzen 3 4300 CPU, 4GB of RAM, and a 128GB SSD, as well as a 14-inch 1080p IPS display and an abundance of connections, including one USB-C port. If you want to be future-proof, that USB-C port is essential. There may not be many USB-C peripherals available right now, but that will almost surely change in the coming years.
The typing experience is likewise excellent: although it lacks a number pad, its keys have the rounded-bottom design seen on Lenovo ThinkPad laptops. While typing, they generate a pleasing clicking sound that isn't loud enough to irritate people around you.
And, despite its low price, the Lenovo Flex 5 14 isn't flimsy. The palm rests don't creak under strain, and you can easily carry this laptop about the room with one hand. I really like its convertible style, which provides you additional options. The Flex 5 14 also contains a webcam that can be covered with a physical shutter, as do other Lenovo devices.
In terms of battery life, the Flex 5 14 outperforms the Aspire 5: the former lasted over 16.5 hours in our tests, whilst Acer's machine lasted almost 10 hours. As a result, if you're looking for a laptop that can last all day and then some, the Lenovo choice is the obvious winner.
.
Number 3. Microsoft Surface Laptop Go 2
.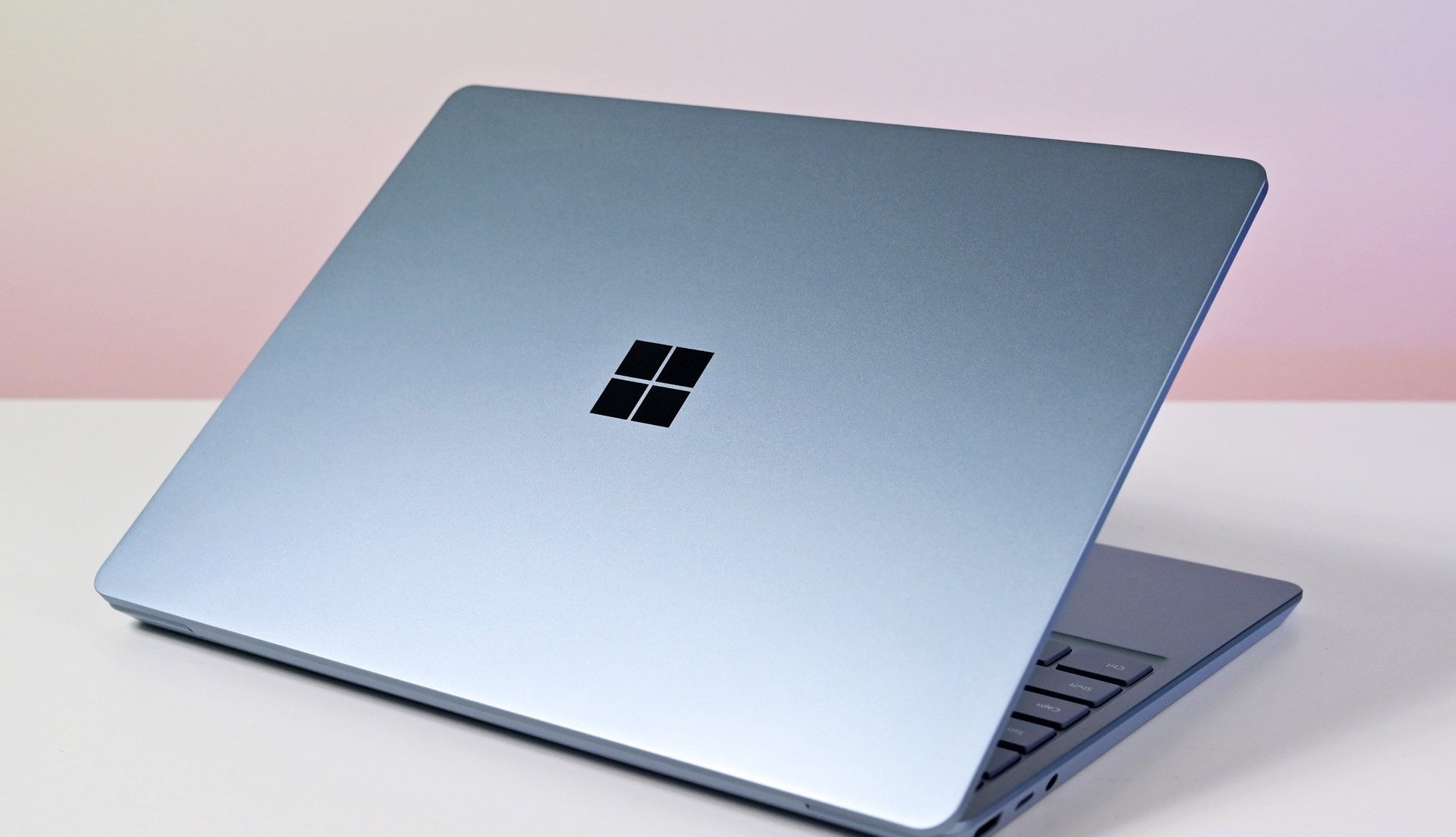 .
Even though it begins at $600, we'd be negligent if we didn't highlight Microsoft's new Surface Laptop Go 2. If you're a fan of the Surface Go series, it's absolutely a viable alternative to explore. With a simple appearance, tiny bezels around its display, and a relatively light 2.5-pound weight, the Laptop Go 2 boasts one of the greatest designs you'll find on any affordable Windows laptop. Its 12.4-inch PixelSense touchscreen has a resolution of 1,536 x 1,024 and is nonetheless rather sharp despite not having an FHD display. There's also a 720p webcam, a somewhat comfortable keyboard (but no backlight), and a port array that comprises one USB-A connector, one USB-C port, a headphone jack, and a power slot.
Aside from the appealing appearance, another reason you may want to consider the Microsoft Surface Laptop Go 2 is that even the lowest model is powered by an 11th-generation Intel Core i5 CPU. We found it to be responsive, and you'll notice a difference if you're upgrading from a system with a Core i3 CPU or anything less powerful. We were particularly delighted by the Laptop Go 2's battery life, which lasted about 15 hours in our tests, and since Microsoft upgraded the inside cooling system, you shouldn't hear too much fan noise while using it.
The Laptop Go 2 has two major drawbacks: a higher starting price and just 4GB of RAM in the basic model. A laptop with a Core i5 CPU, 4GB of RAM, and a 128GB SSD costs $600, and although those specifications aren't bad, we normally advocate springing for a machine with at least 8GB of RAM. It will make multitasking more simpler and more efficient, enhancing your overall experience with the laptop. You'll have to pay $700 to obtain that amount of RAM in the Laptop Go 2, which is still less expensive than flagship laptops but not as inexpensive as the other laptop computers we chose.