MG Motor has revealed its first-ever 100% electric vehicle for the Middle East market – the brand-new MG ZS EV – at the 2019 International Conference for Future Mobility. The stylish, compact SUV is based on the popular Middle East seller, the MG ZS, and is the first all-electric car from the British-born brand.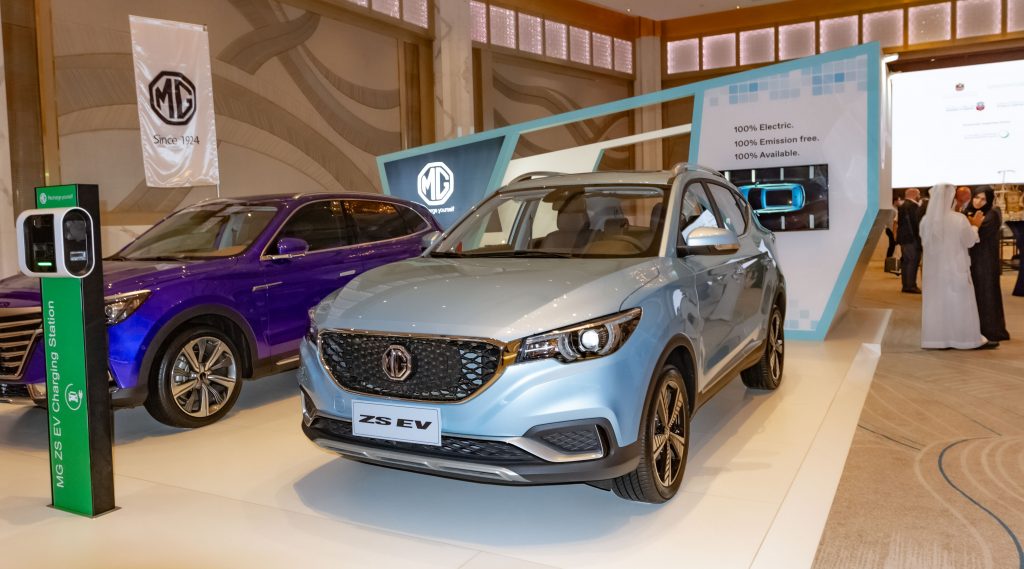 The new MG ZS EV is equipped with a single electric motor that drives the front wheels and delivers 148bhp and 350Nm of torque – accelerating the compact SUV from 0 – 100 km/h in just 8.2 seconds. The new EV can travel on a single battery charge of NEDC for 335 KM and is equipped with fast charging which allows up to 80 percent of the battery to be re-charged in just 40 minutes.
Based on the popular 1.5L petrol version of the MG ZS SUV, the compact SUV has proved to be the perfect option for buyers looking for a stylish, well-equipped, reliable car with an affordable price tag. This summer the MG ZS EV was tested in the UAE during the hottest months of the year and concluded the program successfully, demonstrating that the company is ready to deliver electric vehicles in the Middle East. 
MG Motor has been expanding across the Middle East and now has a network of dedicated retail partners across the Gulf region, boasting 22 modern showrooms and 23 service centers.
"MG Motor Middle East is benefitting hugely from the brand's global commitment to remain at the forefront of new energy development. Now, as the region's major cities focus on becoming the smartest and most sustainable in the world, we can contribute to that vision of the future with our first-ever 100% electric vehicle. The MG ZS EV is based on our compact SUV model which has proved to be very popular in the region; especially in KSA where it was our second best-seller last year. After extensive hot weather testing, and a robust development program I am very pleased to say we have an appealing, stylish and innovative electric vehicle for the region." said Tom Lee, Managing Director for MG Motor Middle East.
The new MG ZS EV is now available to order, subject to market, with first deliveries taking place from January 2020.