LG Electronics (LG) has introduced its new laptop segment to the UAE, promising an innovative product lineup that is built to perform. The diverse portfolio includes three new models: LG gram 17 (model 17Z90P), LG gram 16 (model 16Z90P), LG gram 14 (model 14Z90P). The LG gram laptops are designed for today's multi-taskers, catering to the needs of work, learning, and play, with intelligent features to enhance the user experience. Whether writing reports, editing videos, playing games, or watching movies the LG gram series delivers a highly immersive and powerful computing experience from anywhere.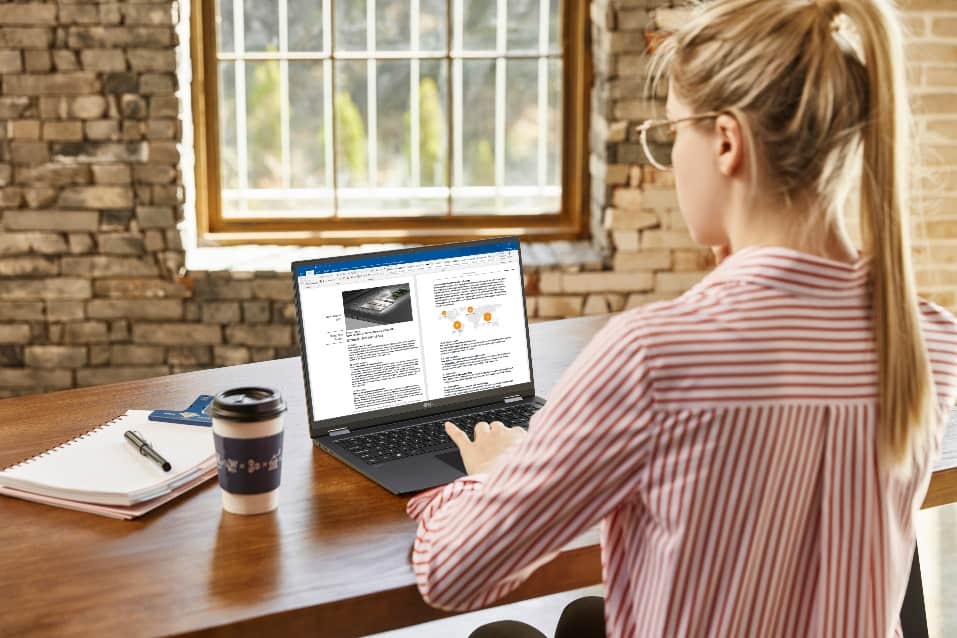 Heavy Users of Microsoft Office
Microsoft Office users need a large screen to read their information-packed files on PowerPoint and Word. The LG gram's wide 16:10 aspect ratio (featuring across all models) provides more space to work on and allows them to view their work on a larger scale. Now, they can see every detail without constantly scrolling down. With faster thermal circulation than conventional products, the new design now discharges heat in two directions allowing better performance for a longer duration. The 2021 LG gram series also supports Thunderbolt 4, delivering significant improvement in stability, scalability, and security when compared to Thunderbolt 3. Thunderbolt 4 provides docking stations with up to four Thunderbolt 4 ports and Thunderbolt 4 cables up to 2 meters long (about 6.6 feet) and allows a data transfer speed of 40Gb/s. Also, LG gram features up to 15W when charging external devices, a next-generation interface, and USB 4 compatibility.
Hybrid Workers and E-Learners
Working from home and taking online courses have become a common practice for everyone. Now, users can attend meetings and classes online, having the freedom to go to any location they want. The large yet portable LG gram allows users to work and study freely in any environment. With LG gram's signature lightweight form, its portability gives users the freedom to tackle the toughest tasks with ease, in any situation. Maintaining the strength of LG gram, the 80 Wh lithium-ion battery has the capacity to last longer than your work hours with up to 19.5 hours of battery life from a single charge. Device pairing is easy with Virtoo by LG, which is a cross-device application for linking a smartphone to LG gram. Users can mirror their device screen and receive alerts for messages, calls, applications on the LG gram without any wires.
Streaming and Social Media Fanatics
LG gram provides the absolute necessities for binge-watching all night long. Users can watch their favorite series with excellent graphics on a large screen without worrying about their battery running out. They can enjoy their content better with LG gram's immersive audio and large screen. The new laptops in the LG gram series have been upgraded with 2W speakers and MAX 5W Smart Amp, delivering richer and more realistic sound effects and powerful sound. Also, DTS:X Ultra provides truly immersive 3D Audio Rendering, even without wearing headphones. It allows users to experience fuller, richer audio with less distortion, reducing the limitations of a small speaker.
Casual Creators
Many aspire to be content creators on YouTube and across popular social media platforms. LG gram provides a large screen and high-performance processors that can seamlessly handle programs like Adobe Premiere Pro and After Effects. Also, the lightweight profile of the gram series allows creators to take their device to any filming location, while a large, high-resolution display empowers editing on the spot. The LG gram series features the industry-standard DCI-P3 99% to deliver a wider range of color gamut. P3 is used as the standard color gamut for displaying HDR content such as films, games, and photography. The new LG gram accurately represents creative ideas and colors, as intended.
Local Availability and Order Details
LG's new gram lineup for 2021 is available in the UAE in three colors – silver, black and white. The LG gram laptop series retails with a starting price of 6,199 AED. All models are available for order (in-store and online) from July 15 at Jumbo Electronics, Sharaf DG, and Amazon. ae. For the launch, LG is offering a bundle of LG XBOOM GO PL5 speakers, LG TONE Free FN6 earbuds, and Microsoft 365 with their purchase while stocks last.