When the world entered the deadly pandemic, one of the first things that came to a grinding halt was productivity and work all over the world. Offices were forced to close their doors and the transition to work from home began slowly but steadily. Over time, many solutions were presented to employees to get their work done in time and while some of them worked wonders, there was still a big requirement for a solution that offered all the necessary productivity features in one package and there is where Klaxoon comes in.
Klaxoon is a French company that was founded in 2015 and is a member of the French Tech 120. The company's 300+ employees are spread across the globe, with headquarters in Rennes, France, and offices in Paris and Lyon, France, as well as Boston and Singapore.
Klaxoon received several awards, including four CES Innovation Awards and the 2020 Microsoft Partner of the Year Award. Millions of people in over 120 countries use Klaxoon on a daily basis to help their teams thrive, from large global corporations to small businesses, universities, NGOs, and public authorities.
Klaxoon's workshop platform enables teams to easily run productive workshops from any location and device. It includes an unrivaled set of features and services, such as an infinite whiteboard, chat and communication tools, information-sharing features, automated reports, and built-in videoconferencing, to effectively engage teams and get things done in hybrid environments. ?
Anyone can start a session, and participants can join from anywhere in the world. Any participant can share information from any source and display it on a whiteboard.
What we love about the Klaxoon platform is how interactive the sessions can be. Gone are the days when an online collaboration was led by one person and the others had to wait for their turn or raise their hands to get a platform. Klaxoon allows seamless collaboration where all the participants can contribute in real-time and it doesn't matter where they are in the world. In this article, we are going to talk about the Klaxoon platform and its various features so that you can ultimately decide whether it suits your purpose.
Seamless Participation, no matter where you are
The Klaxoon platform comes with a huge suite of apps that allows you to conduct a multitude of activities within your team. While some of the collaborative platforms do not allow for app sharing on a global scale, Klaxoon allows people to share the app suite, no matter where they are and it allows anyone to host a variety of activities, no strings attached.
Take collaboration to the next level by allowing spectators to become active participants
The Challenge, Vote, Storm, and Meeting apps have been designed to enhance collaboration within the group. We used this with team members in different nations and the sheer fluidity and versatility that was on display made the whole experience wholesome and actually gave us the impression that all of us were in the same place during the session.
Further, you can use the Klaxoon Meeting app to embed existing slide decks or create new ones. Synchronize and share your screen with the rest of your team. Increase live participation by using polling, challenges, and word clouds. The content is shared in real-time, allowing everyone to react and see the group's opinion.
Additional features such as a stopwatch, timer, and pausing can help you set the pace and manage your time more effectively. Get your meeting minutes with a single click and divide meeting time in half.
Go from Idea to Action in the blink of an eye
Set your team's creativity free with the Brainstorm app. Share your thoughts, manage your team, and run projects. The possibilities for fostering teamwork are limitless.
It is simple to participate using your own device. Text, drawings, and images are instantly displayed on our digital whiteboard. Sort information quickly, collect ideas, add visual links, and zoom out for a bird's-eye view. Filters, tags, dimensions, and favorites: Klaxoon's smart sorting feature helps you organize your ideas more quickly.
Reopen your Brainstorm at any time during a meeting, day, or week. The Board is accessible to all participants, even those who are long-distance away.
Test each other and improve collective intelligence
Set your team's creativity free with the Brainstorm app. Share your thoughts, manage your team, and run projects. The possibilities for fostering teamwork are limitless.
It is simple to participate using your own device. Text, drawings, and images are instantly displayed on our digital whiteboard. Sort information quickly, collect ideas, add visual links, and zoom out for a bird's-eye view. Filters, tags, dimensions, and favorites: Klaxoon's smart sorting feature helps you organize your ideas more quickly.
You can reopen your Brainstorm segment at any time during a meeting, day, or week. The Board is accessible to all participants, even those who are long-distance away.
Now, all of this is well and good and when you educate your team about how everything works, it is a beautiful package to use. But that's just it. If there is one con that we can point out about Klaxoon is that it is not the easiest package to get a handle on. On first boot, the interface does look smooth and the gamified approach that the company has taken to spruce up the participation, is actually a bit tricky to grasp and when we were setting things up, it took us a while to get everyone up to speed about how things work and sometimes, there was a gap in communication and during the session, we had to spend the first few minutes actually getting people set up and yes, after a few sessions, everything gets sorted out, but there are cases where organizations or groups can actually abandon a package if it is too complicated to use. Since we were sold on the project, we persisted, but not all clients are as magnanimous and the Klaxoon team should look at making things a bit easier to set up and use from the first installation.
Getting Started with Klaxoon
Now, if you are interested in trying out the Klaxoon collaboration platform for your team, the first thing you have to do is set up an ID for yourself and then proceed to subscribe to one of the plans mentioned below. You can get started for free, but if you want access to every feature of the platform, there is a nominal subscription fee that you have to pay. Once you are done with this step, you can head to the Klaxoon website and sign in using your credentials which then takes you to the main dashboard.
Here, to get started with your first session, click on the 'New button'.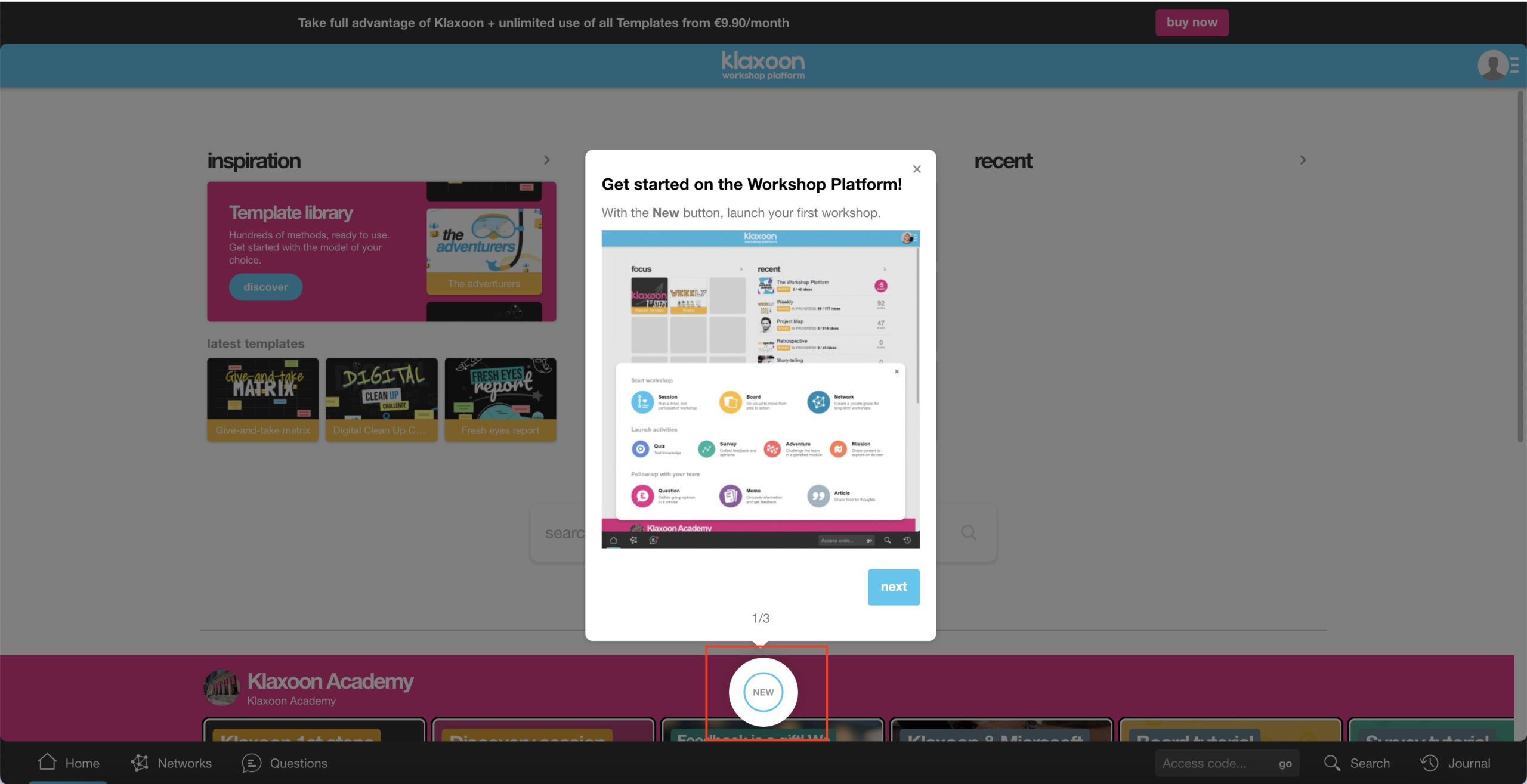 Next, you will see a window appear with a list of activities that you can begin in your collaborative workshop session. Depending on the subscription plan you have picked you may or may not see all the options enabled, so pick from the ones available. For the sake of this review, we decided to go for the Board option.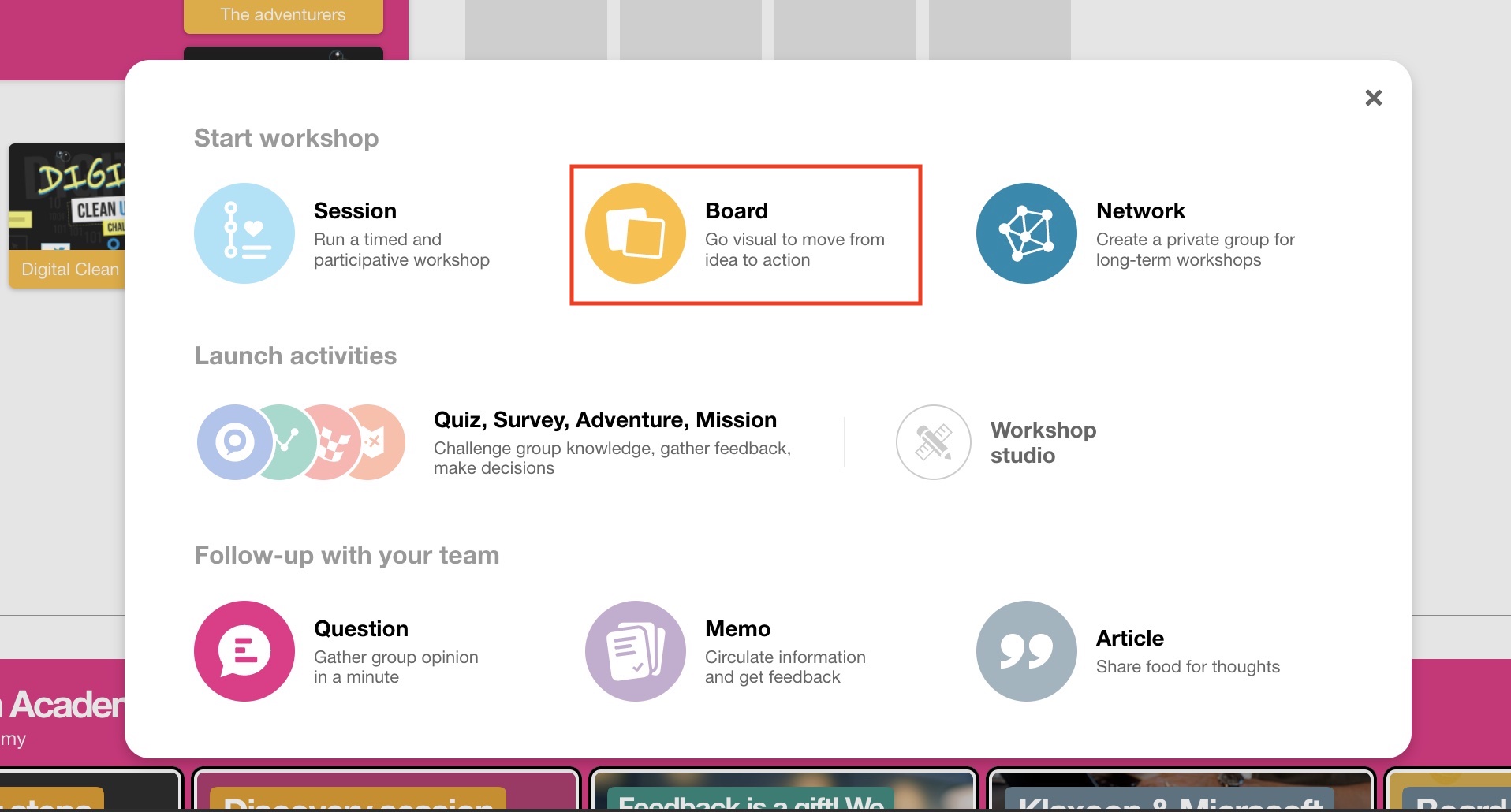 When we selected the board option, we were taken to a new window where we got the option to pick from pre-existing templates. You can go through the list of available templates and pick the one that best represents the topic you are creating a board about. We found a few templates that we liked, but after some deliberation, we fixed one of them and proceeded to the next step of the process.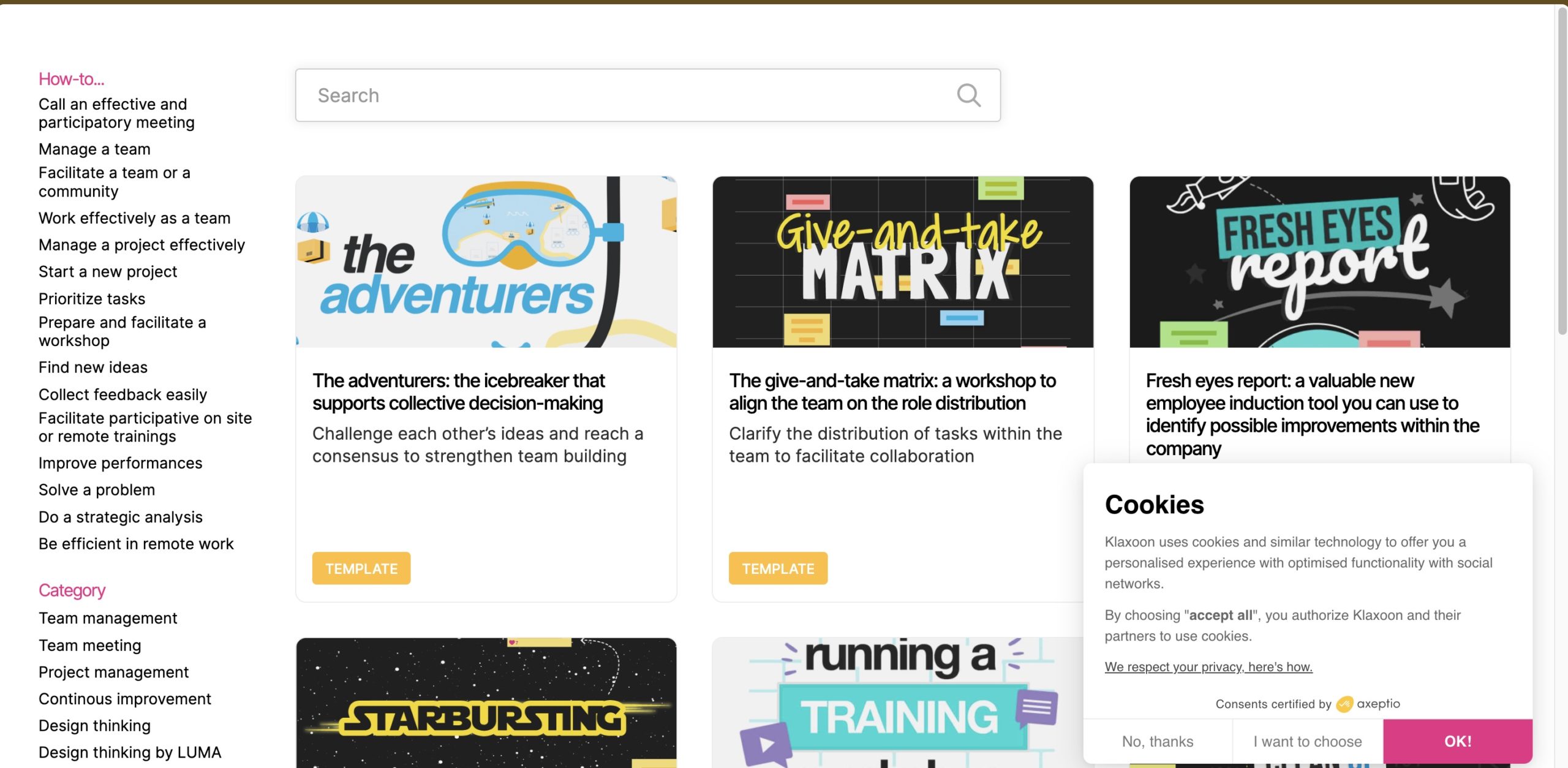 Clicking on one of the templates pulls up a new window that gives you a brief description of what the template is all about and then you have the option to either preview the template or start using it. It is a good idea to preview the template to see exactly how the various elements of the board behave and only when you are satisfied, should you click on the use template button.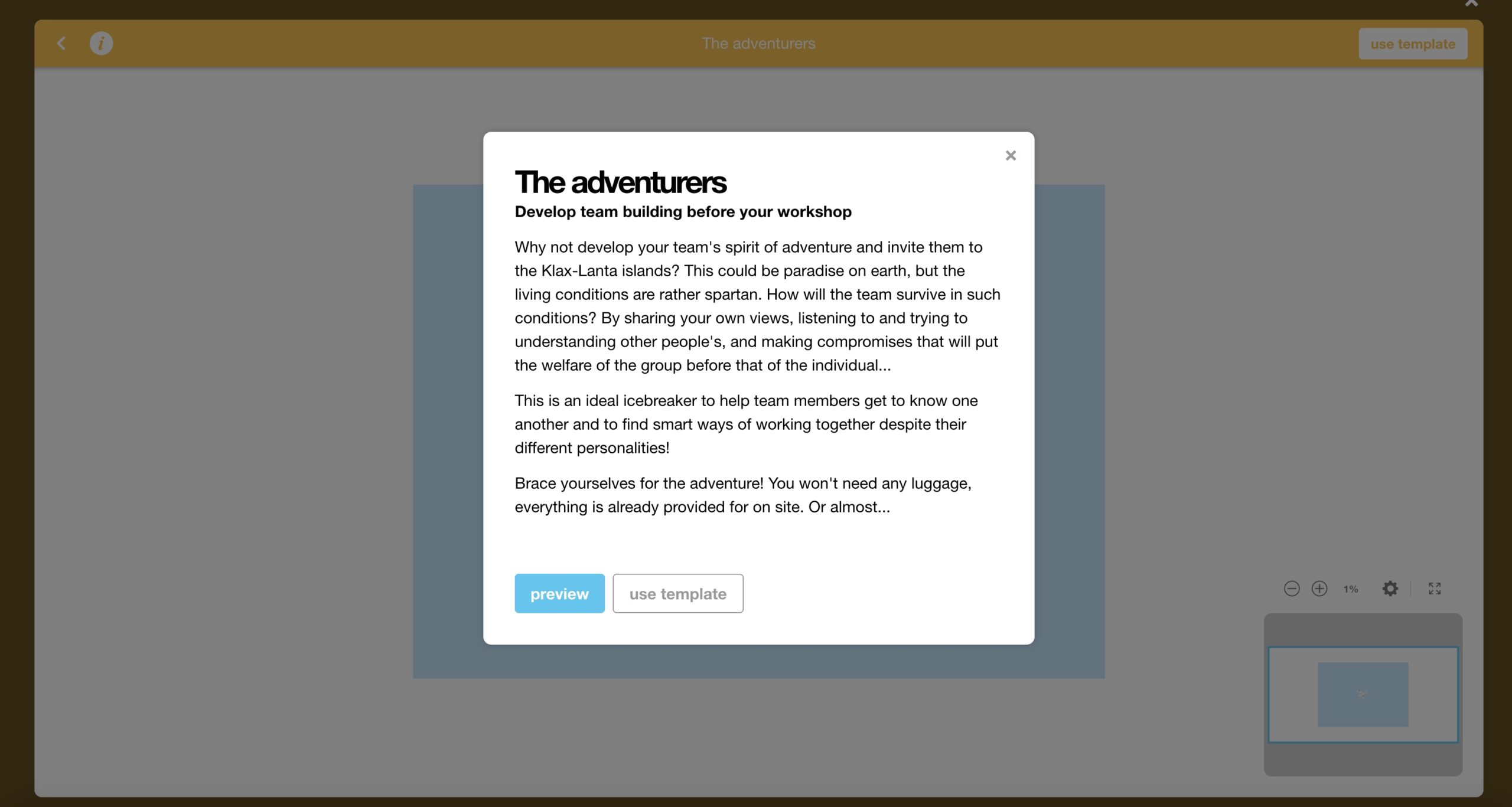 When you eventually click on the use template button, you will get a new pop-up where you have to first name the board you are creating, You can use the default name or pick something more relevant. Once you are happy with the name, click on the Create option.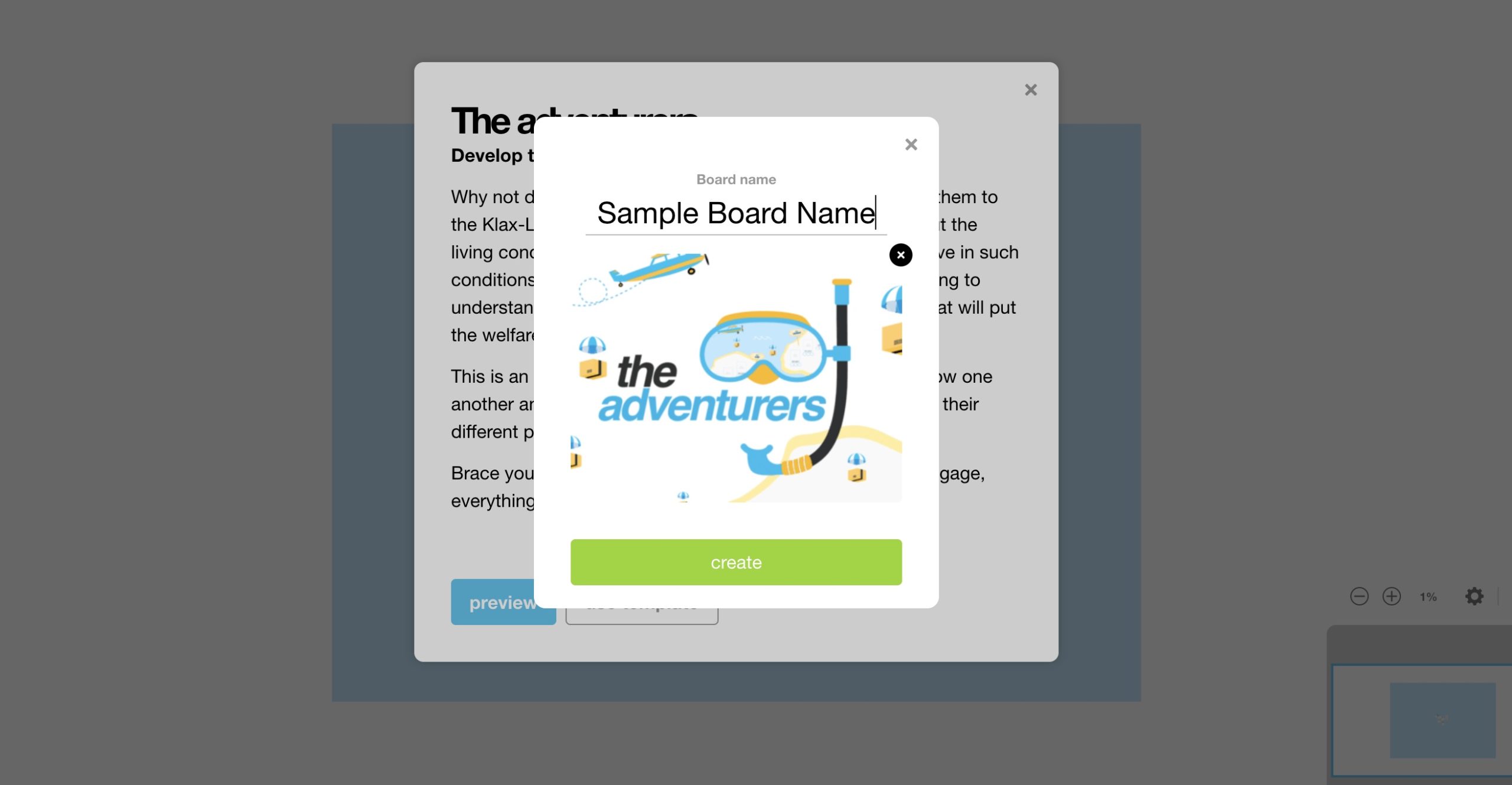 You will now see a template that will guide you through what you can do on the board and how your teammates around the world can contribute to the same. The whole idea of the board is helo you ideate and take the various ideas to execution. You can enter ideas on the board, allow team members to comment or make changes to existing ideas and also add suggestions or ideas of their own.
If you are the host of the board, you can add in some of the details that form the basis of the board, and once you are happy with it,  you can click on the Launch button and the board will go live. Members of your team can now access the board and contribute to it and you can all take it from there.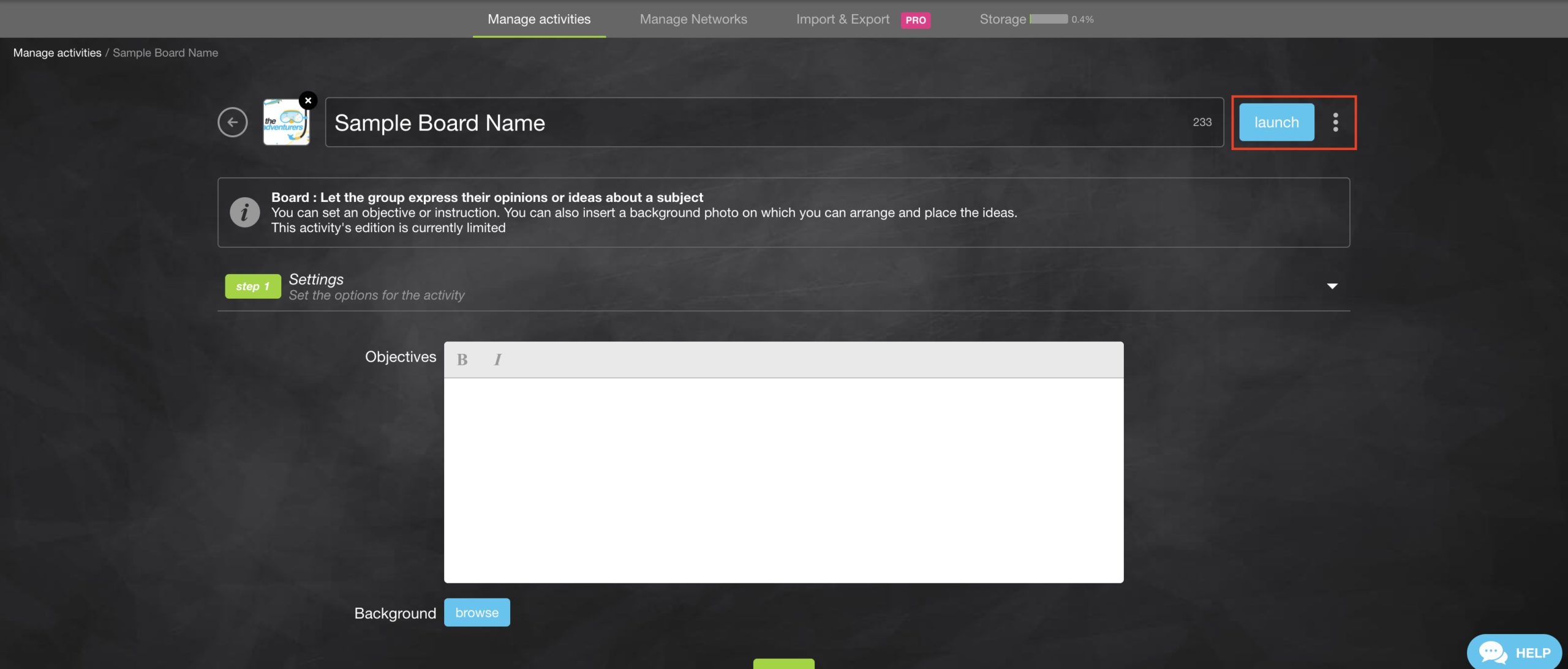 One of the things that we sincerely felt about the whole procedure is that the initial steps are easy enough, but when we went into the initial setup of the board, things were a bit tricky to understand and there was no real explainer on what the various sections actually mean and it took us some time to actually understand these elements and if there is one thing the Klaxoon team can do is make the main setup section a bit easier to understand. The interface itself is quite snappy and it all happens inside the browser so there is no outside requirement. If you have a web browser and uninterrupted internet connectivity, you can use Klaxoon.
Now, if all the aforementioned features have sold you on to the platform and you are all set to use the Klaxoon platform for your collaboration purposes, this is how the plans have been laid out.
Free – This is great for teams who have up to 15 members per board and are basically starting up their business or project and don't really have the budget to invest in the full suite. The free plan allows up to 15 members to use the Board and Question apps out of the complete app suite and access to all the free themes that are available on the Klaxoon market. You can have up to 5 open boards and populate them with up to 100 ideas. We found this to be a great starting point for groups or startups who are small in strength and limited on budget.
However, if you do have a bit of a budget, you can go for the next tier, which is the Workshop Lite plan.
Workshop Lite – This plan allows up to 100 members per board but app usage is restricted to the Board and Question apps only, like the free plan. However, what is great is that you can have unlimited boards open and populate each board with up to 100 ideas. If you are interested in this plan for your group, then it will cost you around $10 per month. It is billed annually if you are interested in making an open-time payment.
Workshop Suite – This plan is by far the most popular of the lot and is ideal for those of you who are absolutely in love with the Klaxoon platform and have a team that is large enough to warrant an upgrade. Subscribing to the workshop suite plan allows you and your team to access the entire Klaxoon app suite and allows you to engage up to 100 members per activity. You can have unlimited boards running and there is also an editing studio that allows you to get some customization done for your activity boards. The workshop suite plan will cost you around $14 per month which is not that much of a bump up compared to the workshop lite plan and you only stand to gain if you make this decision.
Now, if you are a large company with lots of employees and departments, there is an enterprise plan as well where the Klaxoon team will have a sit down with you and you can tell them exactly what you need and they will set up the Klaxoon platform exactly the way you want it. The price for your enterprise plan will vary with your requirement, but it will be worth your while for sure.
Conclusion
With the world slowly coming out of the worst of the pandemic, offices have started opening up, but there are still a few places that are being ravaged by this threat, and the people who work there are still working from home. It is important for companies to accept this hybrid style of work as the new normal and we believe that Klaxoon is the platform they should go for, in order to maintain an interactive and productive environment. The application suite allows for incredible productivity and while the initial setup may be a bit of an explainer process, it is an effort that is worth taking. So, if you are a startup or a fully settled organization and productivity is on top of your requirement, look no further than Klaxoon.
If you are interested in Klaxoon and want to know more about it or even go ahead and start using it with your team, you can use this link to head to their official website. There is no application at the moment and it is a browser-based platform, So, if you see someone distributing a third-party application under the guise of Klaxoon, be rest assured that it is a scam and you should stay away from it.