One of the most popular functionalities enjoyed by social media influencers or content creators is the ability to cross-post between different platforms. Cross-posting allows creators to maintain uniformity in their content across the platforms and also saves time. The two most popular platforms used for cross-posting are Facebook and Instagram.
While cross-posting from Instagram to Facebook has been around for a long time, the game changed totally when Facebook announced the reverse is possible as well.
This means that creators can now compose a post on Facebook and if they think it should go on their Instagram, they can directly for it from the compose page.
In this tutorial, we will show you how to post directly from Facebook to Instagram.
Step 1. Log into your Facebook account.

Step 2. Open the Facebook page that you have linked to your Instagram account.
Step 3. Click on the 'Post Creation Screen' to start a new post.
Step 4. Here, under the Sharing options, click on the 'Instagram' tab.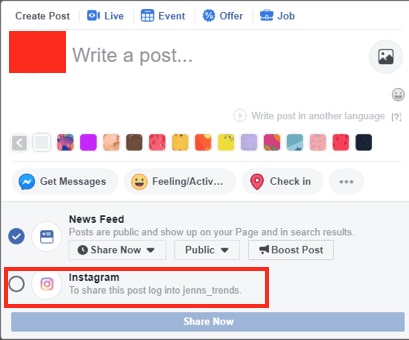 Step 5. Compose your post as usual. Keep in mind that if your content on the Facebook post is too long, then the Instagram version will be truncated automatically.
Step 6. Once you are done with the content, click on the 'Share Now' option to upload the post on Facebook and Instagram.
This is how you can post directly from Facebook to Instagram.