In iOS 16, your lock screen can do a lot more: this platform update adds a level of lock screen customization that iOS has never before provided, including widgets and wallpaper options. Even better, you're not limited to just one lock screen; you can design multiple ones to reflect the time of day, the weather, or your mood.
It's a level of customization uncharacteristic of an Apple device. But, aside from the amusement value of turning your wallpaper into a grid of poop emoji, iOS 16 allows you to get useful information at a glance that previously required you to unlock your phone and that alone deserves a big thumbs-up.
We got our hands on the iOS 16 beta and we decided to make a quick guide on how you can change the lock screen on your iPhone once you have got the final release.
Step 1. On your lock screen, tap and hold any empty space.
Step 2. To begin creating a new lock screen, tap the plus sign at the bottom.
Unlike the previous versions of iOS, here, you will see a host of new options, represented by named tiles, which include –
Photos, Emojis, Weather, Astronomy and Color.
You'll see some featured configurations and suggested images from your photos below this row of options. Choose one of the preconfigured options or start from scratch by selecting one of the icons at the top of the screen. After you've chosen a screen, you'll have a few customization options depending on the type of lock screen you're working with.
These are some of the options that you can work with –
Zoom in on the image by pinching it, or drag it with two fingers to reposition it.
Swiping across the screen will allow you to apply various filters and lighting effects.
Tap the photo icon in the bottom left to select a different image.
By tapping the three-dot icon on the bottom right, you can change settings like background colour (if applicable) and perspective zoom.
Other types of lock screens offer slightly different options, but the customization process is similar.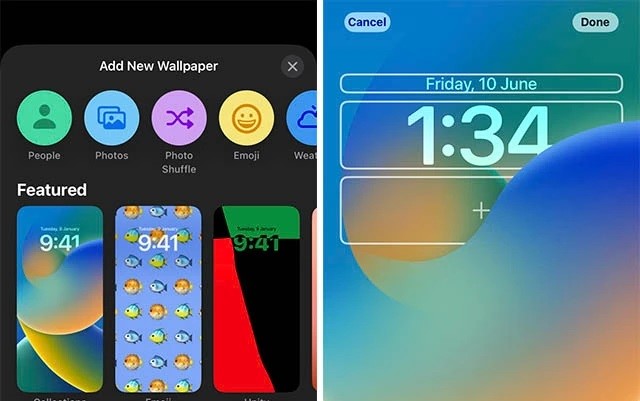 Along with this customisation, you can also change the font on the lock screen, which is something we have never had in an iOS version before. Select your font by tapping on the clock in the customise view. This is also where you can select the typeface colour that will be used for the time, date, and any widgets you add. At the time of testing, there were six fonts to choose from, and while the number may remain the same for the final build, we expect to see this go up in the near future.
Once you are happy with the lock screen photo and the font, you can proceed to add widgets to the screen as well. The area above the clock is very small, and so are your options. They are more like snippets of information, such as the probability of precipitation for the day, which is indicated by an umbrella and a percentage. Some of the widgets categories that you can choose from are as follows –
Calendar
Clock
Fitness
Reminders
Weather
Widgets on the lower shelf are slightly larger and thus display slightly more information. They vary in size, and you can stack up to four of them.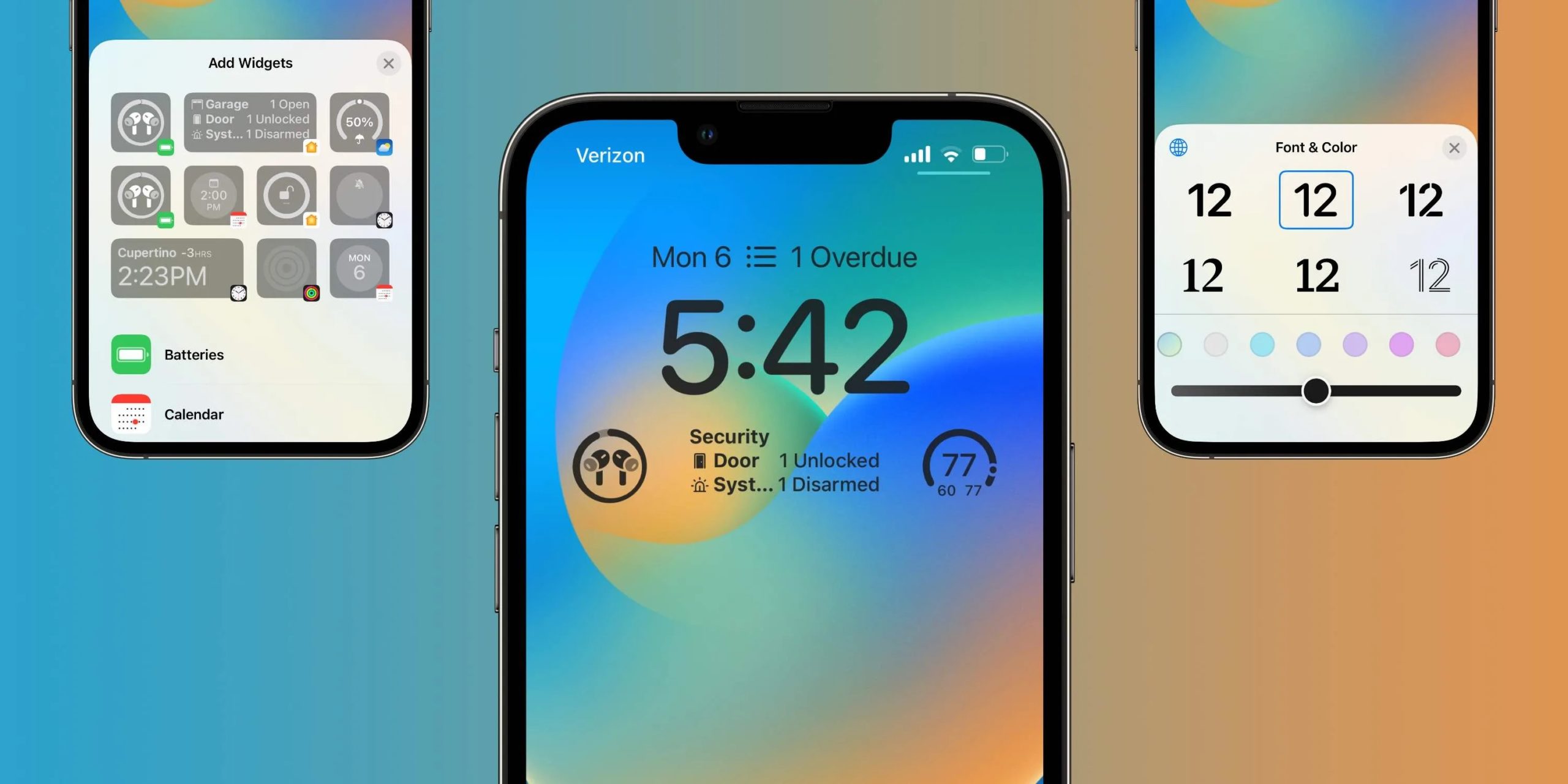 Finally, you can personalise your lock screen by connecting it to a focus mode. When a lock screen is linked to a focus mode, it is activated whenever the focus mode is active. This works both ways: changing your focus mode brings up the associated lock screen, and changing your lock screen to one associated with a focus mode starts that focus mode automatically.