In today's day and age, security and privacy are the golden words. Social media platforms are taking new steps every day to make the experience safer for everyone. However, there are still some elements in the society who like to break these rules and create a nuisance towards other honest users of the platform.
Facebook is the most populated social media platform out there, and while there are many safety features, there are still cases of harassment and stalking that just don't seem to go away. Platforms like Snapchat have added smart fail-safe methods wherein you can see if the opposite party has screenshot your content. This is very useful in reporting people who are now the best company and thereby keep yourself safe.
Currently, this screenshot detection feature is not available on Facebook, but there is a way for you to ensure that people don't save or share your profile picture on Facebook.
Let's see how you can safeguard your profile picture on Facebook.
Open the web browser on your PC/Laptop.
In the URL bar type in www.facebook.com

Login to your Facebook account.
Click on your profile picture to open your profile.

Click on the 'Option' button.

Click on the 'Turn on Profile Picture Guard.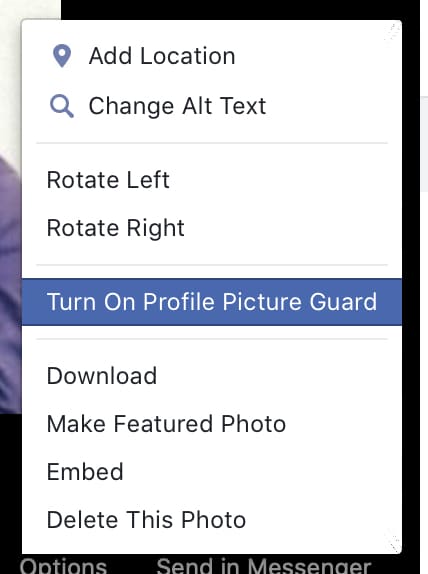 Once you turn on the profile picture guard,
Other people can't tap Share, Send in a message, Share externally or Download from your current profile picture on Facebook.
Only you and your Facebook friends can tag your current profile picture.
An image of a shield is added to your profile picture.
In conclusion, until the screenshot detection feature makes its way to Facebook, this is the best way to safeguard your profile photo on Facebook.