Mobile peripherals are now trending in the market, thanks to the number of added features and functionalities that brands are putting into their offerings. One of the best in the business when it comes to such mobile peripherals is Belkin.
Belkin is known for its robust and classic designs, with some really attractive feature combinations in its peripherals portfolio. While Mobile covers or wireless charging pads are something they have a foothold in, the product we have got today is something rather different.
Smartphones today are slowly moving towards wireless charging, but what is more of a trend these days is media streaming. With music services and content streaming services finding a place on most smartphones, Belkin thought it would be cool to combine charging and streaming. With that in mind, say hello to the Belkin Wireless Charging Stand 10W + Speaker.
Yes, the name is a mouthful, but when you go past that, the device itself is a very smart piece of tech. Let's took a look at this product in a little more detail.
Design –
When it comes to design, we love how Belkin has retained its unique approach towards this product. While the idea of a speaker and a charging stand together sounds clumsy, the designers are Belkin have given this a bit of thought and the solution is actually quite sleek.
The Speaker and the wireless charging base have been combined into this half-sphere, which rests plush on a skeletal stand. Not a lot of material here, so the whole product itself weighs just around 110g.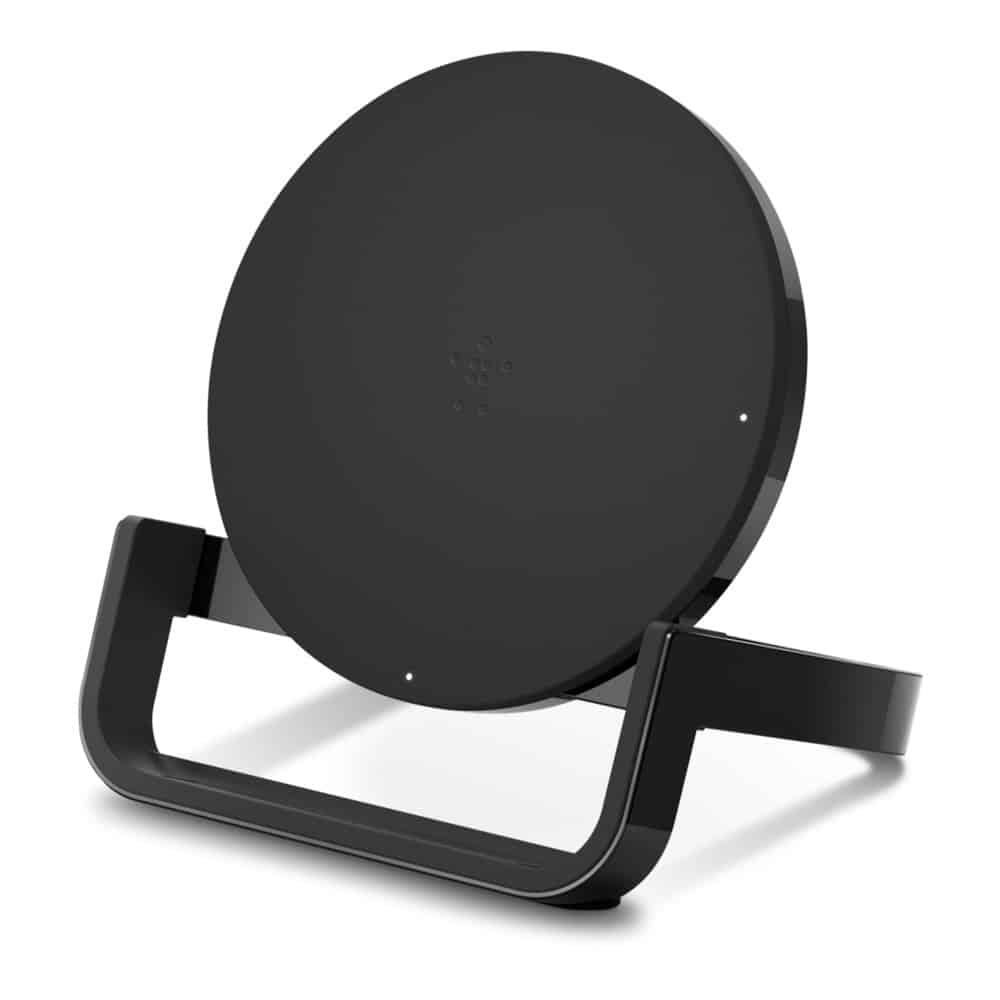 The stand has been designed in such a way that you can place your smartphone in portrait or landscape alignment without a problem. For example, if you are watching a movie, and you want to charge the smartphone, you can just place your smartphone in landscape mode and the charging will begin.
The Belkin Wireless Charging Stand 10W + Speaker comes in two color options – Black and White, but we have a preference for black, simply because it doesn't stain as easily and fits into any décor that you have.
Overall, Belkin has pulled off a very robust and very well-designed gadget, and we have absolutely no complaints regarding how it looks and feels aesthetically.
Wireless Charging is done right –
The first application of the Belkin Wireless Charging Stand 10W + Speaker is wireless charging. This is a pretty straightforward affair. If your device has Qi-certified Wireless charging built-in, you can use this stand and provide an optimized 10W wireless charging to your smartphone.
Belkin has gone a step further and also added support for nonmetal smartphone covers as well (up to 3mm). This gives you a lot more flexibility when it comes to charging your smartphone.
We tried it out with regulation cases on our smartphones, and the Belkin Wireless Charging Stand 10W + Speaker performed exceptionally well in terms of detecting and charging the device.
Speaker Output –
The second half of the Belkin Wireless Charging Stand 10W + Speaker, is, well, the speaker itself. Belkin has added in a 3W Bluetooth speaker, which features a one-touch setup. This means pairing and unpairing are a breeze.
The output itself is decent all things considered, definitely not studio quality, but they do the job. We tried to stream different content, including gaming, videos, and songs, and the general outcome here is that they perform to their rating, nothing more.
We especially loved the one-touch connection feature. The moment, we placed the smartphone on the stand, the Bluetooth speaker got paired and we could stream content immediately. It's super fast and with the stable output, the whole package is worth it.
Pricing and Availability
The Belkin Wireless Charging Stand 10W + Speaker is priced at $49.99 and is available on the official Belkin website.
All in all, we really liked the new Belkin Wireless Charging Stand 10W + Speaker, and if you are in the market for a wireless charger or pad, you should instead, give this a look. Not only does this provide optimized charging, it even supports portrait and landscape placement, and the built-in 3W speakers do the job just right.