Despite an apparently contradictory tweet from YouTube's support account, YouTube Premium customers may no longer sign up to test the picture-in-picture functionality on iOS. Picture-in-picture has been removed from YouTube's list of experimental features, where it was previously listed with an expiration date of April 8.
According to reports, some users are getting a "the feature you're testing has been disabled" banner indicating that the test has concluded.
The tweet came in response to a user who inquired about a prior test of the function, which was only available to YouTube Premium subscribers. Google added picture-in-picture capability to its YouTube TV service on iOS only last month, and according to Google spokesperson Allison Toh, the tweet was referring to YouTube TV, not the standard YouTube app.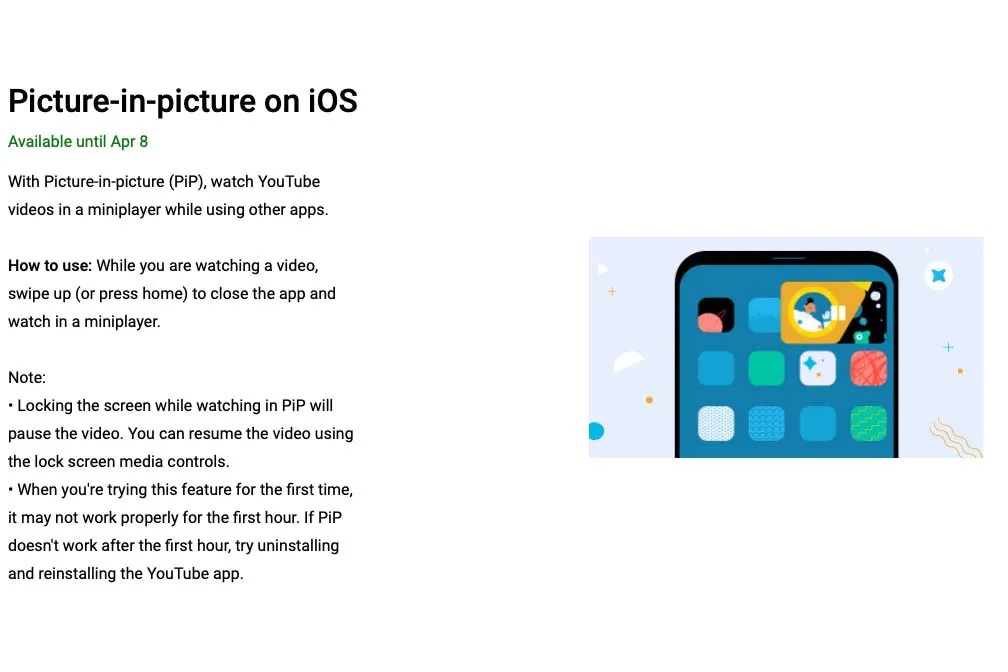 While picture-in-picture support is available at the system level for most video services on both iPhones and iPads, YouTube's support has been patchy, necessitating workarounds such as viewing the service through a browser rather than its native app. However, YouTube's Premium test improved the functionality significantly by allowing users to continue viewing even when they navigated away from the main YouTube app.
YouTube's experimental support for picture-in-picture for premium subscribers was always intended to be restricted. The beta phase, which began in June of last year, was initially scheduled to finish on October 31st before being extended. However, although the test was limited to premium customers, YouTube confirmed last month its intention to roll out the functionality to all iOS users in the United States, including non-premium users, "in the coming months."