Unity, the widely-used game engine, appears to be contemplating a potential reversal or revision of its contentious installation fee policy. The policy, which stirred unrest among both game developers and players, involved charging game developers a fee per installation once they exceeded 200,000 installs. While the policy was scheduled to take effect on January 1, 2024, it led to a significant controversy, including an unspecified threat made against Unity, prompting the temporary closure of two of its offices. Authorities have not confirmed any direct correlation between the policy announcement and the threat.
Unity's Apology and Pledge for Change
Unity responded to the uproar with an apology on Twitter, acknowledging the confusion and distress the policy had generated. Although Unity's tweet did not delve into specific alterations to the policy, it indicated that changes and a potential about-face were on the horizon.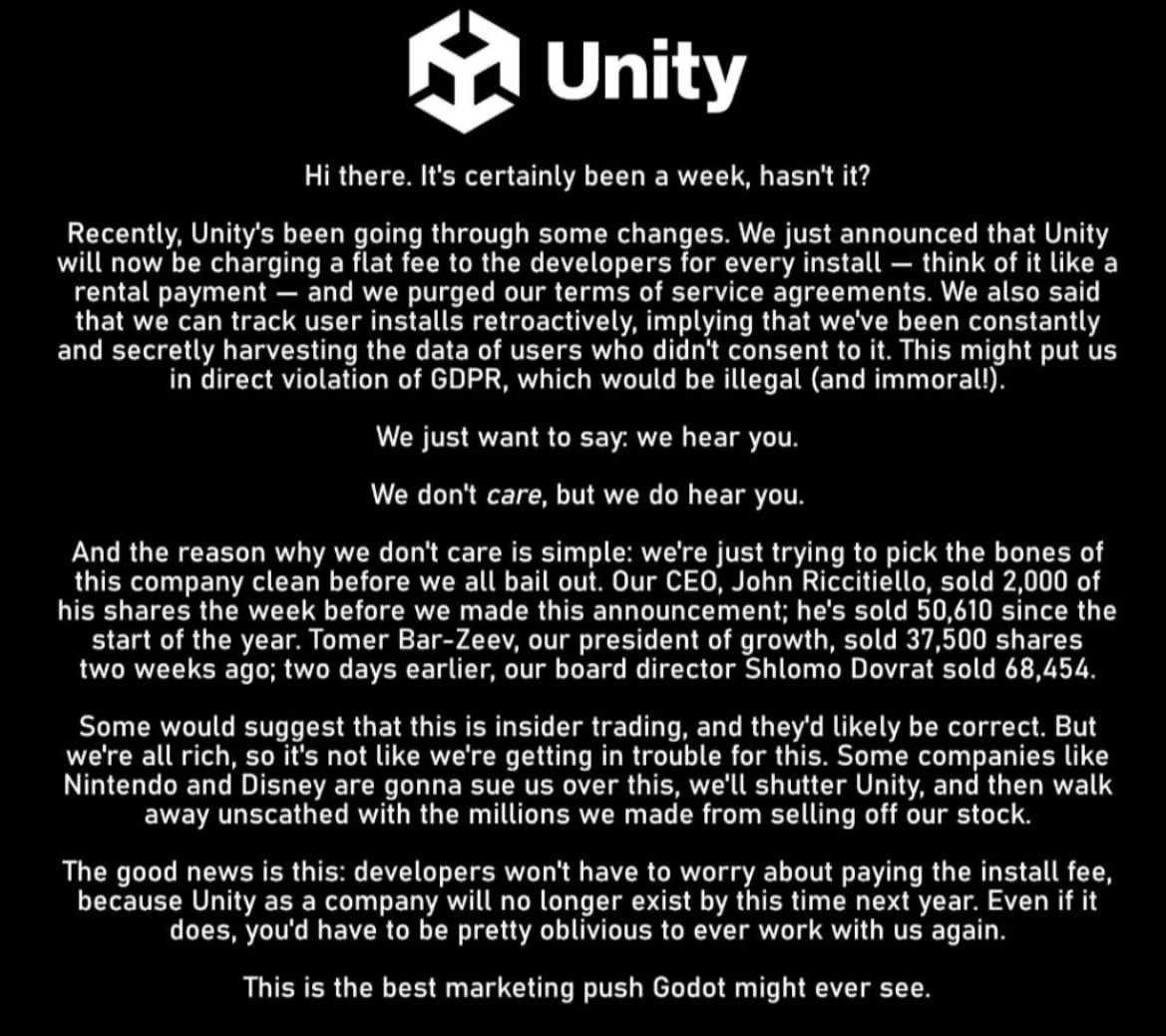 "We have heard you," the statement began. "We apologize for the confusion and angst the runtime fee policy we announced on Tuesday caused. We are listening, talking to our team members, community, customers, and partners, and will be making changes to the policy. We will share an update in a couple of days. Thank you for your honest and critical feedback."
Developer Skepticism Persists
Despite Unity's apology and promise to reevaluate the policy, developer skepticism persists. Many game developers and industry figures expressed ongoing unease regarding the policy's potential implications. Prominent figures like Geoff Keighley, known for hosting Opening Night Live and The Game Awards, cautiously welcomed the prospect of changes, stating, "Let's see the changes." Others, including Tim Soret, the founder of Odd Tales Games, are advocating for a complete reversal of the policy or a shift toward a more conventional revenue-sharing model.
Bridges Burned and Alternatives Considered
Throughout this ordeal, Unity appears to have strained its relationships with numerous developers and publishers. Some have opted to switch to alternative game engines like Godot in response to the controversy. The extent to which Unity's reputation can recover remains uncertain, but it is clear that the fallout from the policy announcement has had a significant impact on the game development community.
Awaiting Unity's Decision
As Unity prepares to provide an update in the coming days, the future of its installation fee policy remains in question. Whether the company will decide to scrap the policy altogether or make substantial revisions is yet to be seen. The resolution of this issue will likely shape the perception of Unity within the game development community and determine whether the trust that was eroded during this controversy can be rebuilt.
In any case, Unity's response to the vocal and widespread backlash against its installation fee policy underscores the importance of transparent communication and collaboration between developers and the platforms they rely on. The gaming industry, with its diverse and passionate community, remains vigilant in holding companies accountable for their policies and decisions that can impact both creators and players.