When it comes to enjoying music at its finest, nothing quite compares to the immersive experience provided by a pair of top-notch stereo speakers. While modern wireless speakers offer convenience, they often fall short in reproducing the depth and authenticity of sound that true stereo speakers can deliver.
The timeless principles of stereo sound have stood the test of time, and audiophiles can attest that the power and clarity of a well-matched stereo pair surpass that of a single-box system. With a dedicated left and right speaker setup, the soundstage expands, offering a more natural, comfortable, and powerful listening experience.
With a myriad of stereo speakers available on the market, choosing the right ones for your needs can be a daunting task. That's why we have meticulously tested and reviewed the best hi-fi speakers from renowned audio companies such as Definitive Technology, Klipsch, KEF, and Q Acoustics.
In this comprehensive guide, we present a range of options to suit various preferences and budgets. From compact bookshelf speakers, some of which also make our list of the best computer speakers, to towering models with built-in subwoofers that command any room, we have you covered.
If you're specifically seeking to upgrade your TV's audio, we recommend checking out our best soundbars guide. Alternatively, for those fascinated by the latest Dolby Atmos technology, our best Dolby Atmos soundbars guide offers valuable insights.
Whether you are looking to pair your speakers with a record player or aspiring to build the ultimate hi-fi system, our carefully curated selection will cater to your specific requirements. Get ready to elevate your audio experience as we unveil the finest stereo speakers of 2023.
Number 1: Definitive Technology BP9080x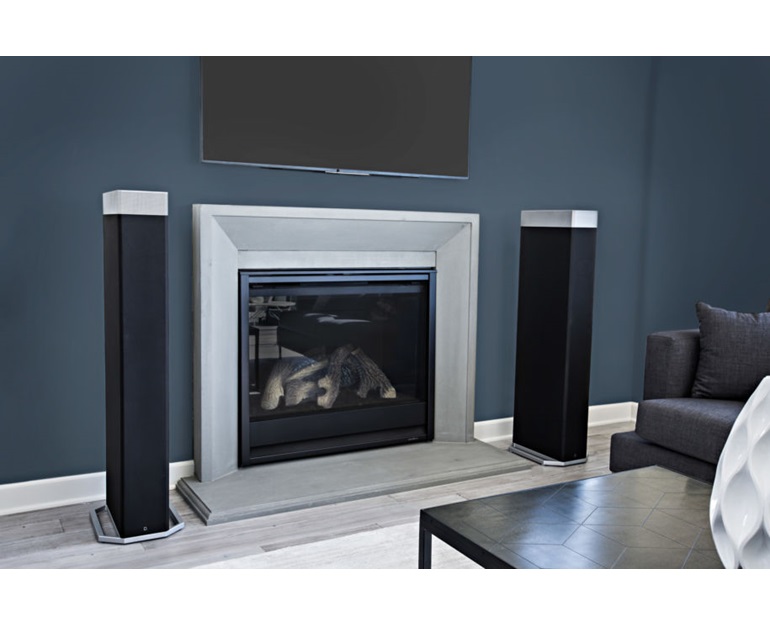 The Definitive Technology BP9080x stereo speaker system is a true luxury item designed for passionate audiophiles who demand the utmost in audio quality. While it may come with a high price tag, these speakers offer an exceptional audio experience that is worth every penny.
With crystal clear and articulate sound throughout the entire frequency range, the BP9080x speakers deliver a truly immersive and moving listening experience. The passive design, combined with the active subwoofer, allows for independent control of the subwoofer volume on each tower, ensuring optimal sound adjustment for any room and eliminating standing waves.
The mid-range reproduction is rich and full, maintaining clarity even at high volumes and complex sound compositions. The treble frequencies are equally impressive, offering a smooth and detailed sound without any harshness. The speakers excel in providing exceptional clarity from the top to the bottom of the frequency range.
To top it off, the BP9080x speakers feature two 'height channel' speakers, making them a perfect centerpiece for a Dolby Atmos or DTS:X home theater setup, adding an extra dimension to your audio experience.
Beyond their remarkable audio performance, these speakers boast a sleek and slender design crafted from premium materials. Despite their discreet appearance, they are capable of producing impressive volume levels.