In the modern digital world, many types of businesses such as startups, corporations, small businesses that want to promote themselves online, are increasingly aware of the need to develop their own applications to improve competitiveness. 
There are special platforms for this purpose – frameworks. This is an assistant for any developer, simplifying the way of creation by means of automated tools and blocks. It is like a Lego constructor, inside there are ready-made parts of different colors and shapes, and you create from them the necessary design.
If we look at the statistics, React Native framework is at the highest rung. 53% of developers use it in their production.
Let's take a closer look at these tools, hire specialists and React Native developer salary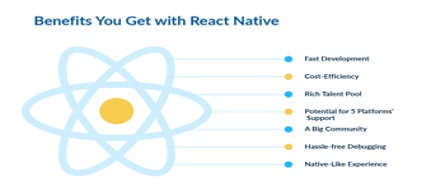 React Native is ideal for cross-platform development and allows you to create native applications. That is, they look the same as native, but are not created in the native languages of the operating systems Android and iOS. This framework was developed by the world-famous company Facebook. Accordingly, the Facebook app itself was developed on React Native, just like the known to you Pinterest, Shine, Skype, Instagram, Walmart.