In the modern digital world, many types of businesses such as startups, corporations, small businesses that want to promote themselves online, are increasingly aware of the need to develop their own applications to improve competitiveness. 
There are special platforms for this purpose – frameworks. This is an assistant for any developer, simplifying the way of creation by means of automated tools and blocks. It is like a Lego constructor, inside there are ready-made parts of different colors and shapes, and you create from them the necessary design.
If we look at the statistics, React Native framework is at the highest rung. 53% of developers use it in their production.
Let's take a closer look at these tools, hire specialists and React Native developer salary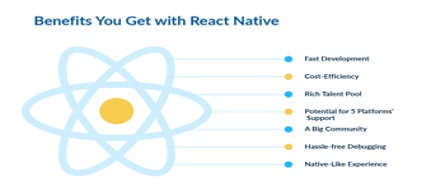 React Native is ideal for cross-platform development and allows you to create native applications. That is, they look the same as native, but are not created in the native languages of the operating systems Android and iOS. This framework was developed by the world-famous company Facebook. Accordingly, the Facebook app itself was developed on React Native, just like the known to you Pinterest, Shine, Skype, Instagram, Walmart.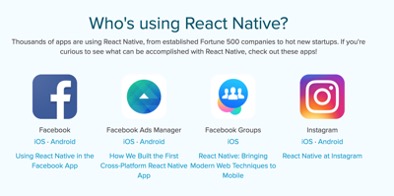 This platform has become a lifeline. It allowed not only to create applications for 2 mobile operating systems used in most smartphones, and also gave the opportunity to update simultaneously.
Developed ecosystem means that for a long time of existence in the market, has formed a tool support system, open source libraries. Imagine that a new model of iPhone is coming out. And you can immediately buy for it all the necessary accessories: cases of any color, headphones, chargers, protective screen etc. Unlike less popular smartphone brands, for which you have to search, wait or order, there is no such variety of accessories.
All of these resources allow you to:
create high-quality, beautiful and functional apps

reduce development time

        

get help from a large community to solve problems
The universal JavaScript language is used to develop applications on React Native. A large, growing developer community of over 48,000 has lined up around the platform to help solve challenges and problems.
All of the above allows you to conclude about the popularity of the framework, as well as to understand that the demand for competent React Native developers is very high today.
Places where experienced React Native developers hide out.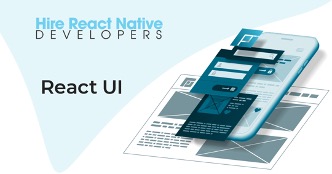 You can use several sources to post a vacancy at once:
By recommendation. Contact partners who have already dealt with building applications.

Job sites and online job search platforms. GitHub Jobs, Upwork, Freelancer, Stack Overflow, PayScale, We Work Remotely, Topta, Guru and Glassdoor.

Social media. You can post both in your own sources and use Facebook, LinkedIn and others to search for specialists and view CVs.

Recruiting agencies. The essence of this method is shifting tasks to experienced professionals.

Specialists search for candidates based on specified criteria, interview them, and leave only the suitable programmers to network with you. They do the work for you.

Conferences and Meetups and other IT events. You can become their participant, evaluate experts, understand the topic and choose the right future employee or team of developers.
Possible options for cooperation with React Native developer
Your tasks determine the choice of the right platform and executor.
Analyze your future project according to the following parameters:
your team's professionalism and area of expertise

budget

the desired goals
If you need a full-time employee for day-to-day tasks or a specialist for a new line of business, you should consider an in-house specialist.
For one-time projects, temporary replacement or assistance to a staff member, either a freelancer or outstaffing is the right choice. Outstaffing is the rental of an experienced specialist to the "staff". This is a convenient way to get an experienced specialist on loan and save yourself from routine tasks, as well as to increase the time needed to complete a project.
The demanded  and interesting option is outsourcing. You can outsource the project or its part to a professional team. The executor himself determines what specialists should be part of the team to achieve the result. Here we can talk a lot about the value of such services, but their advantages are undeniable. You do not just use the extensive experience of a professional team, which allows you to implement the project in the shortest possible time, but you also reduce the administrative costs in the long run. 
Tell me where you live, and I'll tell you how much you earn.
Indeed, there are many criteria by which a salary for a React Native developer is determined. The main ones are experience, professionalism and location.
But before we talk about statistics, it's worth discussing the mistakes employers make. And the most important of them is the misconception that a good specialist can be cheap. Yes, an inexperienced or obsolete developer will indeed cost a company cheap, but it will be impossible to achieve the desired result. In this case, you will lose not only money, but also time. 
A developer should be constantly learning and improving his skills, to keep abreast of trends in the rapidly changing IT sphere. He needs time and conditions to do this.
Let's break down the "value" of a developer depending on experience.
React Native developers are divided by and qualifications Junior, Middle, Senior. When dividing by these factors, soft and hard skills are taken into consideration. The salary difference can be from $800 to $9000, although there is no upper limit. Of course, a beginner will get less than his colleague from 3+ years of experience. This has to do not with the knowledge he has, but with how this or that developer knows how to solve problems, how much time he spends on development and on solving difficulties, what communication skills he has. For the Senior React Native developer level, it is important to be able to manage and set tasks for the team, foresee possible difficulties and think strategically.
Frontend specialists do not always evaluate their knowledge objectively and may underestimate their qualifications. In this case, it is advisable to use independent evaluation criteria, study the implemented projects and check the communication skills of the developer.
Also, the level of payment depends on the location of the specialist of the same level and qualification. The most highly paid developers live in the United States of America with a salary of $9100, England, Canada, Australia about $6500, Ukraine, Russia, Belarus $1600-2200, India about $1100. Experts argue that the rate is different because the cost of living in other countries is lower.
Dependence of salary per year on the experience and location of the developer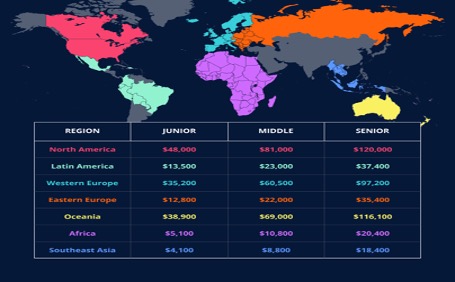 Another essential factor for the developer is the knowledge of English. This allows the specialist to work with foreign companies all over the world. With 1-2 years of experience, a specialist with a good level of English, gets twice as much.
So let's summarize. React Native platform keeps its relevance and allows you to develop apps faster and save up to 30% of money compared to other frameworks. React Native developers can build a successful career with the right level of skill and experience, be in demand and do interesting projects. Specialists become a part of one big community, where they always find support and help from more experienced developers.