If you simply want a capable video consumption device for the lowest possible price, Amazon's Fire HD tablets are still worthwhile choices. Within this lineup, the Fire HD 10 offers the best value for the majority of users. This is particularly true when the product is on sale, and as of the time of this writing, the 10.1-inch slate is once again available for $75 at a number of stores, including Amazon and Best Buy.
Although the tablet was temporarily offered for $55 at Target earlier this year, this price is comparable to what we saw during Amazon's most recent Prime Day promotions and Black Friday sales from a year ago. Although the MSRP for this 32GB device is actually $150, a few modest price cuts have recently brought the street price closer to $130.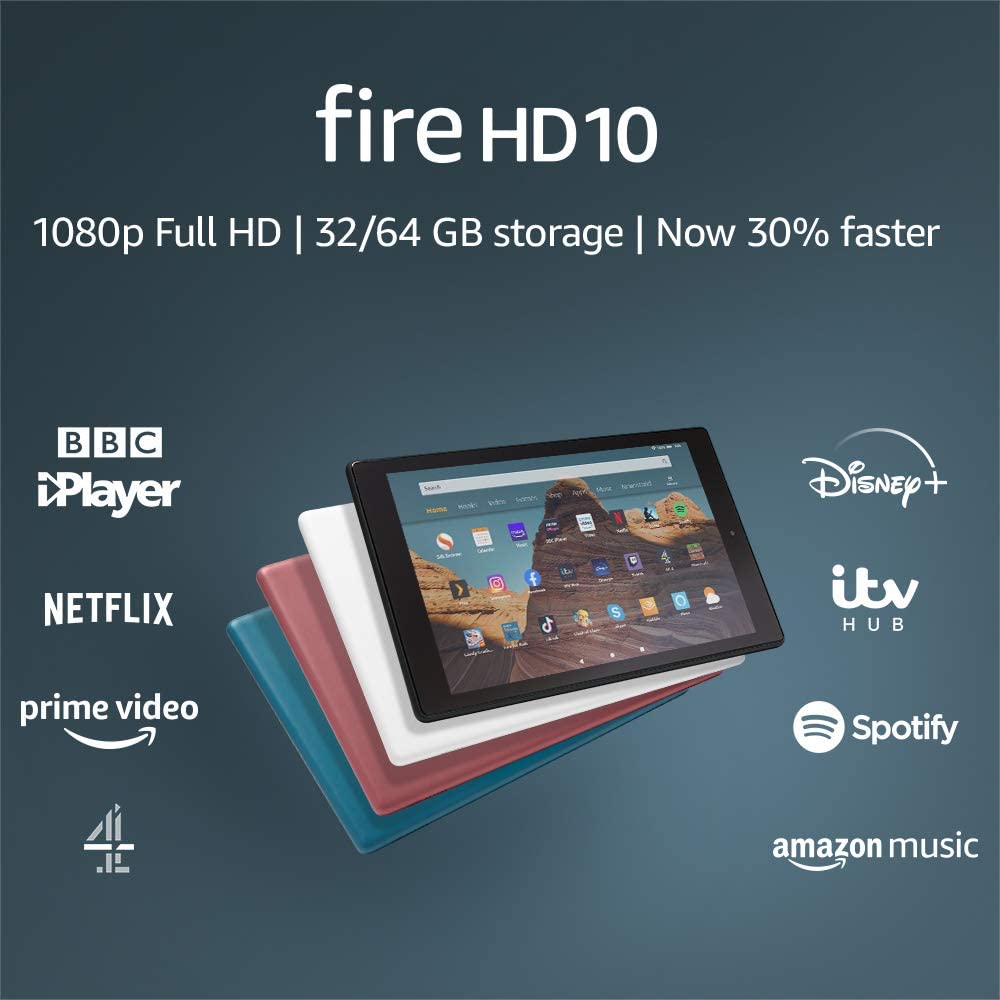 For what was already one of the better values on the tablet market, this is a terrific price. The Fire HD 10 is a basic tablet like the rest of Amazon's Fire lineup: It is primarily built of matte plastic, has subpar speakers and cameras, and has very few features that feel as high-end as those found in even the most basic iPad. However, if you're only interested in casual online browsing, ebook reading, video streaming, and Alexa-related items, everything is adequate for the price. Expect little in the way of gaming from its eight-core MediaTek Helio P60T processor and 3GB of RAM, but it can handle the essentials without experiencing frequent lags, and it performs more quickly than the more affordable Fire versions.
Similar to the 8.9-inch panel, the 10.1-inch display isn't the brightest or most colorful you'll see, but it's perfectly adequate for $75. Again, it's 1920 x 1200 resolution is a significant improvement over the Fire 7 or Fire HD 8's lower resolution, and just having more space makes it more aesthetically pleasing for video streaming and brief Zoom chats. The tablet charges via USB-C and has a battery life of around 12 hours per charge. Although the model being offered here at a discount only has 32GB of internal storage, you can add more with a microSD card.
Any Amazon tablet comes with the usual software warning. With no access to the Google Play Store and thus no native Google apps like Gmail or YouTube, Amazon's Fire OS is still a forked version of Android that frequently directs users to its own online store, apps, and services. There is still lock screen advertising, and removing them still costs $15. The Play Store and its larger software collection may still be sideloaded with relative ease, although it is obviously not the most user- or security-friendly option. Instead, sticking to Amazon apps like Kindle and Prime Video, well-known apps like Netflix, or simple web browsing will get the most out of a Fire tablet.
Despite this, the OS is still quite capable of handling numerous user profiles and parental settings, and it still has a useful "Show Mode" feature that can effectively transform the tablet into an Echo Show-like smart display when it's not in your hand. 
The offer is a component of a larger promotion on Amazon tablets. For instance, the Fire HD 10 Kids and Kids Pro models have both dropped to their previous lows of $120.Although their hardware is otherwise identical, those have sizable protective bumper cases (the Pro's is a little slimmer), two-year warranties, and a year of Amazon's Kids+ child-focused content service. It's also important to note that you can set up a kid-friendly profile on the base Fire HD 10 as well.
Meanwhile, the Fire HD 10 Plus is on sale for $105, which is the lowest price we could find. That one adds a further gigabyte of RAM and wireless charging capabilities, which are nice additions—especially if you want to use the smart display functionality—but nothing we'd call crucial for the majority of consumers looking for a good budget tablet. We'll also point out that the Fire 7 has dropped to a new low of $42, but if you're just looking for the cheapest usable slate, we'd advise waiting for the freshly updated Fire HD 8 and its significantly improved hardware to go on sale.