In today's digital age, where our lives are increasingly intertwined with technology, the importance of strong and secure passwords cannot be overstated. With the ever-growing number of online accounts we manage, remembering unique and complex passwords for each one can quickly become an overwhelming task. This is where password managers come to the rescue, offering a convenient and secure solution to protect your digital identity. In this blog post, we will delve into the realm of password managers and explore the best options available in 2023. Whether you are a security-conscious individual or a business professional seeking to safeguard sensitive information, we will help you navigate the vast landscape of password managers and find the one that best suits your needs. Join us as we unravel the features, security measures, and user-friendly interfaces of the top password managers, equipping you with the knowledge to make an informed decision and ensure your online accounts remain well-guarded.
Number 1. 1Password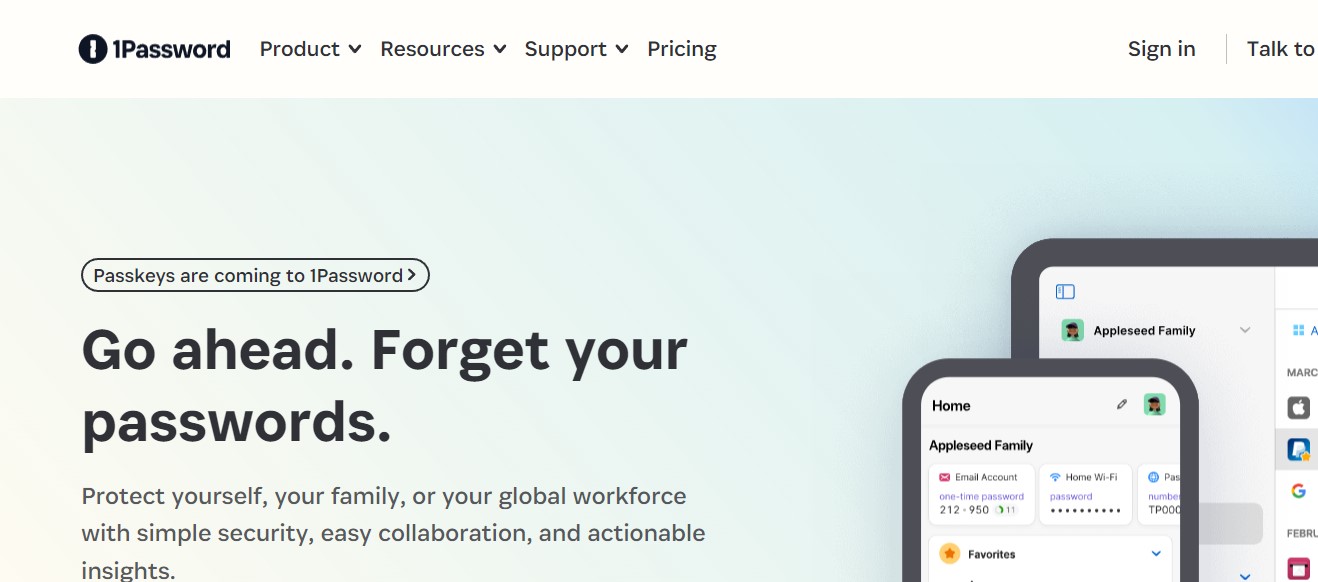 When it comes to safeguarding private information, security experts place their trust in 1Password—and it's easy to see why. This service not only employs industry-standard encryption measures but also incorporates a "secret key" that remains exclusive to the user, in addition to their master password. With its commitment to a zero-knowledge policy, 1Password ensures that no data is retained. Moreover, the platform offers a range of additional security features, including regular audits and a bug bounty program.
One of the standout features of 1Password is its user-friendly interface. Upon downloading the service, users are greeted with a helpful tutorial that guides them through the process of importing passwords from other managers, preventing the need to start from scratch. The platform also provides a clear rating system for password strength, allowing users to gauge their security levels easily. Additionally, the "open and fill" option in the vault enables swift access to desired websites. To further streamline the experience, 1Password offers a convenient scanning feature that allows users to connect their accounts to mobile devices without the hassle of extensive typing.
For a monthly fee of just $3, individuals can benefit from 1Password's comprehensive services. This subscription plan offers unlimited password storage, unlimited items, and one gigabyte of document storage for the user's vault. Furthermore, users can securely share passwords, credit card information, and other stored credentials. Those seeking a more expansive plan may opt for the family subscription, available at $5 per month. This upgrade allows users to invite up to five individuals to join their vault, with the option to add more participants for an additional $1 per person per month.
Number 2. Bitwarden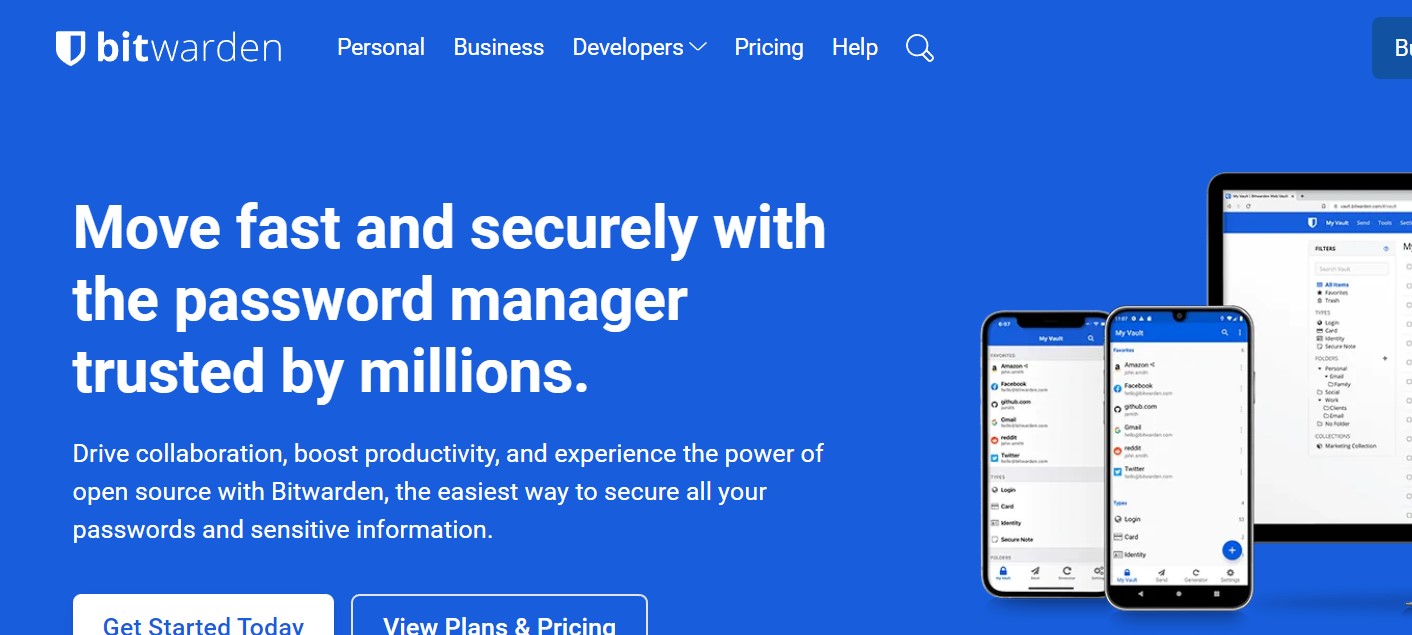 When it comes to password management, Bitwarden stands out as a top contender, especially with its impressive free plan. Unlike some of its competitors, Bitwarden's free offering allows users to store unlimited passwords on an unlimited number of devices—an unbeatable advantage. While there are a few limitations, such as the ability to share vault items with only one other user, we believe this is a reasonable tradeoff given the plan's generous features.
One of the key strengths of Bitwarden lies in its open-source code foundation. Being based on open-source technology means that anyone on GitHub can review and audit the code, ensuring a higher level of security. This transparency is a significant reassurance for users concerned about the integrity of their password manager. On an individual level, Bitwarden provides additional security measures, such as regular security audits and a data breach report. These features keep users informed about any potential compromises to their passwords, empowering them to take immediate action and change passwords when necessary. Furthermore, Bitwarden offers exceptional cross-platform compatibility, ensuring seamless integration across various operating systems. Users can also enjoy a range of customization options and convenient access to their vault, enhancing the overall user experience.
While Bitwarden's free plan is undoubtedly impressive, the paid version offers even more value and functionality, making it a worthwhile investment. Priced at just $10 per year for individuals or $40 for families, the premium subscription unlocks a plethora of advanced features. These include encrypted file storage, emergency access to passwords, and unlimited sharing capabilities, among others. However, even with its paid version, Bitwarden ensures that the free plan remains robust, providing all the fundamental tools necessary for anyone looking to dive into password management effortlessly.
Number 3. NordPass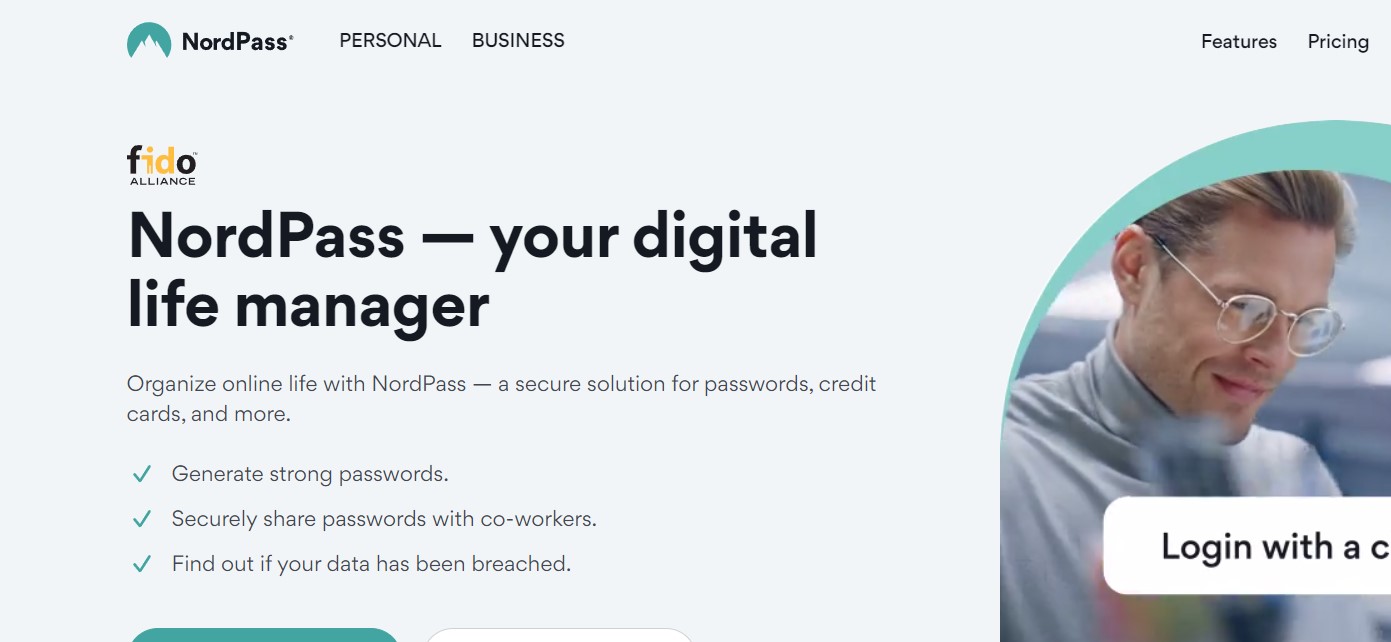 When it comes to cross-platform availability among the password managers we tested, we found that most options performed relatively similarly. They were widely accessible across web browsers and various operating systems, aligning with the offerings of our other top picks on this list. However, we feel compelled to highlight NordPass due to its exceptional ease of use when it comes to accessing your password vault from any platform.
NordPass offers a free option that allows users to store unlimited passwords and sync them across multiple devices. This provides users with the flexibility and convenience of accessing their passwords whenever and wherever they need them. For those seeking additional features and enhanced convenience, a premium subscription is available at just $2 per month. With the premium plan, users can stay logged in seamlessly when switching between devices, receive security notifications to stay informed about potential breaches, and enjoy the ability to share items securely. Families can also benefit from NordPass with a family subscription priced at a mere $4 per month, which includes six premium accounts. This makes NordPass an appealing choice for budget-conscious users without compromising on functionality and features.
While NordPass offers a familiar and straightforward user experience, it does come with a few standout features. The option to connect accounts using a pairing code simplifies the process of seamlessly transitioning between devices, whether it's from a laptop to a mobile device or a work computer. This level of convenience can be a lifesaver for those constantly switching devices, saving valuable time and maintaining sanity in the process. If you find yourself in such a situation, NordPass is certainly worth considering for its ability to streamline your workflow.