As we head into 2023, the gaming industry continues to evolve and grow at an unprecedented pace. And with the advancement of technology, the gaming peripherals market is not far behind. Gaming mice, in particular, have become increasingly important for gamers looking to enhance their performance and experience. But with so many options available, it can be overwhelming to choose the right one. In this blog post, we'll be discussing the best gaming mice that you can buy in 2023, based on their features, performance, and price range.
Number 1. Razer Basilisk V3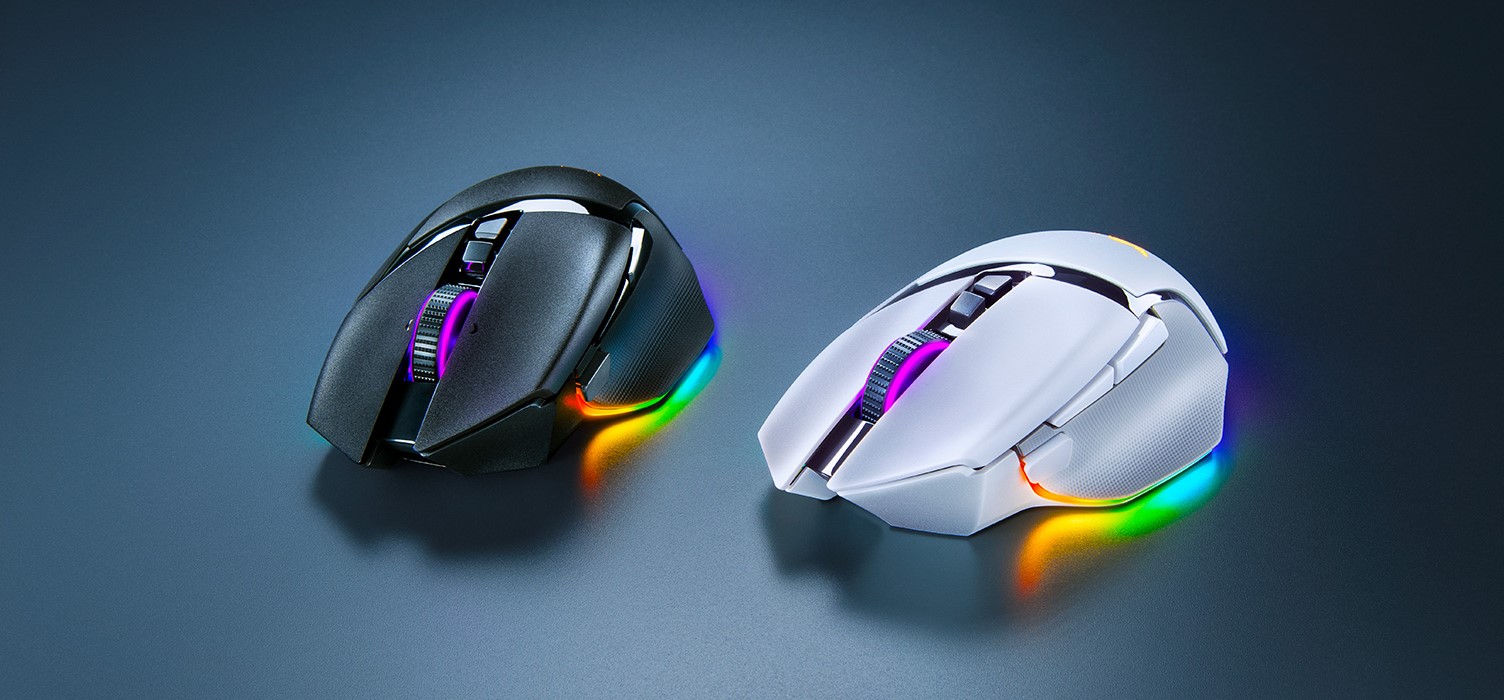 The Razer Basilisk V3 gaming mouse provides an exceptional blend of price, performance, build quality, and comfort compared to other gaming mice we tested. Typically priced between $50 and $70, it boasts a robust body with a pleasantly textured matte finish and a comfortable shape for all grip types, except for the smallest of hands. The mouse is equipped with durable optical switches, large and relatively quiet main buttons that are comfortable to press repeatedly.
The Basilisk V3 comes with 11 customizable buttons, including two easily accessible side buttons that are hard to press accidentally. It also features a dedicated "sensitivity clutch" on the side, allowing you to temporarily switch to a lower DPI for more precise aiming. This button may be harder to reach without effort for smaller hands. The mouse has a well-sized thumb rest and a loud, but tiltable, thumb wheel with a toggle to switch from ratcheted scrolling to free-spin mode, making it ideal for navigating unwieldy documents.
At around 100 grams, the Basilisk V3 is relatively heavy for twitch shooters, but its PTFE feet enable it to glide effortlessly, and its Focus+ sensor ensures accurate tracking. The weight should not be a significant hindrance unless you are seriously into competitive FPS play. The mouse cable is impressively flexible, and the RGB lighting is enjoyable without being too flashy. Razer's Synapse software, while naggy with updates, is easy to use, allowing you to set profiles and adjust DPI, polling rate, macros, and RGB effects. You can store up to five profiles directly on the mouse, but lighting customizations will not carry over.
The Basilisk V3 is ergonomically designed for right-handed use. If you are looking for an ambidextrous model with similar performance in the same price range, Razer's Viper 8KHz is a good option.
Number 2. Logitech G203 Lightsync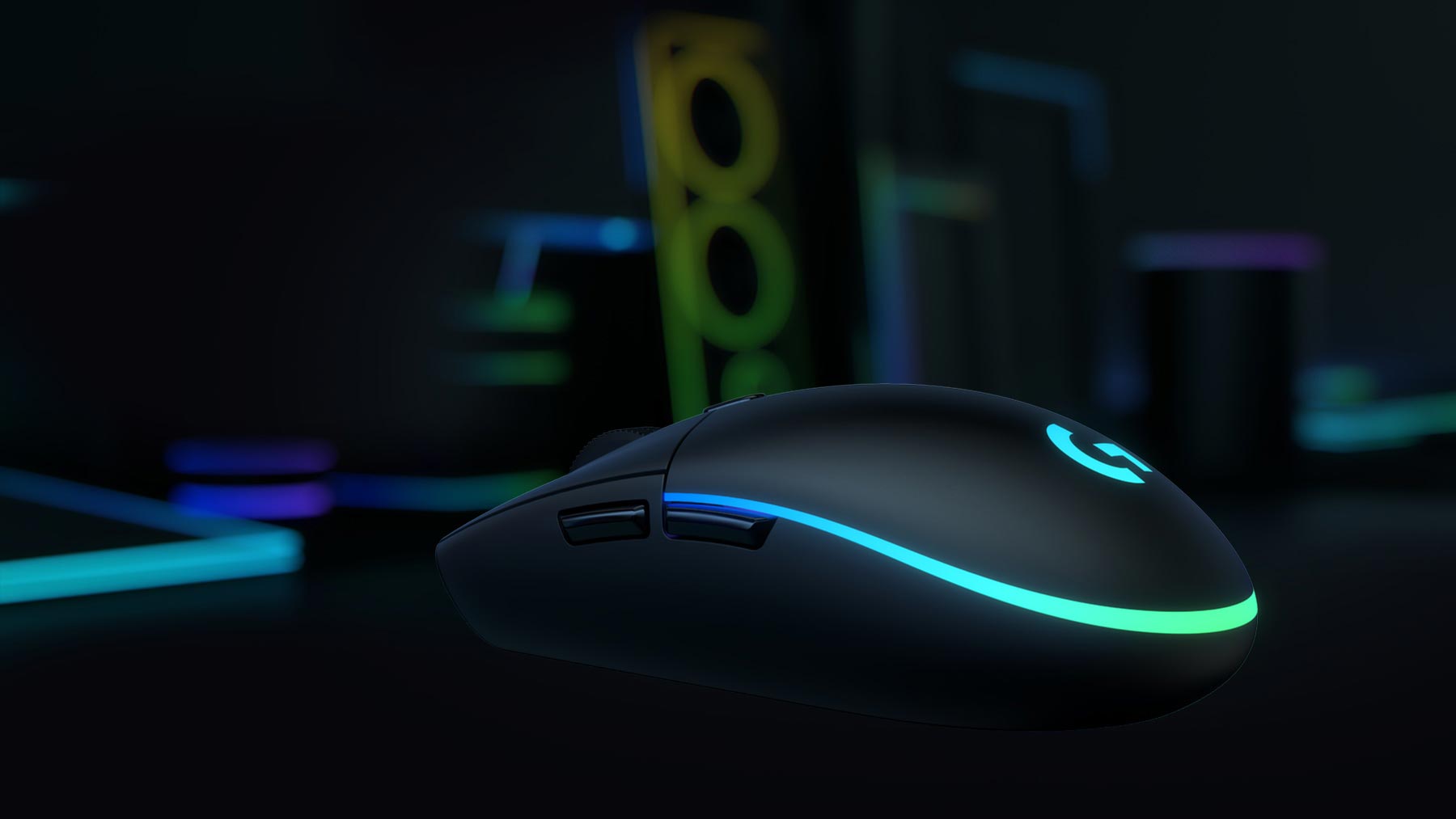 For a budget-friendly gaming mouse that gets the job done, opt for the Logitech G203 Lightsync. Its design may be too small and flat for those with large hands and a preference for palm-grip, and its rubbery cable and somewhat mushy scroll wheel aren't perfect. However, it is reasonably light (85g), sturdily built, and well-suited for fingertip or claw grips. It even comes in attractive lilac and blue finishes, in addition to the standard black and white options.
Although the G203 is ambidextrous, it only has two customizable buttons on the right side, as well as a DPI cycle button on top. The RGB lighting at the bottom is tasteful, and the G Hub software by Logitech allows for easy tweaking of settings on both Windows and macOS, though it lacks onboard memory.
Despite the Logitech Mercury sensor being a few years old and not as advanced as newer models, it's responsive enough to do the job and consistent, aided by the set of PTFE feet. While it may not be ideal for competitive games like Counter-Strike, it works well for most other games.
If you prefer a wireless option, the Logitech G305 Lightspeed has a similar shape and build quality as the G203, but with an upgraded sensor. Logitech claims it can last up to 250 hours on a single AA battery, but that does add to its weight, which is just over 100g.
Number 3. Logitech G600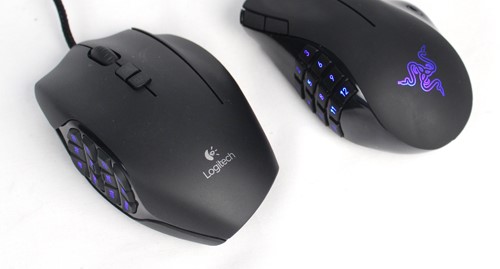 For an MMO-specific mouse, we recommend the Logitech G600. Despite launching back in 2012, it's still a solid choice. It does use mechanical switches and a laser sensor (Avago S9808), which might not be as precise as more modern optical sensors. It's also on the heavier side at 133g, and its wide body might not be comfortable for small hands or fingertip grips. The cable isn't particularly flexible, and its main buttons and scroll wheel are just average.
However, the G600's size is common among MMO mice, and its performance shortcomings won't be noticeable in this type of game. It tracks well for anything outside of fast-action games. The sloped shape of the mouse is comfortable for palm grips, especially for those with large or average hands. The scroll wheel can also tilt left and right.
The most critical feature of an MMO mouse is its ability to let you access several in-game commands with minimal effort. The G600 does that with its 12 customizable side buttons that are angled to distinguish them without constantly looking down. Unlike most MMO mice, the G600 makes these buttons "easy to reach." Additionally, the mouse has a third click button under your ring finger that brings up a second set of commands when pressed. This feature means you can access up to 24 different inputs with one hand, which is incredibly useful in MMOs. You don't need to contort your fingers around the keyboard, which is ideal for games like Final Fantasy XIV that require you to juggle multiple hotbars' worth of commands.
Although there are pricier MMO mice available, the G600's functionality makes it the best value in its market. It's also affordable, typically retailing around $35.