With the aim to transform the way Gen Z listens to and discovers new music, Snap Inc. has established a new partnership with Sony Music Entertainment to include their artists' music into Snapchat's Sounds library.
With over 200 million Snapchatters engaging with augmented reality every day, Snapchat is expanding the music experience on the app by adding Sounds into its AR Lenses available in the Lens Carousel and experimenting with new formats.
Rolling out soon, Sound Lenses will feature a pre-selected song embedded into the Lens, a Lens that transforms pictures of anyone to appear as if they are singing a song, and Cameo Sound Lenses that apply visual effects to put you and a friend as the stars of your own animated music video. To find Lenses with Sounds, look for Lenses that have a musical note icon on the Lens icon.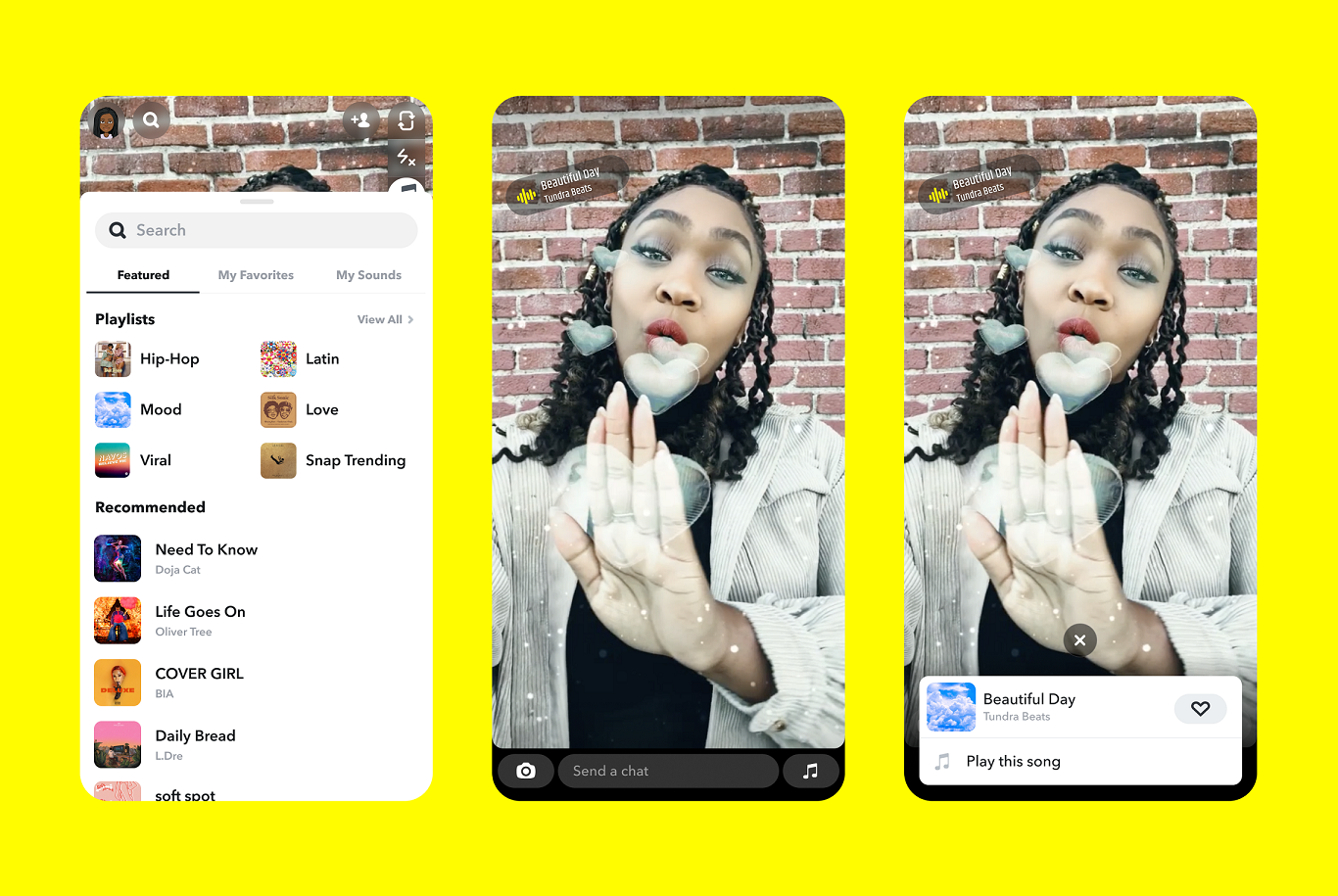 These new Sound Lenses will make for a more immersive music experience, and open a proven and powerful way for artists to share music on Snapchat.
Sony Music has leveraged Snap's powerful AR capabilities over the past few years to share new music with Snapchatters around the globe, and those experiences have had incredible reach.  For example, Snap and Sony Music partnered on an AR Lens to support the launch of Kygo's collaboration with Whitney Houston for her unreleased version of "Higher Love". In three days, this limited release Lens resulted in over 16 million Snaps creations, and it received over 55 million views.
Other partnered Lenses with Sony Music artists include Calvin Harris and Rag'n'Bone Man's "Giant", which resulted in 90 million creations and 1 billion views; and G-Eazy and Halsey's "Him and I", which resulted in 61 million creations and 750 million views.
Since launching the Sounds tool last year, videos created with music from Sounds on Snapchat have collectively resulted in nearly 1.2 billion videos created and nearly 77 billion views. There is tremendous value in friend-to-friend music recommendations and nearly 40% of all videos created with music from Sounds were shared directly with friends via chat.
Snapchatters can learn more about the music received from a snap by swiping up. A "Play This Song" link will also open a web view to Linkfire so snapchatters can listen to the full song on their favorite streaming platform (Spotify, Apple Music, and Amazon Music).