"Movies, Music, Sports have kept us entertained indoors during pandemics. In this season of world sporting events with universal appeal, Sennheiser has made the viewing experience even more enjoyable," says Heston Saldanha, Regional Sales Manager, Consumer Business in the MEA, CIS, and Pakistan " Whether you are someone looking for immersive 3D sound, minus a full room of cables or you are the only one looking for Big Game at arena volume, with Sennheiser solution everyone in the house wins."
Brief about Soundbar – Ultimate 3d sound experience
Powered by 13 high-end drivers, the Sennheiser AMBEO Soundbar delivers a 5.1.4 sound experience while also producing extremely deep 30Hz bass without the need for an extra subwoofer. And thanks to an advanced room calibration, it immerses you in studio-grade sound adapted to the specifics of your living room for an unforgettable 3D experience.
Brief about RS 195 – Surround Sound to take home entertainment to the next level 
Sennheiser's RS 175 offers an impressive range of features in a compact, ergonomic package so that you can enjoy music and television to the fullest. The Bass Boost and Surround Sound listening modes will allow you to experience your home entertainment system like never before – the former increases the audio bass response while the two virtual surround modes offer a more spatial and livelier stereo sound.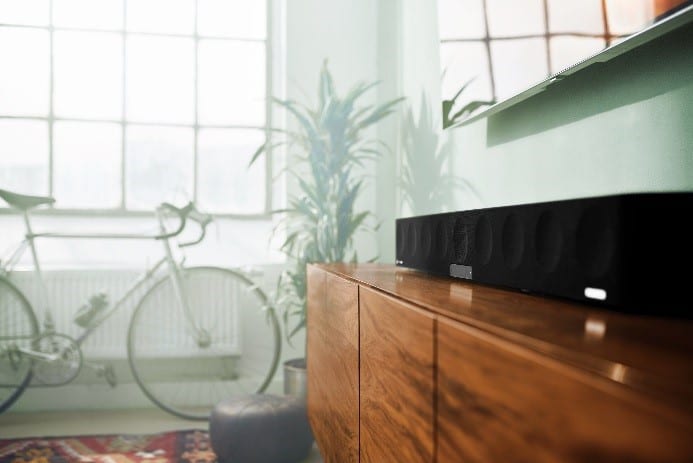 What's more, the innovative digital wireless technology ensures that signal transmission remains clear and accurate as you move from room to room. Additionally, the user-friendly design makes it easy to set up and enjoy the RS 175. The main controls are located on the headphones, so nothing will distract you from an exciting audio experience, and the comfortable fit is ideal for extended periods of use.
Brief about BT T100 Upgrade your home entertainment system with this sleek Bluetooth audio transmitter.
When you are using Bluetooth headphones on the go, you have come to love the freedom and tangle-free ease of use they offer you. So, why not have the same experience at home? With the BT T100 audio transmitter, you can enjoy the quality of your home stereo wirelessly, without changing your headphones. Bringing a new kind of freedom and comfort to your home. The BT T100 lets you easily connect your wireless headphones to your stationary sound equipment. Thus, you can enjoy the freedom of movement at home while listening to your music or watching movies – without disturbing others. Packed with cutting-edge wireless technology the BT T100 delivers high-quality audio as well as perfect synchronicity of picture and sound when watching visual media. Enhance your listening experience at home!