Fantasy finance is a new phenomenon in the crypto world. These contests took inspiration from fantasy sports. Instead of selecting players for your team, you pick tokens for your portfolio. If your portfolio performs better than others, you win.
Apart from being an exciting concept, fantasy tournaments are an excellent way to understand the crypto market risk-free. Keep reading to discover more about these contests and learn why they are so popular worldwide!
How Does a Fantasy Finance Platform Work?
Fantasy trading websites organize contests where you pick stocks or crypto coins based on available options or budget. You can adjust your selection until the competition starts. Once it begins, real-time market performance determines the success of each asset. If your portfolio is more successful than the opponent's selection, you win.
StockBattle has organized over 1.5 million fantasy contests since its establishment in 2021. It now has over 510k users coming from various regions, including the USA, the Philippines, India, and more.
Dubai recently implemented new laws that help regulate the crypto market. Michael Gavrilov, the CEO of Fantasy Invest Inc, sees this as a crucial opportunity to expand fantasy finance popularity in this region.
"Daily fantasy trading apps have a huge potential in GCC countries. StockBattle can offer a fun experience to its users while empowering them to understand how crypto works," says Gavrilov.
Why Is StockBattle So Popular Among Players?
Here is a brief overview of why StockBattle is popular worldwide:
There are two types of contests. You can enjoy quick 15-minute sessions where you test your skills against a single opponent. For those who prefer long-term competitions, there are fantasy tournaments that last a week. They are split into daily rounds to add to the excitement.
It's risk-free. StockBattle allows you to start with free fantasy contests to understand the interface and rules. Once you are ready, you can take things to the next level and participate in real-money competitions.
Rich features that help players learn about the market. Apart from using real market data, you can also check live charts to see price fluctuations and learn about each coin's market cap and value.
Fueling Crypto Literacy with Fantasy Trading
Many traders would like to learn about crypto but don't know where to start. A fantasy finance platform is a fun and educational way to learn how this market works. Gavrilov pinpoints that new StockBattle users are often those with no fantasy trading experience.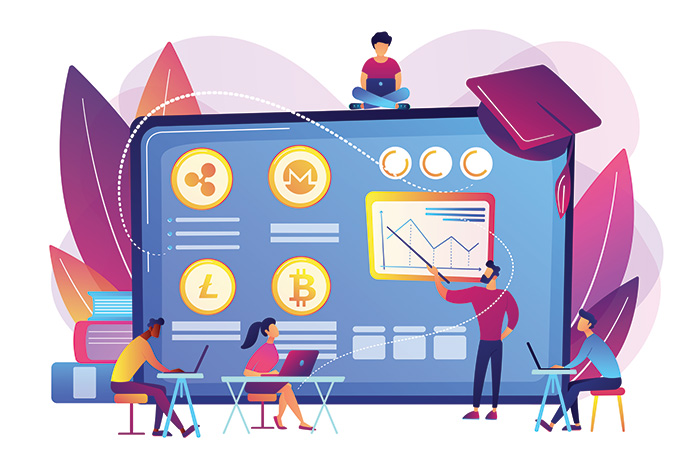 "We created an entire StockBattle academy to help find your way around the platform. The app has a social feed where you can ask questions and exchange opinions with others or simply share your achievements," says Gavrilov.
Live charts are an impressive tech feature available on fantasy finance platforms. While you pick from the available coins for your portfolio, you can read basic info about the token. It includes the current value, volume, and market cap. 
There are real-time charts where you can analyze the asset's price fluctuations. It's an excellent way to learn about the frequent crypto volatility and get to know different tokens. You can analyze price movement during the last hour, day, week, or month. The graph changes in real-time and follows how the coin performs in the actual market.
The Perfect Mix of Fun and Education
Fantasy trading is not only an excellent way to boost crypto knowledge and literacy. It's also a fun way to get more experience in the world of trading.
StockBattle offers a quick and easy registration form. It takes a minute to sign up and you can join competitions right away. If you don't have much time, fast 15-minute sessions are the way to go. Live score tracking keeps you on the edge of your seat during the entire contest.
Fantasy tournaments are the latest addition to the platform. They involve a seven-day competition split into daily rounds. You need to pick crypto coins for each round before the deadline. Token performance in the real-time market decides your score. You get points for each round, and the overall tournament winner is the trader with the most points overall. Best participants qualify for tempting prizes, varying on the tournament. This exciting fantasy finance concept has taken the world by storm, and it's yet to reach its potential in UAE and beyond.