At the GTX 980 Ti graphics card launch event in Dubai, NVIDIA has announced the contest allowing three lucky participants to win one of the latest GeForce series 9 graphics card. The Region 2 Show, Absolute Geeks and Game Rekon were rewarded for their participation and extraordinary video submissions. The contest rewarded the most creative videos from the event that took place in Dubai gaming café Golden Hall on June 1st. Each contestant has also received a free edition of the Batman Arkham Knight Game currently bundled with any of the following graphic cards: GeForce GTX 980 Ti, GTX 980, GTX 970 and GTX 960.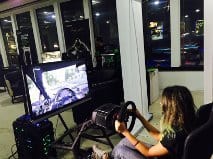 "The decision wasn't easy and the jury was really impressed with the quality of the videos submitted by our regional gamers" said Chantelle Tavid, NVIDIA EMEA Region Manager. "Celebrating the incredible turnout at the event we wanted to compliment our guests with the opportunity of going home with one of our newest GeForce graphics card", added Chantelle.

One of the winners, Moustapha Temsah added, "I always play games on my PC because the graphics are better than on any console. It was an exciting launch and I am very happy to be the winner! I look forward for more events and competitions of such caliber organized by NVIDIA in the region".
NVIDIA GTX 980 Ti
The NVIDIA GTX 980 Ti was officially released on June 1st at the Computex event held in Taiwan and simultaneously in the rest of the world. The brand recreated a futuristic demo hall offering a look into the brand's biggest technology ideas setting the pace for the next generation of gamers, allowing our gamers to experience the latest Witcher 3: Wild Hunt game recently released by CD Projekt, along with the popular auto car Project Cars.
The card features 6GB of memory and enough CUDA cores to drive games at 4K. That makes it great for 4K gaming, and great for future games, too. The GTX 980 Ti also features support for Microsoft's next-generation DirectX 12 graphics application programming interface.
Availability
The NVIDIA GTX 980 Ti graphics card is bundled with a copy of Batman Arkham Knight and is available across the Middle East region in the official retailer listed on the website here and is set to start at AED 2,400.