LG Electronics (LG) unveiled its premium 100-inch (254 cm) Laser Display at a grand event in Dubai, UAE that will enhance the home cinema experience, as never before. Home cinema enthusiasts can now watch their favourite film and sports match on a gigantic screen without compromising on picture quality in the comfort of their living room. This new masterpiece by LG, which was named Product of the Future at CES 2013, offers Full HD 1080p screen resolution along with an incredible contrast with LG's laser-based technology.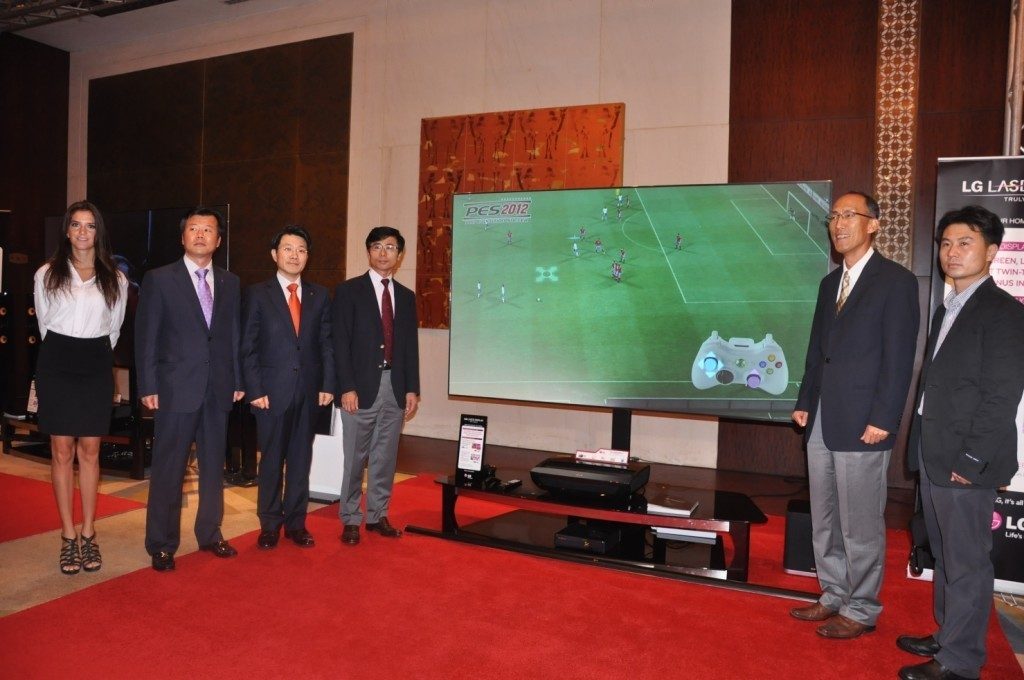 A Truly Cinematic Experience at Home
The LG Laser Display boasts Full HD resolution and a 1,000,000:1 dynamic contrast ratio, rendering the most vivid images in incredible clarity. The anti-reflective screen allows viewers to enjoy stunning, cinematic picture quality, even in the brightest of conditions. While conventional projection systems require a considerable distance to display images on a large screen, the lens of LG's UST unit can be positioned a mere 22 inches (approximately 56 centimeters) away from the 100-inch display. This clever, space-efficient configuration means the user doesn't have to sacrifice half the room in order to enjoy the many benefits of the Laser Display.
Unobtrusive, Minimalist Design
LG's Laser Display has two 10W speakers built into in the UST unit, which support virtual surround sound for an authentic cinema experience at home. The compact device features LG's understated yet stylish Dynamic Arc Design with a subtly curved surface that reaches an unobtrusive 5.7 inches in height. Meanwhile, the 100-inch screen adopts LG's CINEMA SCREEN design for a slim and minimalistic appearance, compatible with any interior décor.
More Reliable, Less Environmental Impact
LG's UST projection unit employs a technologically advanced laser-based illumination system. It features a specialized bulb that can operate for 25,000 hours without needing replacement, which is five times longer than an environmentally-unsound mercury lamp. Removing mercury from its high quality products is just one example of how LG is striving to become more environmentally friendly.
An Ideal Solution for Small and Medium-sized Businesses
Though the Laser Display excels in the home, it is also perfect for business applications as well. Its versatile features, large screen, and compact UST system make it ideal for video conferencing or delivering important multimedia presentations. At 100-inches, the screen can be easily viewed by all video conference participants or presentation attendees.
A Unique Premium Product for UAE's families
LG's Laser Display – A giant to start a new era of TV Home Entertainment for UAE consumers. Screen reflections and small displays will now become an issue of the past. With a 100-inches screen and Tru-Laser Technology LG's Laser Display enables exclusive viewing experience with comfortable and smooth picture quality inside every living room.