Officials from the Abu Dhabi Department of Economic Development (DED) have inaugurated a new branch of Jumbo Electronics, the leading OmniChannel retailer in the region, at The Galleria Al Maryah Island in Abu Dhabi. Jumbo has invested more than AED 10 million in a premium retail store, a regional office, warehouse facilities and a service center in Abu Dhabi that will together deliver the best customer experience in the Emirate.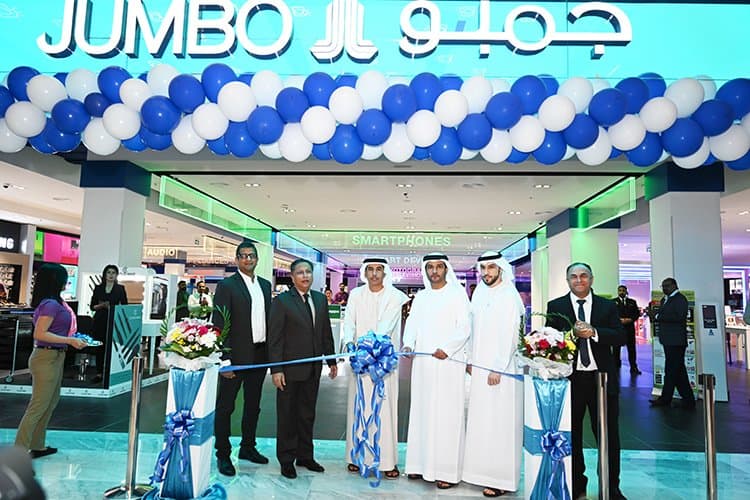 The official 20,000 sq. ft. fully digital store, which is their 15th retail store in the UAE & the 6th in the Emirate of Abu Dhabi, was inaugurated by His Excellency Ghanem Al Fandi Al Mazroui, Executive Director of the Department of International Economic Relations, Abu Dhabi Department of Economic Development (DED), and Mr. Ali Fahad Al Nuaimi, Director of Commercial Relations, Abu Dhabi Department of Economic Development (DED), in the presence of Jumbo Group's and The Galleria Mall's leadership team.
 "Jumbo Electronics sees tremendous potential in Abu Dhabi.  As the capital city and an economic hub, we see a demand for the latest lifestyle products, which we are committed to delivering to our customers through a premium in-store experience. The Galleria Al Maryah Island is a landmark in Abu Dhabi, and we are proud to be located in an exclusive retail destination that offers bespoke customer experiences." said Pankaj Kumar, Head of OmniChannel Retail, Jumbo Electronics.
"Our investments in the new store at The Galleria Mall, Regional Office & Warehouse with end to end supply chain automation, and a fully equipped state-of-the-art Service Center signifies the Jumbo Group's commitment as well as confidence in Abu Dhabi's economic growth. It is also a sign of our commitment to delivering top quality service for our retail and B2B customers. Jumbo currently employs a total of 260 staff across its business and operations in Abu Dhabi." said Arvind Agrawal, CEO, Jumbo Group.
The new store will be one of the most exciting technology destinations in Abu Dhabi. Customers can experience and enjoy technology through weekly in-store events across categories like fitness, photography, beauty, and gaming held in collaboration with premium technology brands like Sony, Canon, Dyson, Cloud Nine, PlayStation among others. They can also try out and learn more about the products from the experts present on site.

A new 2100 sq. ft regional office near Electra Park, Abu Dhabi was also opened recently, with a dedicated team catering to large Enterprise customers as well as customers of Jumbo's distribution division in the Emirate of Abu Dhabi.

The new 3000 sq. ft warehouse will ensure that retail & B2B customers in Abu Dhabi get most of their orders delivered within 24 hours. Jumbo has also opened a new 5000 sq. ft state-of-the-art service center to handle repairs for mobiles, laptops, appliances, TVs & consumer electronics.