As is customary, Apple is set to release its latest operating systems for its range of products later this year. However, true to tradition, the company will be leaving behind certain older generations of its devices.
If you're still holding onto an iPhone 8, iPhone 8 Plus, or an iPhone X (which, by the way, was a great device), you won't be able to update to iOS 17. In other words, your iPhone will need to have an A12 Bionic chip or a later version to support the new operating system. On the other hand, if you own an iPhone XR, XS, XS Max, iPhone SE (second generation), or a more recent model, you'll have access to exciting features such as Live Voicemail transcripts, the StandBy display mode, and an improved autocorrect function.
Apple has introduced a range of new features to the iPad, including customizable lock screens, enhancements to the Health app, interactive widgets, and more. Unfortunately, owners of fifth-generation iPads or the first-generation 12.9-inch iPad Pro will not be able to install the upcoming iPadOS 17.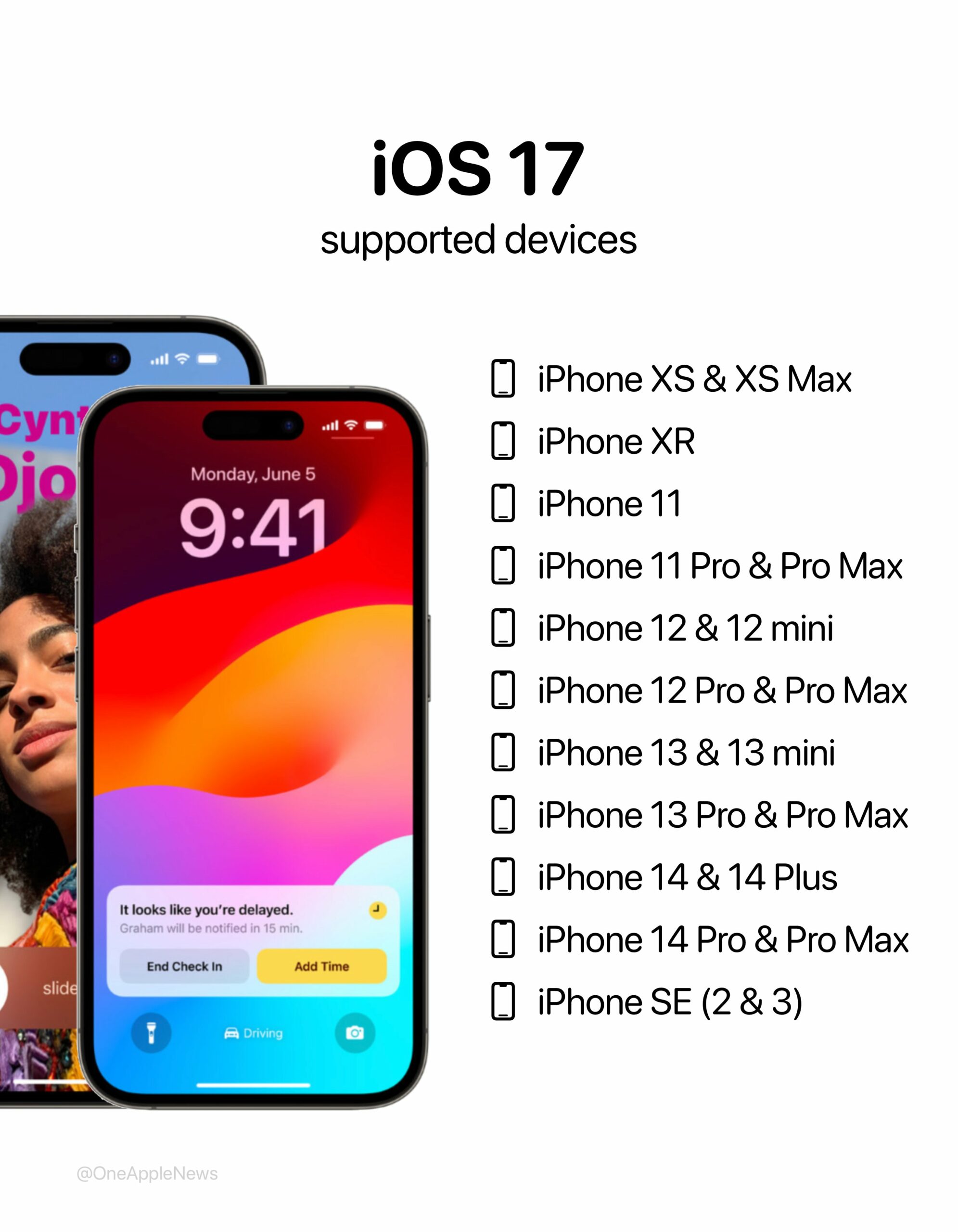 While it may be disappointing for those with older devices, it's important to note that Apple's decision to exclude certain models is often based on hardware limitations. The newer operating systems typically require more advanced processors and capabilities to ensure optimal performance and support for the latest features. This approach allows Apple to deliver a smoother user experience and take full advantage of the hardware capabilities of their newer devices.
For users with iPhone 8, iPhone 8 Plus, or iPhone X, it's worth considering the lifespan of these devices and the advancements made in newer models. Apple consistently introduces innovative technologies and improved performance in its latest releases, which may provide compelling reasons to upgrade to a newer device. However, if you are content with your current iPhone and it meets your needs, there's no immediate need to update to iOS 17. You will still be able to use your device with the current operating system and access existing features and applications.
As for iPad users, the exclusion of the fifth-generation iPad and the first-generation 12.9-inch iPad Pro from the iPadOS 17 update may come as a disappointment to some. These devices have served their purpose and have likely provided years of reliable service. However, it's important to remember that Apple continues to prioritize advancements in hardware and software to provide the best possible user experience. The new features introduced in iPadOS 17 may require more robust processing power and capabilities that older devices cannot support effectively.
While the decision to exclude certain devices may be disappointing, it's important to consider the broader context. Apple's commitment to pushing technological boundaries and providing users with cutting-edge features and performance necessitates focusing on the capabilities of newer devices. By optimizing their operating systems for the latest hardware, Apple ensures that users can enjoy the full benefits of their products.
For users with older devices, it's worth reflecting on the lifespan of their current device and the potential benefits of upgrading to a newer model. Apple offers a range of devices with various features and capabilities, and upgrading to a newer device may provide access to the latest software updates and a more immersive user experience. However, if you are satisfied with your current device and it meets your needs, there is no immediate need to upgrade. Apple continues to support older devices with updates to their existing operating systems, ensuring that users can still enjoy their devices with the features and functionality they currently offer.
In conclusion, Apple's upcoming Fall update will introduce iOS 17 and iPadOS 17, offering exciting new features and improvements. However, older devices such as the iPhone 8, iPhone 8 Plus, iPhone X, fifth-generation iPad, and the first-generation 12.9-inch iPad Pro will not be able to install the new operating systems. While this may be disappointing for some, it's a result of the hardware limitations of these devices. Apple's focus on optimizing its operating systems for newer hardware allows them to deliver enhanced performance and cutting-edge features. For those with older devices, there are still plenty of reasons to enjoy and utilize the current operating systems on their devices.