Intel Corporation and Broadcom Inc. showcased the industry's first cross-vendor Wi-Fi 7 demonstration, with over-the-air speeds greater than 5 gigabits per second. The trial used an Intel Core processor-based laptop with a Wi-Fi 7 solution connected to a Broadcom Wi-Fi 7 access point.               
Wi-Fi 7 is the platform for the next 10 years of wireless experiences, which require higher speeds, lower latency, improved reliability, and greater capacity. Wi-Fi 7 leverages new features including wider 320 MHz channels in unlicensed 6GHz spectrum, higher order 4K QAM data modulation, simultaneous connections across multiple bands with multi-link operation, and improved channel utilization efficiency with multi-resource unit puncturing.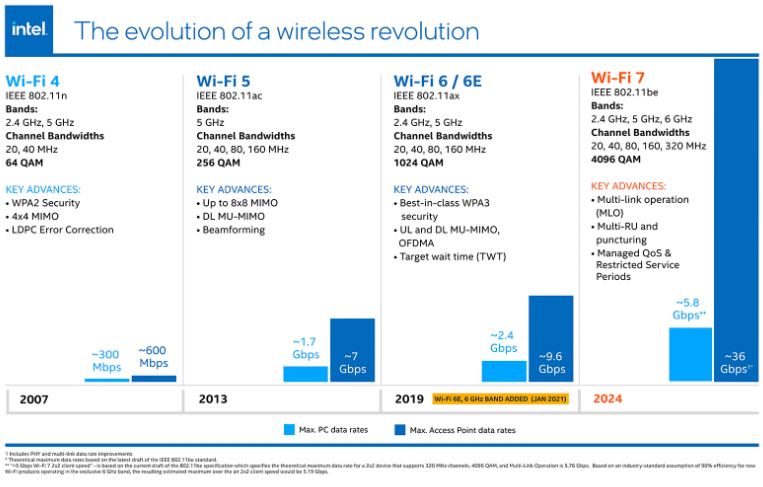 Wi-Fi 7's deterministic operation enables new product classes, including augmented and virtual reality, ultra-high-definition 16K media streaming, and super-responsive and reliable gaming while supporting large numbers of connected devices in the home or office. And with Wi-Fi 7's greatly increased speeds, broadband subscribers will get full value from their multi-gigabit internet plans.
Intel and Broadcom provide the full network that is essential to help maximize Wi-Fi 7's potential and deliver end-to-end experiences to the wider Wi-Fi marketplace.  
This achievement is proof that Wi-Fi 7 has arrived, and Broadcom and Intel will continue to show the additional capabilities of Wi-Fi 7.