In October of last year, Elon Musk completed his acquisition of Twitter, and it appears that Meta, headed by Mark Zuckerberg, wasted no time in responding. Reports indicate that Meta has been secretly working on its own social media platform, code-named Project 92. During a company-wide meeting held recently, Meta's Chief Product Officer, Chris Cox, presented a series of UI mock-ups to the employees, but they quickly found their way onto the internet.
The existence of Project 92 was officially confirmed by Meta in March when the company stated that they were exploring the development of a decentralized social network specifically designed for sharing text updates. The intention behind this endeavor was to create a separate space where creators and public figures could share timely updates about their interests. However, even before the official confirmation, leaked design images from May had already given a glimpse of the project's progress.
Cox referred to the new platform as "our response to Twitter." It will be a standalone program, drawing inspiration from Instagram and integrating ActivityPub, the same networking protocol that powers Mastodon, a decentralized social media platform. The leaked images showcase the secure sign-in screen, the main feed (bearing a striking resemblance to Twitter's existing mobile app), and the reply screen. As of now, there is no specific release date for the app's availability to the public.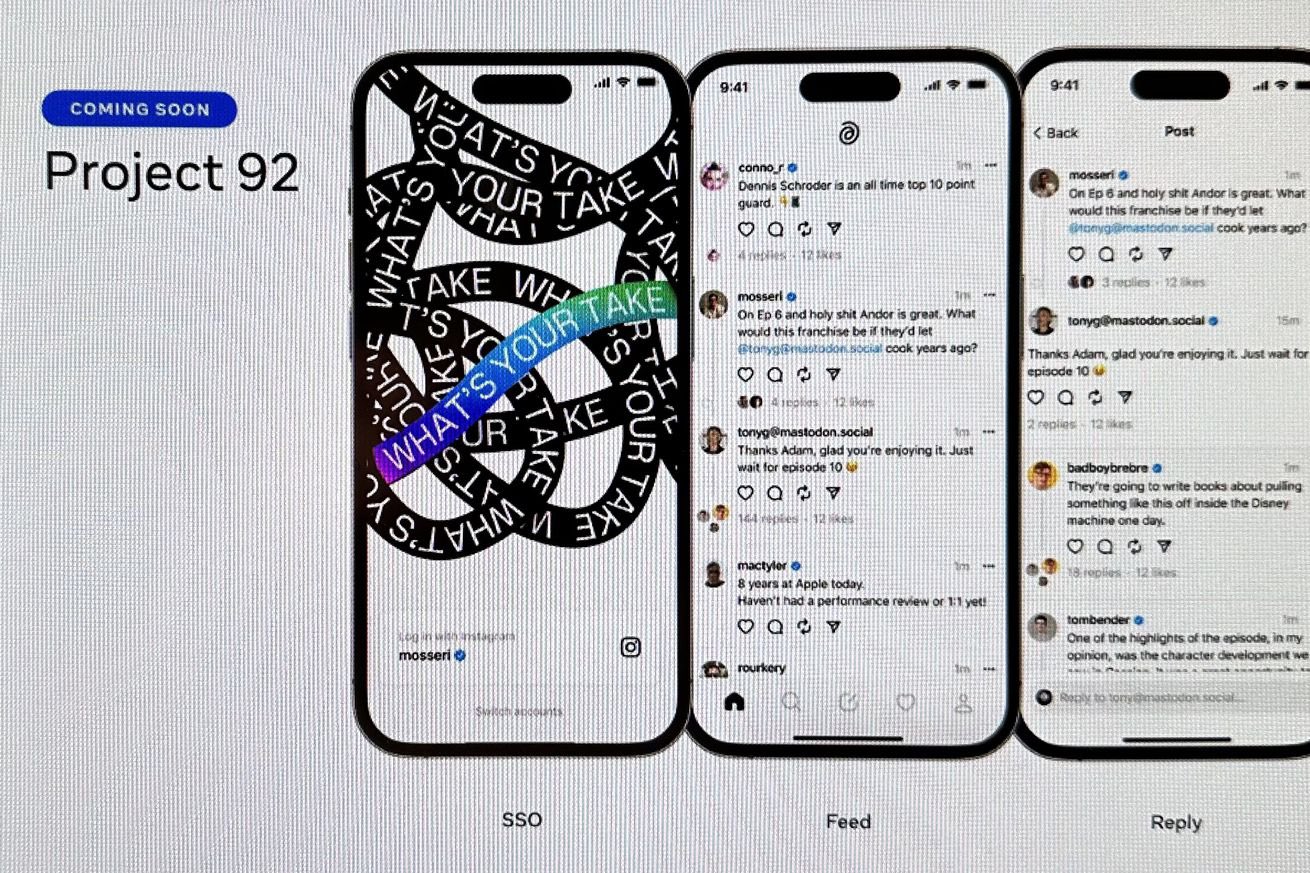 According to a report from The Verge, Cox explained, "We've been hearing from creators and public figures who are interested in having a platform that is sanely run, that they believe that they can trust and rely upon for distribution." This suggests that Meta aims to provide a well-governed and dependable platform that meets the needs of celebrities and public figures. Speculation has already begun regarding potential celebrity involvement, with Oprah Winfrey and the Dalai Lama reportedly linked to the project.
Meta's move to develop its own social media platform reflects the growing competition and the need for major tech companies to expand their reach within the social networking space. With Elon Musk's ownership of Twitter and the continuous evolution of platforms like Facebook and Instagram, it comes as no surprise that Meta would seek to establish its own presence.
The leaked UI mock-ups offer a glimpse into what users might expect from Meta's new platform. While resembling Twitter's interface, the incorporation of ActivityPub suggests that Meta intends to leverage the advantages of decentralization. This could potentially provide users with greater control over their data and content, as well as foster a sense of community within specific interest groups.
As with any new venture in the social media landscape, Meta's success will depend on various factors. Building trust with users and offering a differentiated experience will be key to attracting creators, public figures, and ultimately, a wider user base. Additionally, Meta must carefully navigate the challenges surrounding content moderation, privacy concerns, and ensuring a secure environment for users.
While the leaked images have generated excitement and curiosity, it remains to be seen when Meta's social media platform will be officially released to the public. As the project continues to develop, it is likely that Meta will make further announcements and adjustments based on feedback from their internal testing and engagement with potential users.
The competition in the social media industry continues to intensify, and Meta's entry into the field with Project 92 indicates the company's determination to remain a dominant player in the evolving digital landscape. As the social media landscape evolves and new platforms emerge, users can look forward to a more diverse and innovative array of options for connecting, sharing, and engaging with others online.