HUAWEI MatePad and M-Pencil
HUAWEI's MatePad is an excellent yet affordable option if you're on the hunt for a tablet. The MatePad is 10.4 inches with a 2k display, 4 surround speakers, and 4 microphones. You can bundle this with the HUAWEI M-Pencil and the HUAWEI smart keyboard or buy it separately.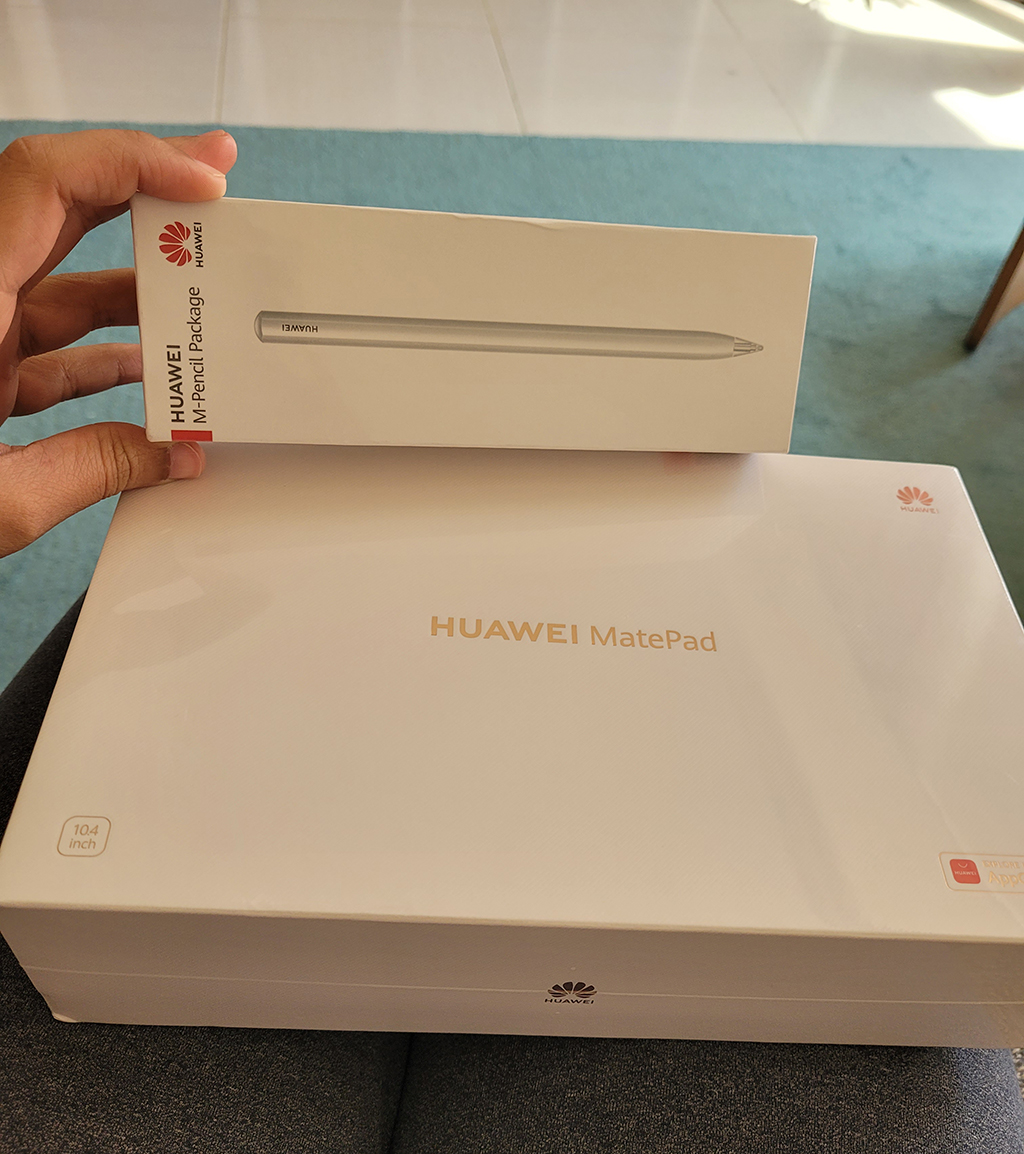 The HUAWEI M-Pencil 2 or M-Pencil (2nd generation) is a stylus for writing and sketching on your HUAWEI MatePad. HUAWEI M-Pencil is a brilliant lightweight active stylus that has tilt and pressure sensitivity to bring out the artist in you. Its low latency gives you an almost unnoticeable lag.
Despite their stellar features, the MatePad and M-Pencil have their own set of cons. The biggest downside is that you can't use any type of Google services with the MatePad because of the trade ban. Let's dive deep into their pros, cons, and other features.
Pros & Cons of the HUAWEI MatePad and M-Pencil
| | |
| --- | --- |
| PROS | CONS |
| Lightweight | No 5G |
| Good battery life | M-Pencil or the keyboard doesn't come with the MatePad |
| Parallel horizon function for a better multi-window experience | Doesn't support any Google services |
| Surround speaker for excellent audio quality | No audio jack and fingerprint sensors |
| Pocket-friendly | M-Pencil has expensive replacement tips |
What Do You Get in Your HUAWEI MatePad package?
Your package will obviously contain the tablet. It will also contain your charger, a Type-C cable, and the eject pin. Apart from this, you get a guide and your device's warranty card.
If you buy the bundled package, you will also have the M-Pencil. It comes with 2 replacement tips: 1 transparent and 1 non-transparent. The transparent replacement tips in the M-pencil 2nd generation are coated with platinum compared to the previous non-transparent grey-colored plastic tips. 
The platinum-coated transparent tip works slightly better while drawing and writing, giving you a smoother experience, while the non-transparent ones give you a little resistance. 
If your tips wear off, you can just buy replacement tips. However, the tips are a little costly compared to tips from other brands such as Apple.
Features of the HUAWEI MatePad and M-Pencil
Design
HUAWEI MatePad is a modern tablet with its 7.5 mm case made of magnesium alloy, giving an elegant yet stable feel. It has a glass front with an aluminum frame and back, making it durable. HUAWEI tablet comes in a matte midnight grey color or a white color, weighing just 450 grams, slightly lighter than its competitors.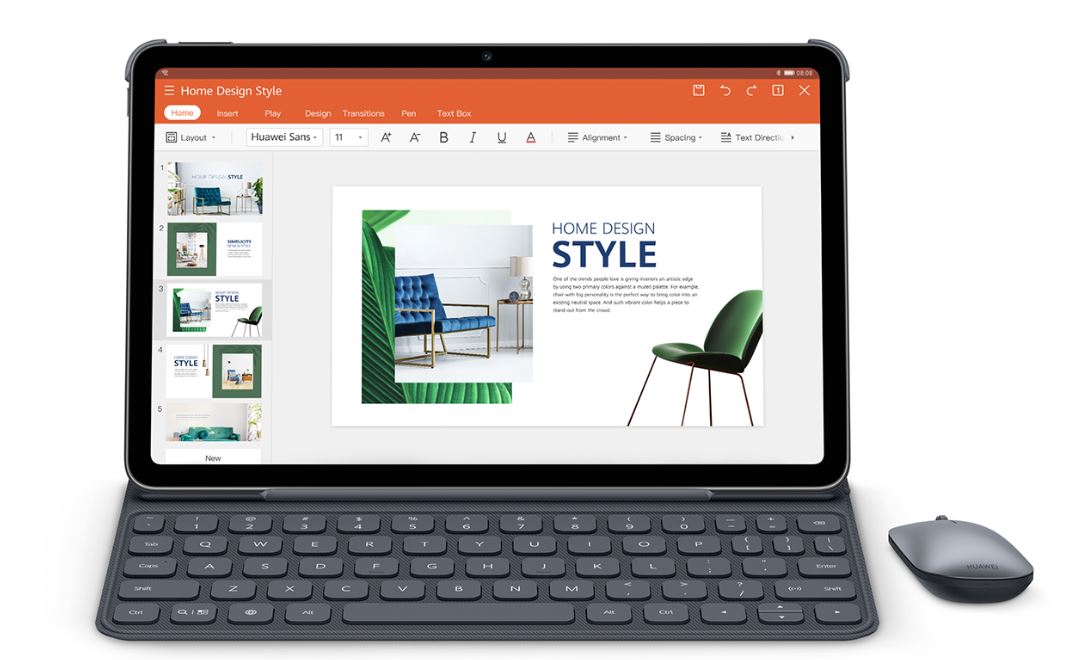 The M-Pencil has a sturdy silver-colored body with a hexagonal shape. The stylus is pretty comfortable to hold and use for long periods of time. Another notable design feature of HUAWEI's M-Pencil is the anti-fingerprint finish, which keeps your pencil clean no matter how long you've been using it. 
HUAWEI's M-pencil is also lightweight, weighing just 14 grams. This would allow you to hold the stylus easily, making it perfect for writing and drawing. Apple's pencil weighs 20 grams and is heavier than the M-Pencil. 
Performance Specs
The HUAWEI MatePad 10.4 uses its HiSilicon Kirin 810 octa-core processor. For graphics, it uses a six-core GPU ARM Mali-G52 MP6. This gives you unmatched performance while working, drawing, or gaming on your tablet.
Memory and Storage
You have two configurations of the HUAWEI MatePad; 32GB 3GB RAM or 64GB 4GB RAM. This can, however, vary depending on where you live. You don't have to worry if the storage space doesn't meet your needs because you can also extend the storage up to 512GB as the tablet allows a MicroSD card.
Display
HUAWEI's 10.4-inch touchscreen tablet has a 2k display with 430 nits. Its display supports multi-windows and allows you to view up to 4 windows at the same time. The parallel horizon function enhances the multi-window support.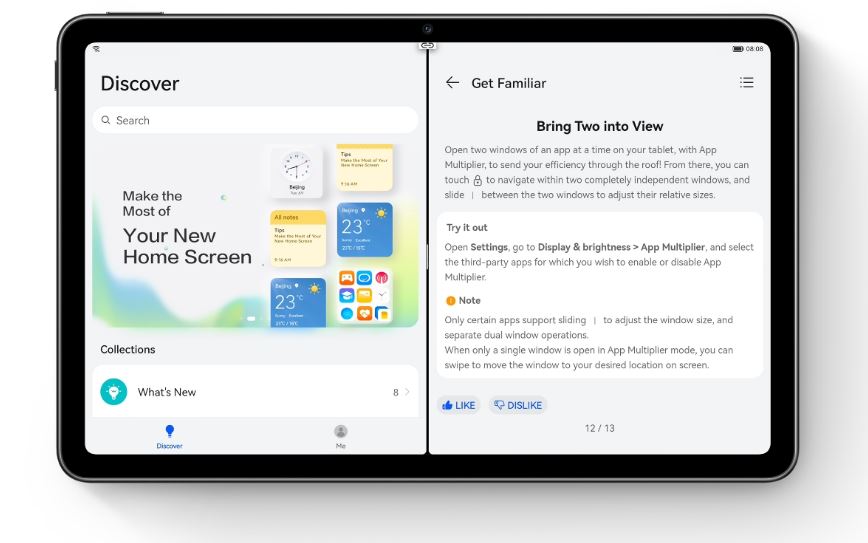 The tablet's app multiplier feature allows you to run two separate tasks of the same app simultaneously. For instance, you can compare two items from the same app while shopping.
The display is TÜV Rheinland dual-certified. It helps you minimize eye strain and discomfort by reducing harmful blue light and distracting flickers.
Battery Life
HUAWEI's tablet has a built-in Li-Po 7250 mAh battery, so it's non-removable. It has an 18W charging ability for fast charging. You can charge 50% in just 1.5 hours and 100% in less than 4 hours. Once charged fully, your tablet should last about 20 hours. This might, of course, vary depending on what type of activity you do on your tablet.
If you've fully charged your M-Pencil, it can last up to 10 hours. You need to use the charger to charge your stylus. 30 seconds of charging allows you to use your M-Pencil for 10 minutes. You can fully charge it in an hour to draw and take notes for up to 10 hours.
I/O Ports
HUAWEI MatePad has a USB 2.0 Type-C port, which you can use to connect external SSDs or any other accessory. However, this tablet doesn't have an audio jack, a major downfall.
Audio and Video
With one of the best speaker systems, HUAWEI's MatePad boasts 4 speakers surrounding the tablet, ensuring you the highest quality audio experience. It has 4 microphones with the noise-canceling features, so your audio is crisp and clear, eliminating any external noises such as fan noise.
The tablet has two cameras, one on the front and another one on the rear. Both cameras are 8MP, and they can autofocus. The camera sports an LED flash and takes video in 1080p at  30 frames per second. It also contains a panoramic lens.
Low Latency Makes Writing & Drawing Much Faster
The tips are designed in such a way that you notice no lag. The latency is said to be 9 ms. However, the newer M-pencil 2nd generation has an improved latency of just 2 ms. This might vary a little depending on the tablet and app you use. Some apps give you a much smoother experience than others. 
M-Pencil's Tilt Sensitivity
Tilt sensitivity was added to the M-pencil to make your stylus feel more like an actual pencil. When using a stylus with tilt sensitivity, artists can easily shade, doodle or scribble by tilting the stylus at an angle as they would a real pencil.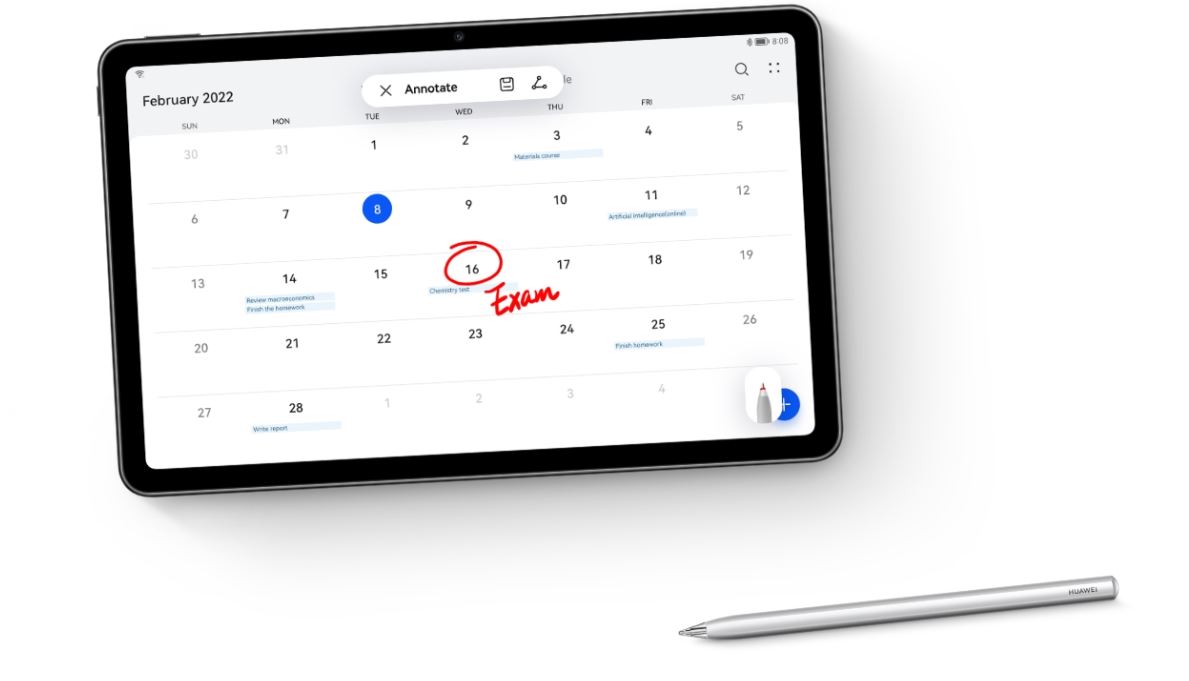 If you're an artist who shades a lot, M-pencil's tilt sensitivity can help you replicate your physical drawing experience digitally.
4096 Levels of Pressure Sensitivity in the M-Pencil
Pressure sensitivity determines how thin or thick your lines would be. The more pressure you apply on your M-Pencil, the thicker the line and vice versa. 
If you're a digital artist looking for a perfect finish, HUAWEI's M-Pencil has got you covered with 4096 levels of pressure sensitivity.
Palm Rejection
When you're taking notes or sketching your latest piece of art, the last thing you want is your device to detect your hand and make unnecessary lines or scribbles. If your stylus doesn't have the palm rejection feature, this can happen several times, ultimately ruining your experience.
Fortunately, you won't have to encounter this if you're using the M-Pencil because it was built to be easily distinguished by the device you're writing or drawing on.
Quick Device Pairing
The pairing and charging slightly vary depending on the tablet you're using. The MatePad Pro 10.8 can wirelessly charge the M-Pencil, but the MatePad 10.4 can't do that and requires a charger. 
For the MatePad 10.4, you need the M-Pencil charger. Connect the charger to your MatePad. Now, put the part of your stylus with a groove on the adapter of the charger. It's magnetic and will be connected as soon as you bring it close enough. 
The red blinking light on the pencil will turn green once it's connected. You'll see a prompt on your tablet; tap on Connect. Click on OK after it's connected.
Switch Between Brush & Eraser Using the M-Pencil
It's human to make mistakes while writing or drawing. It can be quite annoying to constantly tap on the eraser to delete the mistake and switch back to writing. This is where HUAWEI M-Pencil's incredible double-tap feature comes into the picture. Double-tap on the sensitive area of your pencil to switch between the eraser and brush.
Wrapping Up: Is the HUAWEI MatePad Worth It?
To sum it all up, the HUAWEI MatePad is an excellent tablet that you can bundle with the M-Pencil, an incredible stylus. 
If you want a budget-friendly tablet without compromising quality, you can most definitely consider buying this MatePad along with the lightweight pencil with tilt and 4096 levels of pressure sensitivity. The tablet and the pencil have good battery life and are pretty comfortable to use for long periods of time, making it worth your $$$.