Huawei is giving consumers across the UAE a chance to win big on its latest collection of devices, through a host of unique competitions during its audio and wearable season till the 5th of June. 
Consumers can experience the latest line-up of Huawei's audio and wearables gadgets by entering into quick and simple competitions where they can win the top of the line HUAWEI FreeBuds Pro, the latest addition the new HUAWEI FreeBuds 4i, the stylish HUAWEI WatchFit Elegant, the luxurious HUAWEI WATCH GT 2 Pro Moonphase collection and the HUAWEI Band 6 for all the fitness fanatics.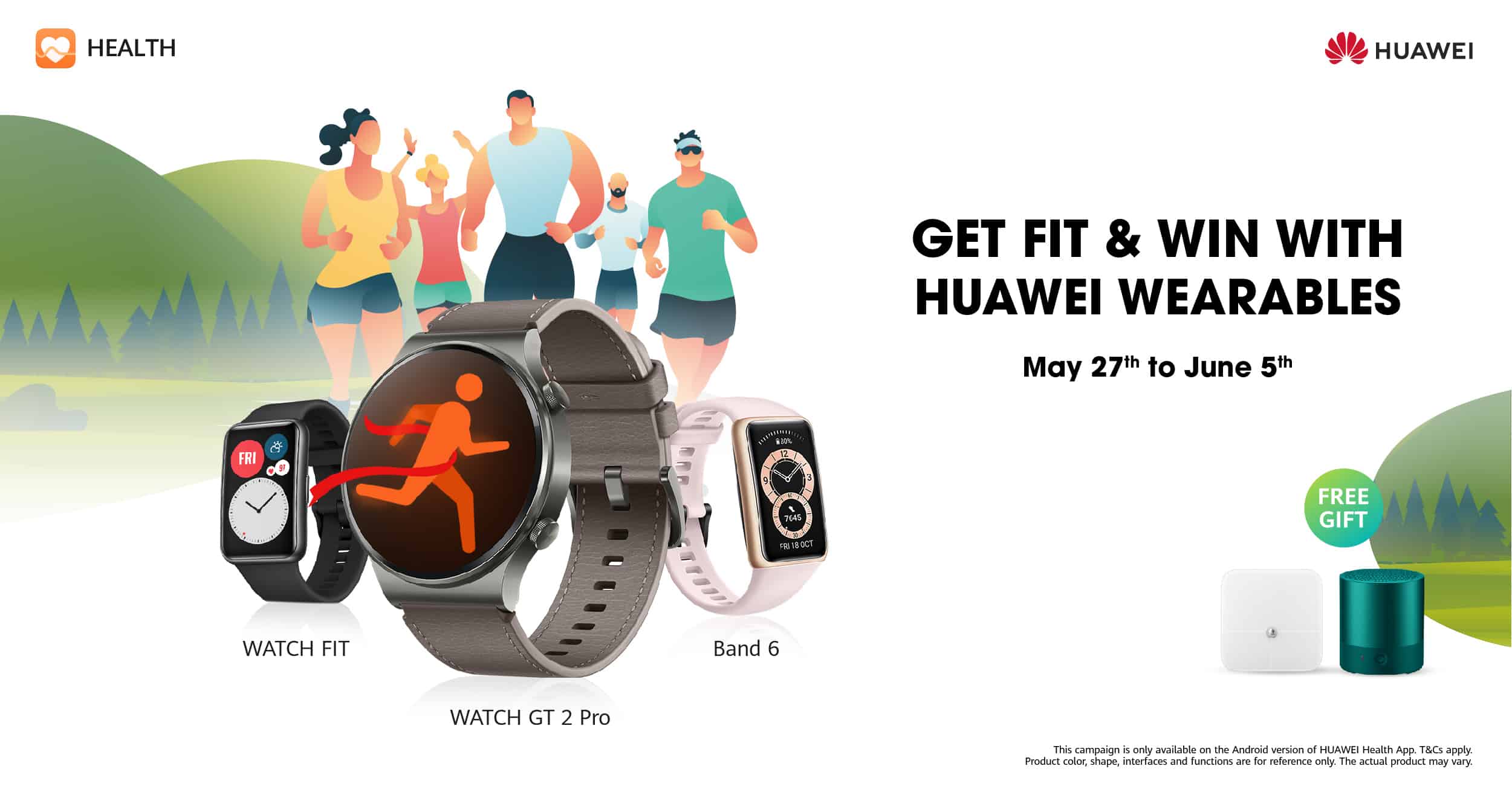 Here's how you can enter the competitions and win the new range of Huawei's audio and wearable devices:
Win with your favorite singer:
To experience the HUAWEI Freebuds Pro and HUAWEI Freebuds 4i, Huawei invites customers to win the devices through a fun activity. First, they will be asked to wear a HUAWEI Freebuds Pro or a HUAWEI Freebuds 4i where 3 songs will be played through Huawei Music. If customers can guess 2 of the 3 singers singing the songs, they will enter the lucky draw to win. 
Participate in Huawei's health challenge:
Over the past year, there has been a surge in people wanting to be more focused on their health and wellbeing. Huawei's smart, stylish and sporty wearable products are the best companions in getting back on track with fitness and your overall health. Huawei encourages people to buy any of its newly launched wearables to win one BT speaker – if they are the owner of the HUAWEI WatchFit Elegant or HUAWEI Band 6, and a BT speaker giftbox if they are the owner of a HUAWEI Watch GT 2 Pro.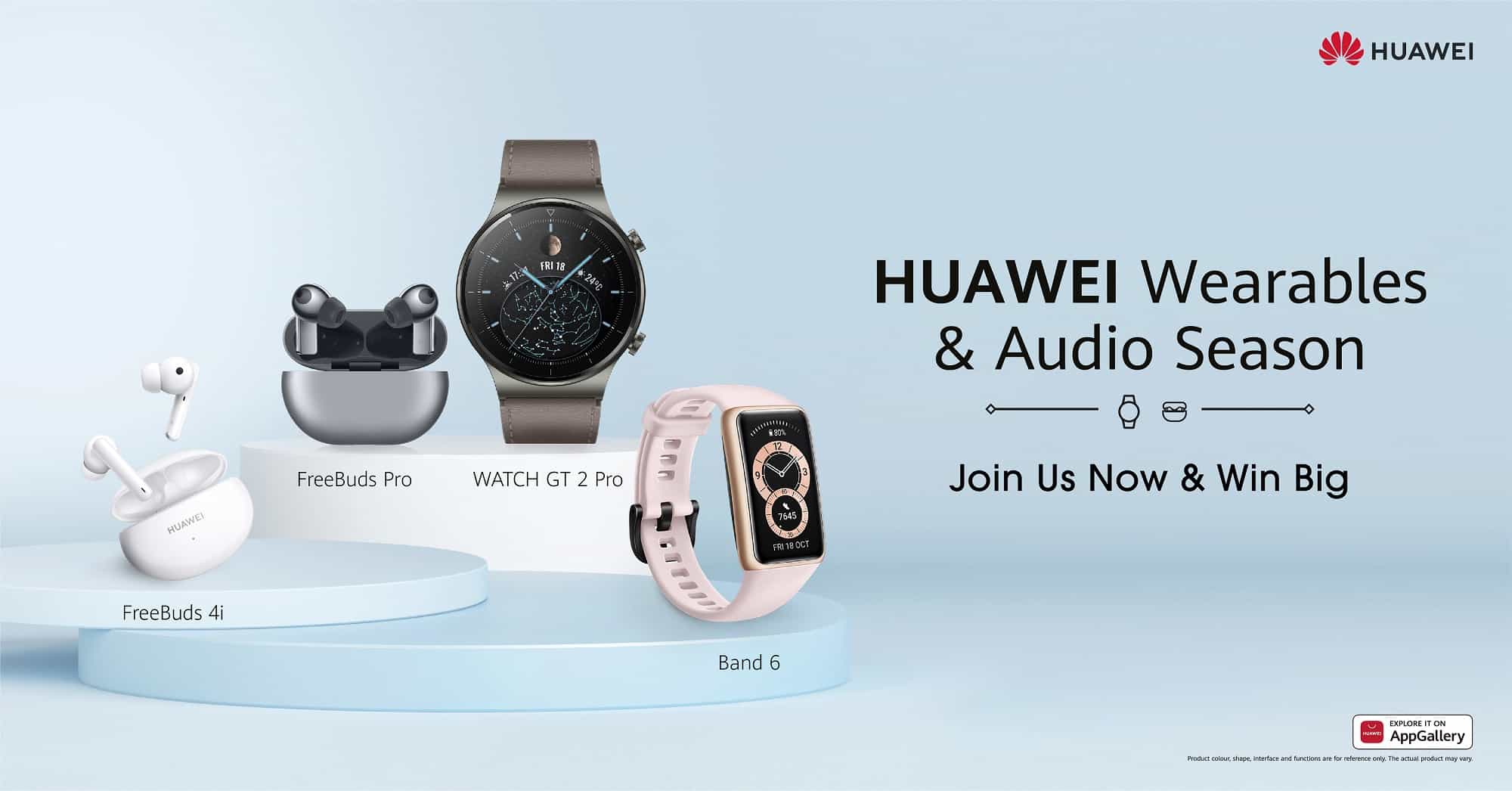 To win further prizes, Huawei encourages the new 'wearable owners to participate in the Huawei health challenge, including the below 4 stages to be followed every day for 7 days:
Walk for 10,000 steps a day

 

Run for 3 kilometers a day

 

Cycle for 5 kilometers a day

 

Ensure you have an average sleep quality score of 80 or above each day
For all those HUAWEI Band 6 or HUAWEI WatchFit Elegant owners that complete the challenge, they will be able to win an additional high-end BT speaker. 
Huawei audio and wearable season offers:
Buy HUAWEI Freebuds 4i and get a BT speaker + lucky wheel gift worth AED 59
When you buy the HUAWEI Freebuds Pro, you have the chance of winning the HUAWEI Mini Speaker and lucky wheel gift worth AED 149
Get the HUAWEI Mini Speaker and lucky wheel gift worth AED 208 when you buy the HUAWEI Watch Fit Elegant or HUAWEI Band 6
Buy the HUAWEI Watch GT 2 Pro and get the BT Speaker gift box and the HUAWEI Smart scale worth AED 268.