Huawei Consumer Business Group announced the debut of its flagship foldable smartphone, HUAWEI Mate Xs 2, which symbolizes Huawei's latest foldable phone discoveries. The HUAWEI Mate Xs 2 inherits Huawei's classic outward folding design and uses its characteristics of being ultra-light and ultra-thin, ultra-flat, and ultra-reliable to provide the best experience to consumers.
Huawei gave the HUAWEI Mate Xs 2 a beautiful unibody design with a flat and seamless fold thanks to the new generation Double-rotating Falcon Wing Hinge. The phone also has flagship features such as an industry-leading 7.8″ True-Chroma Foldable Display and a 50MP True-Chroma Camera System with HUAWEI XD Optics, elevating its already exceptional performance to new heights. HUAWEI Mate Xs 2 offers an unprecedented interactive experience with to the new dynamic folding visual effect and the updated Smart Multi-Window.
The Perfect Foldable Phone: Ultralight, ultra flat, and extremely durable The HUAWEI Mate Xs 2 are available in two timeless colors: black with a crosshatch leather texture and white with a natural leather texture. On July 27th, the flagship foldable phone will be available for pre-order through Huawei's online platforms in the UAE. The phone's price will be revealed at a later date during the HUAWEI FLAGSHIP PRODUCTS SUMMER LAUNCH EVENT, which will take place on July 27th, 2022.
Innovative materials: Ultra-light, ultra-flat, and super durable
HUAWEI Mate Xs 2 features the Huawei-exclusive new-generation Double-rotating Falcon Wing Hinge Design. When unfolded, the screen becomes as flat and smooth as a mirror, bringing users a more immersive foldable experience. The hinge of the HUAWEI Mate Xs 2 is exquisitely built with Huawei's self-developed ultra-light, high-strength steel, which exhibits a strong load-bearing capacity. In such a way, HUAWEI Mate Xs 2 enjoys both lighter weight and higher strength.
The HUAWEI Mate Xs 2 weighs only 255g, a weight that only a non-foldable phone has previously reached. This was made possible by employing Innovative Light Materials, such as ultra-light glass fibers for the phone's backplane, as well as aerospace-grade titanium alloys and ultra-light, high-strength steel for its structure. These ultra-light, innovative materials not only reduce the overall weight of the phone but also give the device excellent strength and fracture toughness.
Finally, HUAWEI Mate Xs 2 adopts a Composite Screen, which shares a similar design to anti-collision systems in cars, making it an excellent shock absorber and buffer. This shock barrier improves the phone's flexibility and resistance to impact, giving consumers peace of mind.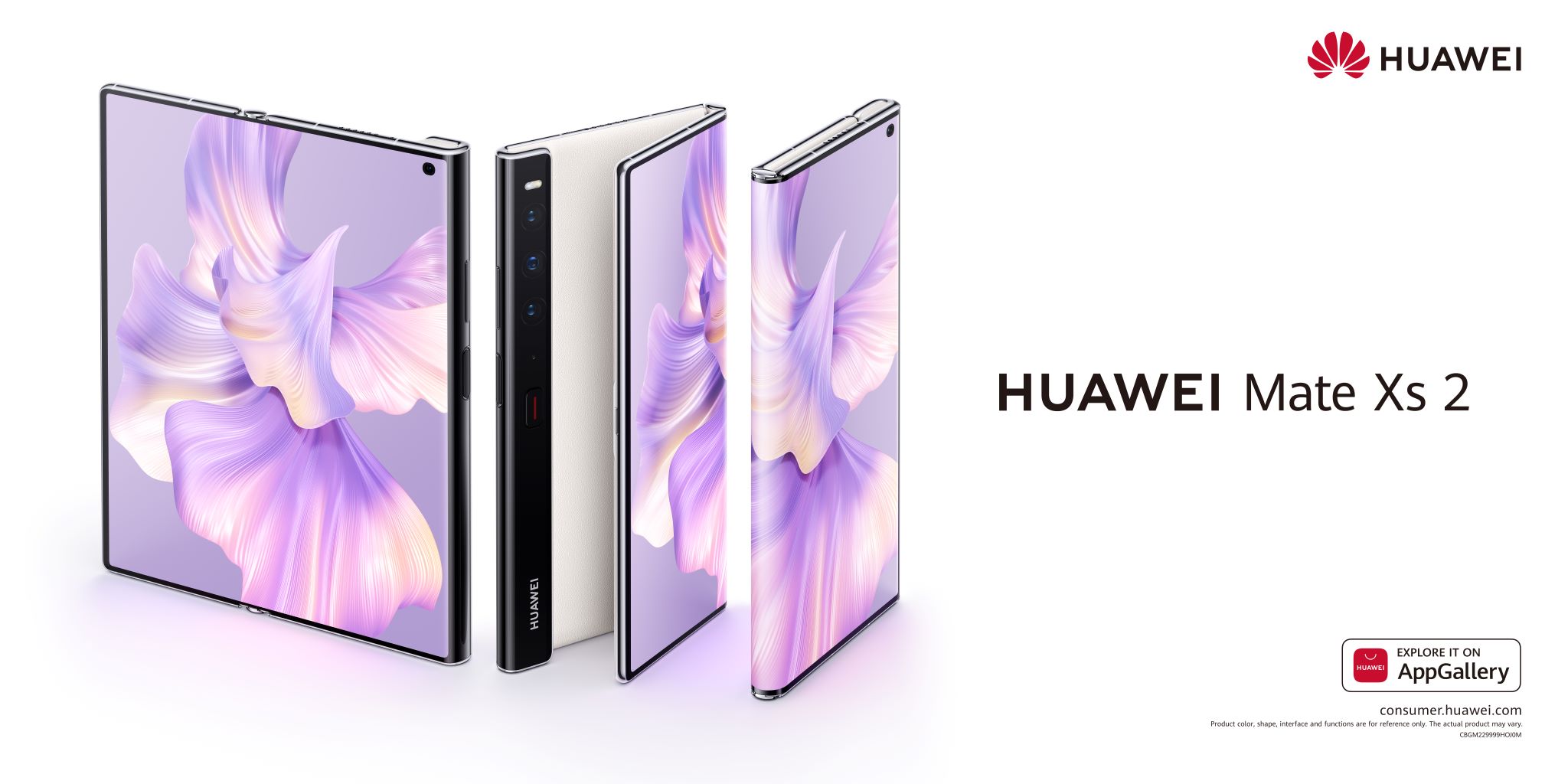 Flagship HUAWEI Image creates a masterpiece
Huawei continues to invest in innovation and development, using its solid technology to form the exclusive HUAWEI Image for its consumers. The True-Chroma Camera System of HUAWEI Mate Xs 2 includes a 50MP True-Chroma Camera for capturing true-to-life colors. The improved HUAWEI XD Optics brings brand-new information recovery technology to further elevate image clarity, helping restore image details in a way that breaks the boundaries of physics. Taking full advantage of the HUAWEI XD Fusion Pro True-Chroma Image Engine, the 10-Channel Multi-Spectrum Sensor and colour calibration of more than 2000 colors in P3 full colour gamut, as well as all-round leading software and hardware and debugging capabilities, HUAWEI Mate Xs 2 faithfully reproduces enriched colors, allowing users to accurately capture all the vibrancy in the world.
The unique Mirror Shooting smart function of HUAWEI Mate Xs 2 allows users to preview shots in real-time through the digital viewfinder of the camera on both screens simultaneously. HUAWEI Mate Xs 2 is also equipped with the new generation of AI Remove, allowing users to simply click on the selected objects for removal to easily edit photos. Meanwhile, thanks to the Telephoto Camera and Ultra-Wide-Angle Camera, distant and wide views can be easily captured in one shot.
Smart Interactions: Immersive large screen brings a new interactive experience with higher efficiency
In terms of software ecology and user experience, HUAWEI Mate Xs 2 continues to innovate and break through, bringing users more valuable experiences. It adopts the brand-new dynamic folding visual effect. When unfolded, the desktop screen will automatically expand and, when folded, the screen remains clear and smooth. The upgraded Smart Multi-Window function brings easier interactions and higher efficiency, whereas the Split-screen function supports using two applications in parallel to improve efficiency and free operation. Moreover, Swipe Gesture supports easy access and control of the floating windows, allowing multi-tasking with one quick swipe. With its large screen and coupled hands-free function, it brings an immersive communication experience during HD video calls.
HUAWEI Mate Xs 2 continues to redefine and reform industry standards. It underpins Huawei's leadership position in delivering innovations that grant users an extraordinary product experience, making it the ideal flagship foldable smartphone.
Contemporary design: unique unibody design that goes beyond imagination
HUAWEI Mate Xs 2 adopts a classic outward folding design, exhibiting the beauty of minimalism with its smooth fold. The linear wrapping body reveals the exquisite aesthetics of the phone's light and dainty look. Unfolded, the HUAWEI Mate Xs 2 has a 7.8″ True-Chroma Foldable Display, with a high resolution of 2480 x 2200[1]. The phone also has an 8:7.1 golden ratio, delivering a more immersive visual experience. Moreover, HUAWEI Mate Xs 2 supports a refresh rate of up to 120Hz, 1440Hz high-frequency PWM dimming, as well as up to 240Hz touch sampling rate, delivering a more stunning screen display effect; whereas the anti-reflective Nano Optical Layer of the screen helps to reduce the display's light reflectivity, bringing users a better reading experience under sunlight. With a 19:9 display ratio when unfolded, HUAWEI Mate Xs 2 delivers a holding experience that is comparable to non-foldable phones.
In addition, HUAWEI Mate Xs 2 comes with a half-covered matching PU Case that shares the same color as the phone, not only providing better protection but also functioning as a phone stand when required.
Flagship Technology: standout in the era of innovative technology with excellent performance
The HUAWEI Mate Xs 2 is packed with a 4600mAh battery and supports the distributed 66W[2] HUAWEI SuperCharge, improving standby battery life for users. The HUAWEI Mate Xs 2 has brought another breakthrough in aesthetic design, with its first innovative 3D Fiberglass Design for more refined textures. This creates a soft touch while reducing smudges from fingerprints.
To enhance the audio-visual entertainment experience, the HUAWEI Mate Xs 2 is equipped with ultra-thin and large-amplitude stereo sounds, which create a surround sound field and bring consumers an immersive audio experience alongside the new AI Sound Engine. Meanwhile, the Graphene Liquid Cooling System has further enhanced heat dissipation performance.
The HUAWEI Mate Xs 2 adopts the Qualcomm Snapdragon 888 flagship series chip, which is manufactured using advanced process technology, bringing powerful performance and extraordinary experience to foldable smartphones. 
Unfold a whole new experience with HMS and favorite apps from AppGallery
Huawei's foldable flagship comes pre-installed with HMS (Huawei Mobile Services), which includes Petal One and a variety of useful and premium services such as Petal Search, Petal Maps, HUAWEI Video, HUAWEI Browser, GameCenter, and more.
Petal One is an all-in-one service package to make user's life better, including Petal Search which allows users to search more efficiently with access to multiple services with the newly improved layout on the HUAWEI Mate Xs 2s bigger screen. Consumers can make use of Petal Maps and the options it provides such as a 3D landmark, which allows users to see where they are going exactly with a 3D view, and Dark mode which provides a realistic navigation experience when users embark on getting out and about, and Extended Navigation which offers users the chance to plan their journey more efficiently with better directions. There is also Petal Maps – Lane Guidance that gives users fuss-free navigation allowing them to arrive at their destination safely.
In addition to Petal Search and Petal Maps, users of the HUAWEI Mate Xs 2 will also get to enjoy an enriched browsing experience with HUAWEI Browser allowing consumers to view more all at once with web layout optimization. With GameCenter and HUAWEI Video entertainment has been reimagined. GameCenter makes use of the larger screen of the HUAWEI Mate Xs 2 for limitless fun while HUAWEI Video gives you more with multi-view enabled on the larger screen of the HUAWEI Mate Xs 2. Lastly, the HUAWEI Mate Xs 2 comes pre-installed with HUAWEI AppGallery – the third largest app marketplace in the world, HUAWEI AppGallery lets users download a wide selection of global and local apps.