When Microsoft launched Windows 10, they announced that they would also be launching a whole new version of Microsoft Edge and that it would be an absolute game-changer. Having seen this kind of promise before, users remained skeptical, but as it turns out, everyone was in for a bit of a surprise. In 2019, the world was introduced to Microsoft's brand new Edge browser, and almost immediately, what caught everyone's attention was the fact that this browser was based on the Chromium source code, the same source code that powers Google Chrome. What Microsoft had done, was simple. They saw what powered the best web browser in the world, and used it to make their own flavor.
One of the fundamental features of web browsers has been the bookmark feature. This allows you to save the link to a webpage that you really liked so that the next time you feel like visiting it, you don't need to go through the hassle of searching for it on the internet. Microsoft Edge allows you to create bookmarks very easily, and if you are someone who is wondering how to get it done, then read on to find out –
Save a page to Favourites
Step 1. Open the Microsoft Edge browser on your computer.

Step 2. Browse to the web page that you want to bookmark.

Step 3. With the web page open, click on the star button at the end of the URL bar. Note that in the new Microsoft Edge browser, the bookmark nomenclature has been replaced by the term Favourites.

Step 4. Now, when you click on the star button, you will be asked to enter the name for the bookmark and where you want to save it. You can either pick the default folder or assign it on your own.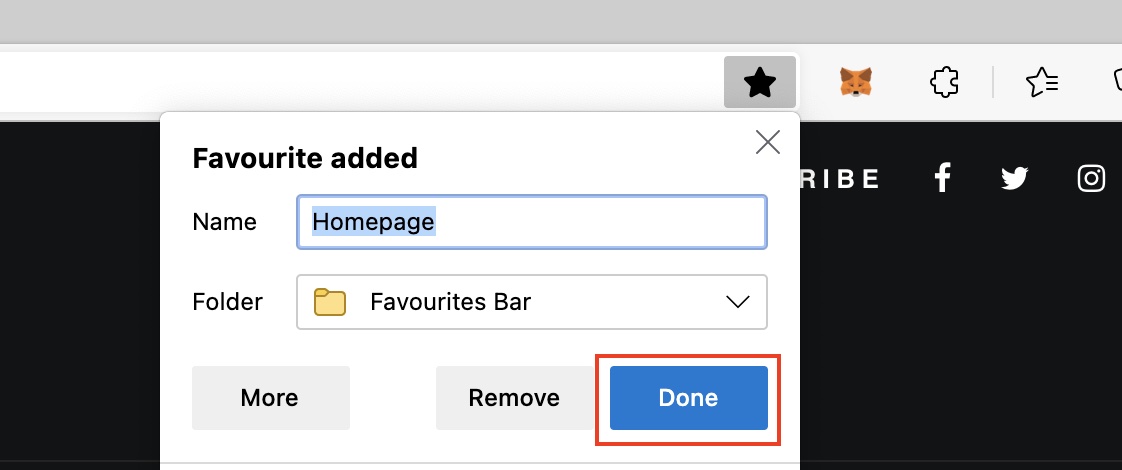 Step 5. When you are happy with the settings, click on the Done button to save the web page.
If you want to visit this bookmarked web page, then simply click on the Favourites button on the menu bar and you will see the saved page appear as an option. Simply click on it and you will be redirected to the page.
Download Microsoft Edge
If you do not have the latest Microsoft Edge browser, you can download a copy using the link given below.
Download Microsoft Edge 2020 – Click Here.