When it comes to social media, the first name that comes to mind is Facebook. In a market that was dominated by the likes of High5 and Orkut, Facebook came in hot and absolutely blew them out of the water, and today, it is not only the biggest social network in the world but, combined with Instagram and Whatsapp, owns the largest share of the social media market.
Facebook is the most populated social media platform out there, and while there are many safety features, there are still cases of harassment and stalking that just don't seem to go away. Platforms like Snapchat have added smart fail-safe methods wherein you can see if the opposite party has screenshot your content. This is very useful in reporting people who are now the best company and thereby keep yourself safe.
Currently, this screenshot detection feature is not available on Facebook, but there is a way for you to ensure that people don't save or share your profile picture on Facebook.
Let's see how you can safeguard your profile picture on Facebook.
Step 1. Open the web browser on your PC/Laptop.
Step 2. In the URL bar type in www.facebook.com

Step 3. Login to your Facebook account.
Step 4. Click on your profile picture icon at the top right-hand side of the home page to open your profile.

Step 5. When the picture opens up in the new window, at the bottom of the window, spot and click on the 'Option' button.

Step 6. Click on the 'Turn on Profile Picture Guard.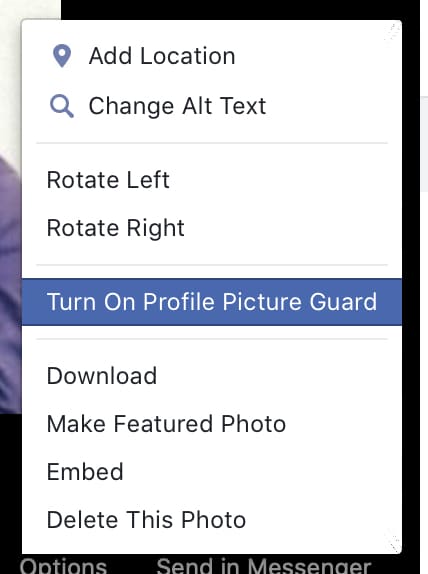 Once you turn on the profile picture guard,
Other people can't tap Share, Send in a message, Share externally or Download from your current profile picture on Facebook.
Only you and your Facebook friends can tag your current profile picture.
An image of a shield is added to your profile picture.
In conclusion, until the screenshot detection feature makes its way to Facebook, this is the best way to safeguard your profile photo on Facebook.
Facebook can be used from your browser, or also your smartphones, using the official Facebook app. You can download the same using the links given below.
Facebook for Android – Click Here
Facebook for iOS – Click Here