Stadia, a cloud gaming service from Google, is expected to be terminated in a few months. However, the ChromeOS team has launched a fresh attempt to combat the myth that "you can't game on a Chromebook." Google, together with a few hardware and software partners, announced today the "world's first laptops engineered for cloud gaming."
What, after the hyperbole, does this imply in practice? After all, the entire purpose of cloud gaming is that you don't need superpowered gear to play high-quality games – many ordinary Chromebooks are perfectly capable of running cloud gaming services. That being said, the new computers revealed today are not your typical Chromebook.
To distinguish these laptops, Google claims it concentrated on a few hardware characteristics, such as huge panels with high refresh rates, keyboards with anti-ghosting technology (including RBG keyboards in certain instances), WiFi 6/6E cards, and overall high specifications.
ASUS, Acer, and Lenovo have all released new laptops.
As part of this drive, ASUS, Acer, and Lenovo all revealed new PCs today. To begin, the Acer Chromebook 516 GE has a 16-inch IPS screen with a 2,560 x 1,600 resolution and a refresh rate of 120Hz, as well as an RBG anti-ghosting keyboard and 12th-generation Intel CPUs (up to a Core i7). It also has a gigabit ethernet port, two USB-C connectors, one USB-A port, and HDMI. Finally, it offers DTS audio via two upward-facing speakers and two additional downward-facing speakers on the laptop's underbelly. Acer will offer many configurations, the first of which will be available this month at Best Buy for $650 and will have a Core i5 CPU, 8GB of RAM, and 256GB of storage through its NVMe SSD.
The ASUS Chromebook Vibe CX55 Flip features a 15.6-inch display with a maximum resolution of 1080p, but it's a touchscreen with a higher refresh rate of 144Hz. As the name implies, the CX55, like many other ASUS Chromebooks, can be flipped over into "tablet" and "tent" modes. The keyboard lacks RGB illumination, but it does feature a prominent orange accent, notably around the important WASD keys; it also has 1.4mm of travel.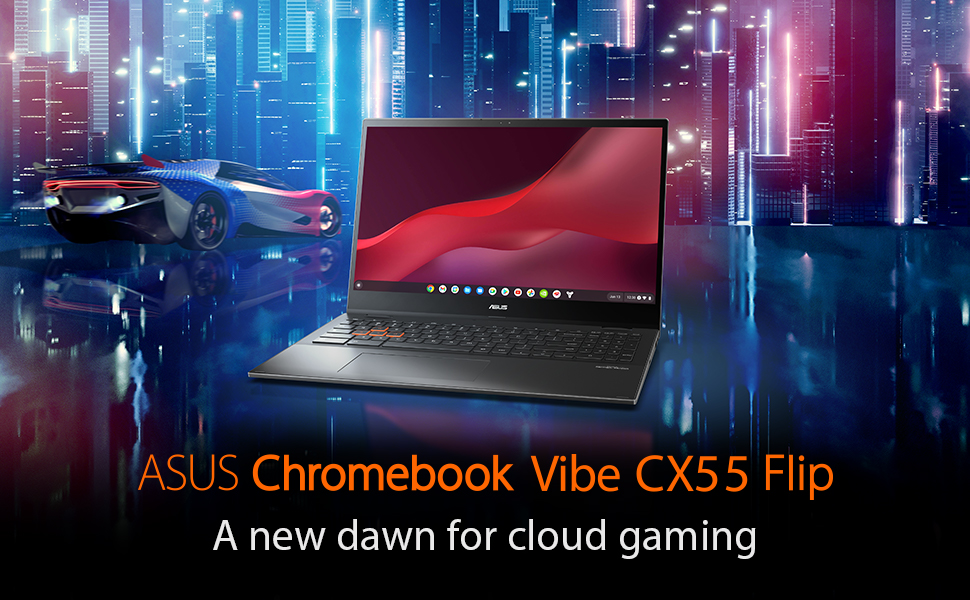 The CX55 is equipped with 11th-generation Intel CPUs and may be ordered with an i3, i5, or i7. The i3 model is equipped with Intel UHD graphics, and the i5 and i7 variants are outfitted with Intel Iris X graphics. It will offer 8GB or 16GB of RAM and up to 512GB of storage space. The CX55, unsurprisingly, offers two USB-C connectors as well as USB-A and HDMI interfaces. The laptop will also be available this month, and Google said in a briefing that price would begin at $399 – we don't know what features are included, but it's probably fair to assume it's the i3 model.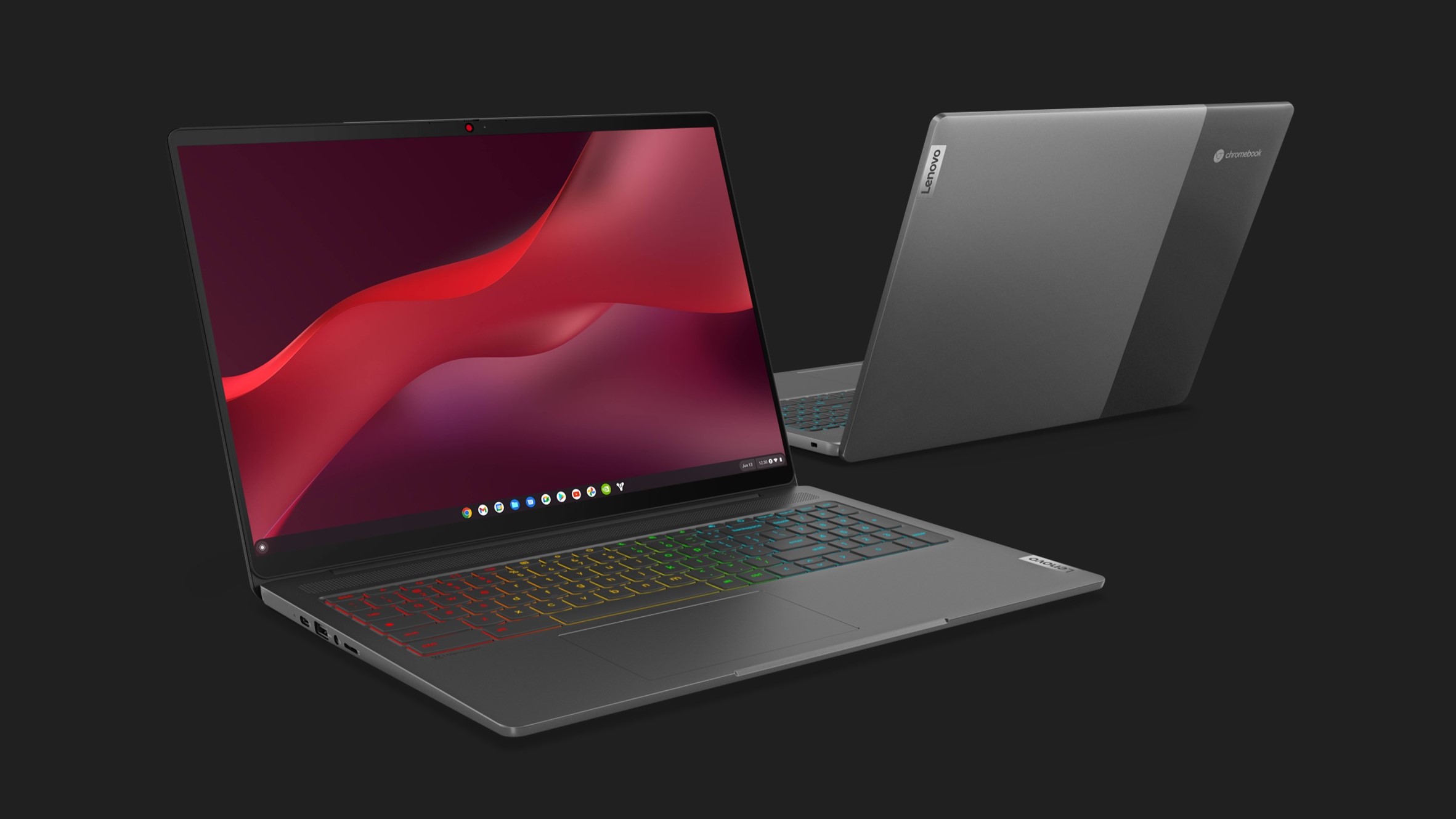 Lenovo's IdeaPad Gaming Chromebook has many similarities with Acer's product. It boasts a 16-inch display with a resolution of 2,560 x 1,600 and a refresh rate of 120Hz, as well as an RGB, anti-ghosting keyboard with 1.5mm of travel. Processor choices include 12th-generation Intel Core i3 or Core i5 processors, as well as 8GB of RAM and up to 512GB of storage (the base configuration starts with 128GB). The port choices are quite restricted, with just two USB-C connectors, one USB-A port, and a MicroSD slot. The IdeaPad Gaming Chromebook, like the other two laptops, will be available this month, with a starting price of $599.
Collaborations in software, gaming services, and peripherals
Naturally, access to software and games is just as vital as hardware in this case. As a result, Google has formed alliances with NVIDIA, Amazon, and Microsoft to guarantee that their devices support GeForce Now, Luna, and Xbox Game Pass out of the box. The NVIDIA relationship is perhaps the most important, as the firm is bringing GeForce Now's high-performance RTX 3080 tier to Chromebooks for the first time, which means games will run at up to 1600p resolution at 120 frames per second with ray tracing enabled (assuming the game supports these specs, of course). NVIDIA has created a progressive web app (PWA) that allows you to open GeForce Now right from your Chromebook's dock or launcher.
Microsoft also created a PWA for Game Pass, but it works exactly the same as it would on a PC – if you have an Xbox Game Pass Ultimate membership, you can stream any Game Pass game to your Chromebook. Similarly, an Amazon Luna membership gives you access to a constantly changing library of over 100 games.
Google is also improving ChromeOS to make it simpler to start games directly. When you press the "anything" search button on your Chromebook, you can just put in the name of the game you want to play and it will start as if it were natively installed. For the time being, this will only function with the GeForce Now library (as well as applications on Google Play), but Google has said that it plans to expand this search capability to other services as well.
Lenovo, Acer, and ASUS are all giving a three-month membership to GeForce Now RTX 3080 tier as well as three months of Amazon Luna+ to ensure that anybody looking at these Chromebooks can start playing right away. The ASUS choice also comes with a complimentary SteelSeries Rival 3 gaming mouse.
In terms of mouse, Google collaborated with SteelSeries, Corsair, and HyperX (as well as Lenovo and Acer) to ensure that their gaming-focused peripherals function with Chromebooks. This involves ensuring that these peripherals' settings may be fine-tuned in ChromeOS, in certain instances using PWAs.