AMD has unveiled its latest line of mobile processors, the Ryzen 7000 series, as the company looks to take on Intel's powerful HX laptop CPUs. The new processors, which will be available in a variety of configurations to meet the needs of different users, include the premium Ryzen 9 7945HX. This processor boasts 16 cores, 32 threads, and speeds of between 2.5GHz and 5.4GHz, making it AMD's most advanced mobile offering to date.
In addition to the high-end Ryzen 9 7945HX, the Ryzen 7000 series includes a range of other chips that will be used in everything from budget laptops to extreme gaming and creator machines. This means that there will be a Ryzen laptop processor for practically every need, giving AMD a strong offering to take on Intel's HX series.
Intel unveiled its HX lineup of processors last year, and the company recently announced that it will be releasing even more HX processors in 2023, led by the 24-core i9-13980HX. These chips use a hybrid design that combines Performance and Efficient cores, which may result in similar performance to AMD's full-speed cores. However, AMD's focus on its HX series this year could give the company an edge in the competition with Intel.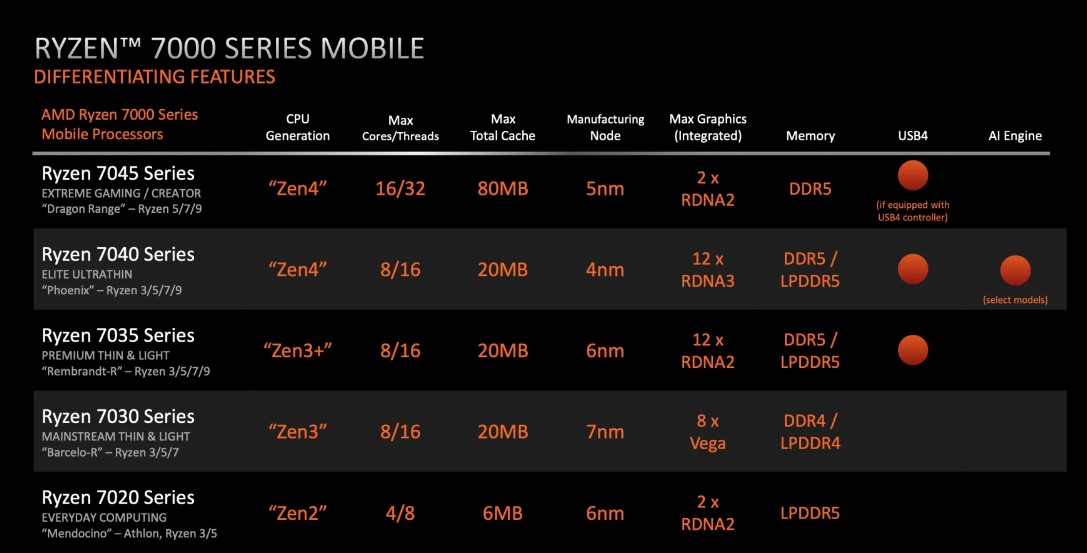 Overall, the introduction of the Ryzen 7000 series represents a significant move by AMD as the company looks to solidify its position as a major player in the laptop processor market. With a wide range of chips available to meet the needs of different users, AMD is well-equipped to take on Intel and offer consumers a strong alternative to the HX series.
AMD has unveiled its new line of HX CPUs, the Ryzen 7000 series, which will be available in a range of configurations for different users. The top-end chip, the Ryzen 9 7945HX, is designed for raw power and will be used in gaming laptops like the Alienware m16 and m18, as well as the ASUS ROG Strix. It features 16 cores, 32 threads, and speeds of between 2.5GHz and 5.4GHz, and AMD claims it is 78% faster than the previous top-end Ryzen 6900HX in Cinebench's multithreaded benchmark and 18% faster in the single-threaded test. When compared to Intel's 12900HX, the 7945HX is 169% faster in Handbrake encoding and 75% faster with Blender rendering.
For users who want a balance between size and power, AMD is also introducing the Ryzen 7040 HS series, which will run between 35W and 45W. These chips are aimed at thin enthusiasts and will feature the Ryzen 9 7940HS as the top option, with 8 cores, 16 threads, and boost speeds of up to 5.2 GHz. These chips will also include Ryzen AI, an integrated AI engine that can handle tasks like blurring backgrounds during video calls and sorting through photo libraries. AMD claims that Ryzen AI can multitask up to four different AI workloads or combine them for a single task and is 50% more power efficient than Apple's M2.
For ultraportables, AMD is introducing the U-series Ryzen 7030 and 7035 lineups, which range from 15W to 35W. These include the Ryzen 3 7330U at the low end, with 6 cores and 12 threads, and the 8-core/16-thread Ryzen 7 7730U. The Ryzen 3 7335U is a quad-core chip that can use almost twice as much power as the 7330U. Intel is also planning to introduce a VPU AI accelerator in some of its 13th-gen chips, which were previously only seen on ARM chips like the Microsoft SQ3 on the Surface Pro 9.