ENOC Group, the Official Integrated Energy Partner of Expo 2020 Dubai, unveiled the innovatively designed Service Station of the Future, located at the Expo 2020 site.
The station was inaugurated in the presence of Her Excellency Reem Al Hashimy, UAE Minister of State for International Cooperation and Director General, Expo 2020 Dubai, ENOC Board members as well as H.E Saif Humaid Al Falasi, Group CEO of ENOC, along with members of the Group's senior leadership.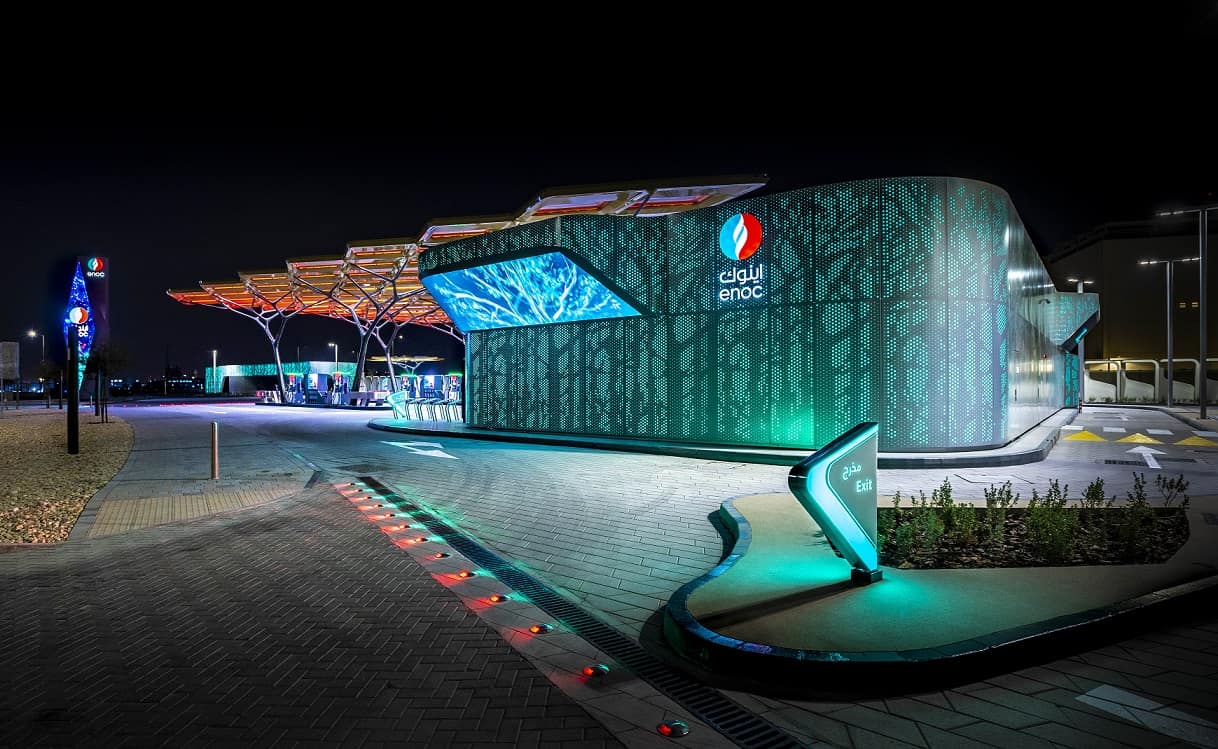 The station will support the logistical needs of Expo 2020's fleet ahead of the global event and will serve the general public at District 2020, the smart human-centric community and curated innovation system that will become Expo's physical legacy after its doors close on 31 March 2022.
The service station received the LEED platinum certification, an internationally recognised building certification system from the US Green Building Council. ENOC exceeded the requirements; securing 93 points, making it the first service station in the world to obtain a LEED platinum certification.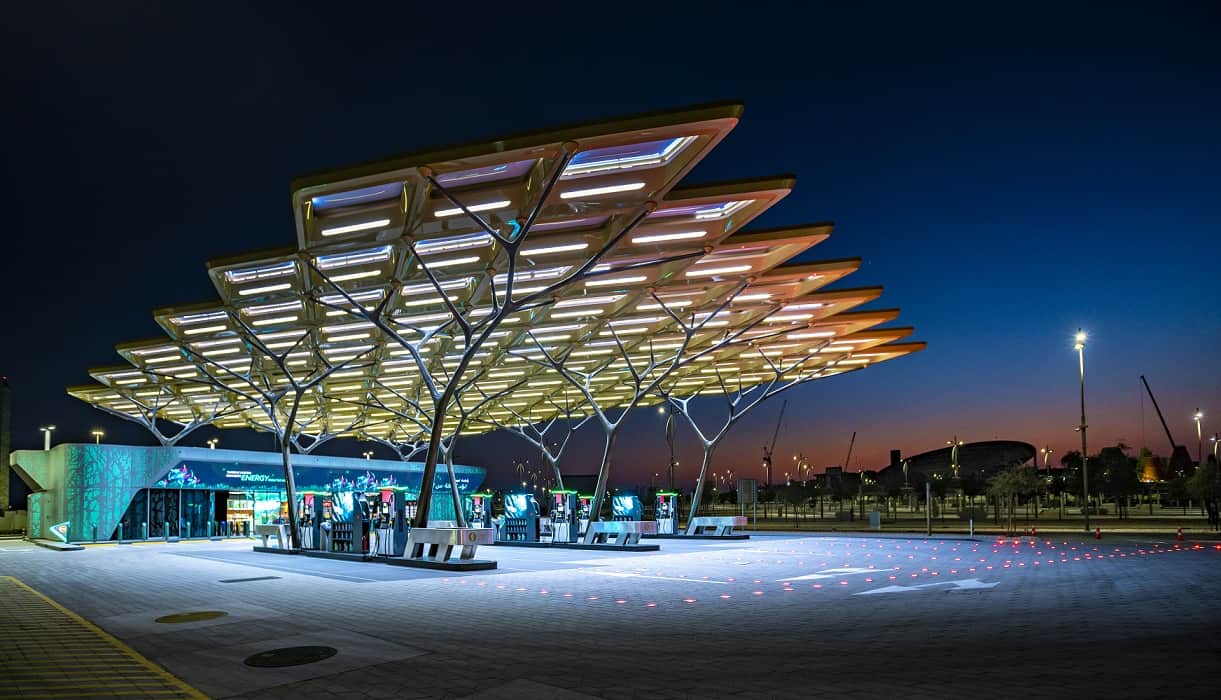 More than 43,000m2/37 tonnes of carbon fibre – a light, eco-friendly material that is three times stronger and five times lighter than steel – has been used to build the 133 multi-layer canopy frame. The frame structure houses a clear, innovative leaf-shaped ethylene tetrafluoroethylene (ETFE) cushion canopy, which is 100 per cent UV ray-protected and corrosion-proof, and illuminated with more than 3,800 LED light modules.
In a bold move to incorporate renewable energy to generate power and enable the station to be energy efficient, 283 solar photovoltaic (PV) panels have been installed to generate 143 MWh of solar power every year, and a 25-metre wind turbine will generate 12.7 MWh of wind energy annually. This follows ENOC Group's decision to incorporate solar PV panels to power its service-station network and is aligned with the Dubai Integrated Energy Strategy 2030 and Dubai Clean Energy Strategy 2050 goals.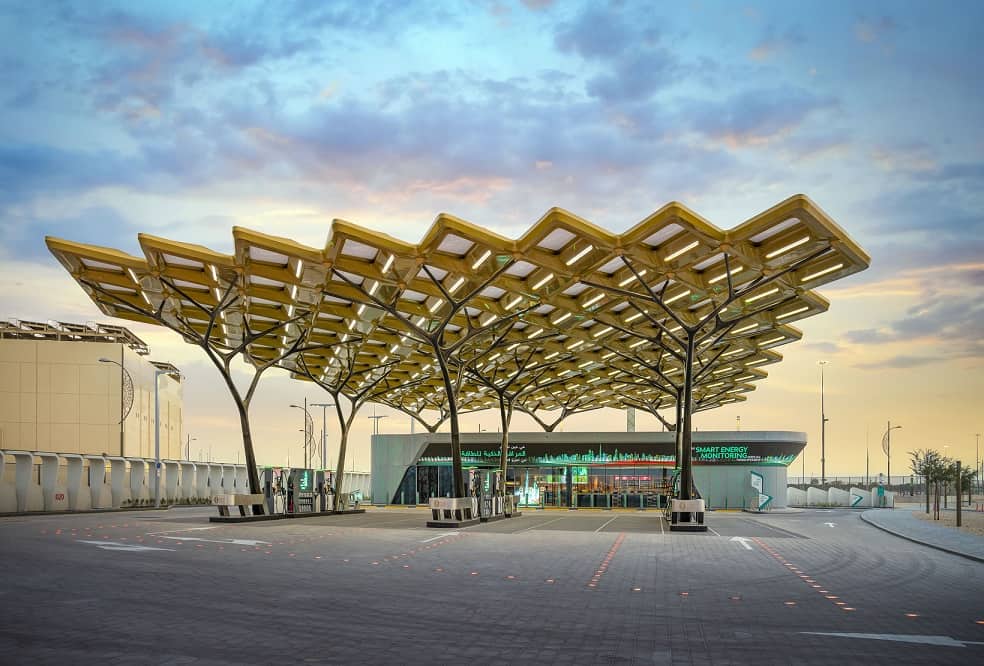 The new iconic service station's systems have been deployed to enhance energy conservation, such as the use of carbon filtration technologies to recycle and reuse grey water for irrigation, significantly reducing outdoor water consumption. In addition, the station is equipped with drinkable air units that use ozonation techniques to convert water molecules from humidity in the air into drinkable water for staff onsite.
The service station also includes several applications of advance machine learning, artificial intelligence and data analytics technologies that play a role in customising services and retail offerings for customers, managing queue and waiting times at the forecourt, and improving the overall customer journey.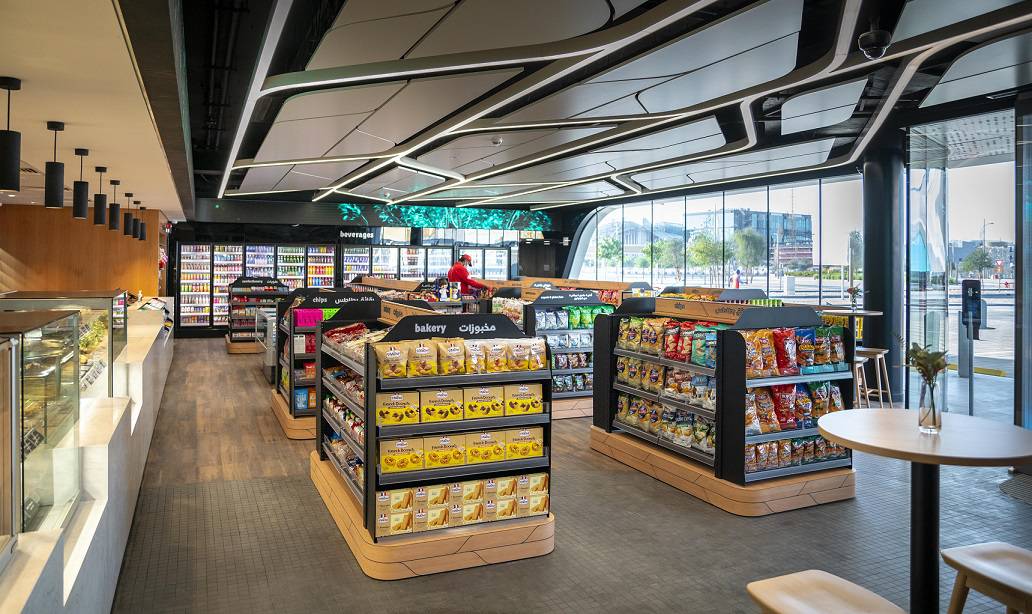 Vehicle mapping surface lighting is deployed to mark traffic flow to direct vehicles to the fuelling area, as well as entry and exits to the station. Occupation sensors and signals at fuelling positions will also manage traffic flow, redirecting vehicles to empty spaces at dispensers.
For enhanced safety, the station uses advanced fuel management and gauging systems that continuously monitor the integrity of the tanks, providing 24-hour leak detection coupled with turbine pump interface monitoring systems.
Construction work on the service station began in early August 2019. ENOC recorded 400,000 manhours during the build process, with zero lost time injury (LTI), demonstrating ENOC Group's commitment in adhering to the best health, safety and environment (HSE) practices.