DJI has unveiled the Osmo Action 3, the newest addition to its tiny action camera lineup. This latest product from the world's premier drone manufacturer has been completely redesigned, with two touchscreens and a concentration on portrait-mode photography.
The DJI Action 2, which had a modular design backed by a range of magnetic attachments, has few similarities to the Osmo Action 3. Instead, this newest product from DJI looks more like the first edition in the series, the original DJI Osmo Action.
The camera has a 1/1.7-inch imaging system that can shoot in 4K quality at 120 frames per second and has a 155-degree field of view. It has DJI's RockSteady 3.0 image stabilization, which works even at 4K/120fps, as well as HorizonSteady, which the firm claims can keep film level for surfers "even during strong shocks and 360-degree spins." HorizonBalancing, which DJI describes as "the optimal middle ground between RockSteady and HorizonSteady" for activities like as an FPV obstacle course run, rounds out the package.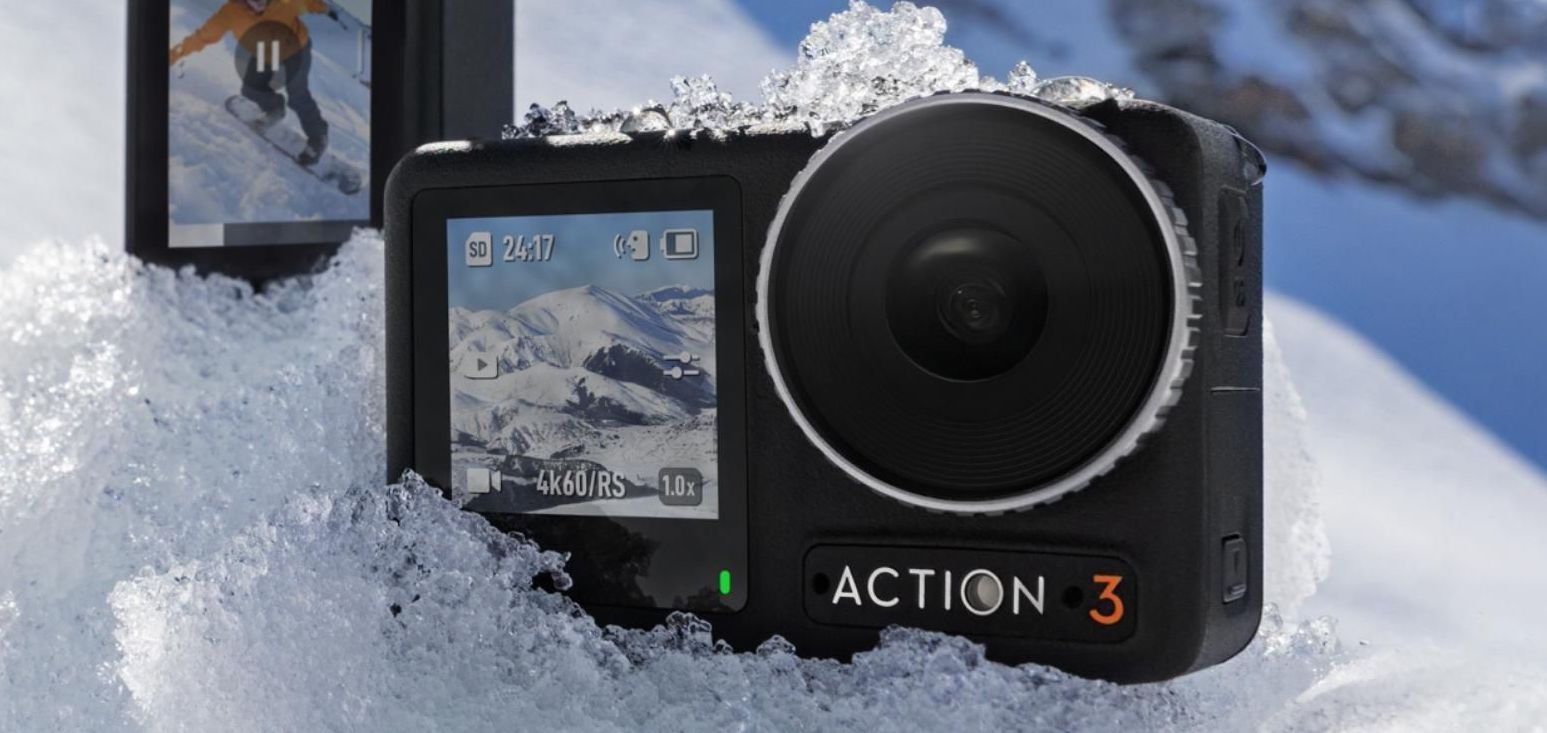 DJI says that the 1770mAh 'Extreme' battery can be completely charged in around 50 minutes and that it can power the camera for up to 160 minutes. Heat management has been improved, enabling it to operate in temperatures as low as -4 degrees F and run continuously at 4K / 60fps until the battery is depleted. Its predecessor supposedly suffered from a slew of overheating troubles and was only operable above 32 degrees F, according to its technical specs.
To firmly connect it to objects like handlebars and helmets, the camera has a protective frame with support for both horizontal and vertical rapid installation. For a more impact-resistant grasp, notches have been added to the quick-release mechanism initially seen on Action 2.
DJI says that the Osmo Action 3 is the first action camera with dual touchscreens, enabling users to access settings from either the front or rear. Three-mic stereo recording (to reduce wind noise), voice controls, and 4x digital zoom are also included. If the built-in microphones are inadequate, the Action 3 supports DJI microphones via direct USB-C connections and additional external microphones using 3.5mm to USB-C connections.
Despite the loss of modularity, the Osmo Action 3 will still be available with a slew of attachments and extras, including a waterproof case for longer underwater sessions, a protective lens cover, and a range of various mounts. Without an extra enclosure, the camera unit is waterproof to a depth of around 52 feet (16 meters). Extra batteries, as well as a case capable of holding two microSD cards and fast-charging three batteries, may be bought, with the option of also using it as a power bank to charge your phone and other devices.
Some of these items are offered with the camera in packaged bundles. The Osmo Action 3 Standard Combo is the most economical option, priced at $329, and included the Osmo Action 3 camera, one Extreme battery, the horizontal-vertical protective mounting frame, a quick-release adaptor mount, and an adhesive base.
The DJI Osmo Action 3's September 14th debut is likely no accident, given that DJI's market competitor GoPro revealed it will be presenting its own Hero 11 today, which is expected to sell for $499 for non-GoPro customers – the same price as its predecessor.