DJI, the global leader in civilian drones and creative camera technology, today launches a comprehensive cinematography system that heralds the next generation of film production. DJI Ronin 4D combines the all-new full-frame Zenmuse X9 gimbal camera, a 4-axis stabilization system, a LiDAR focusing system, and an unrivaled video transmission and control system in a single unit. Designed and built to the exacting standards of professional filmmakers, DJI Ronin 4D makes high-end productions more efficient, makes spectacular camera moves possible in the most convenient way, and enables creative professionals to tell their stories with an entirely new visual language.
The Most Powerful Cinematic Imaging System DJI Has Ever Created
Excellent filmmaking begins with the perfect shot, which is why DJI developed its most powerful cinematic imaging platform to date. A flagship proprietary chipset fuels an intelligent image processing system, CineCore 3.0, which delivers an internal 8K RAW codec with precise color reproduction, advanced assistive functions with a high-performance AI engine, and multi-link monitoring and control with low-latency image processing.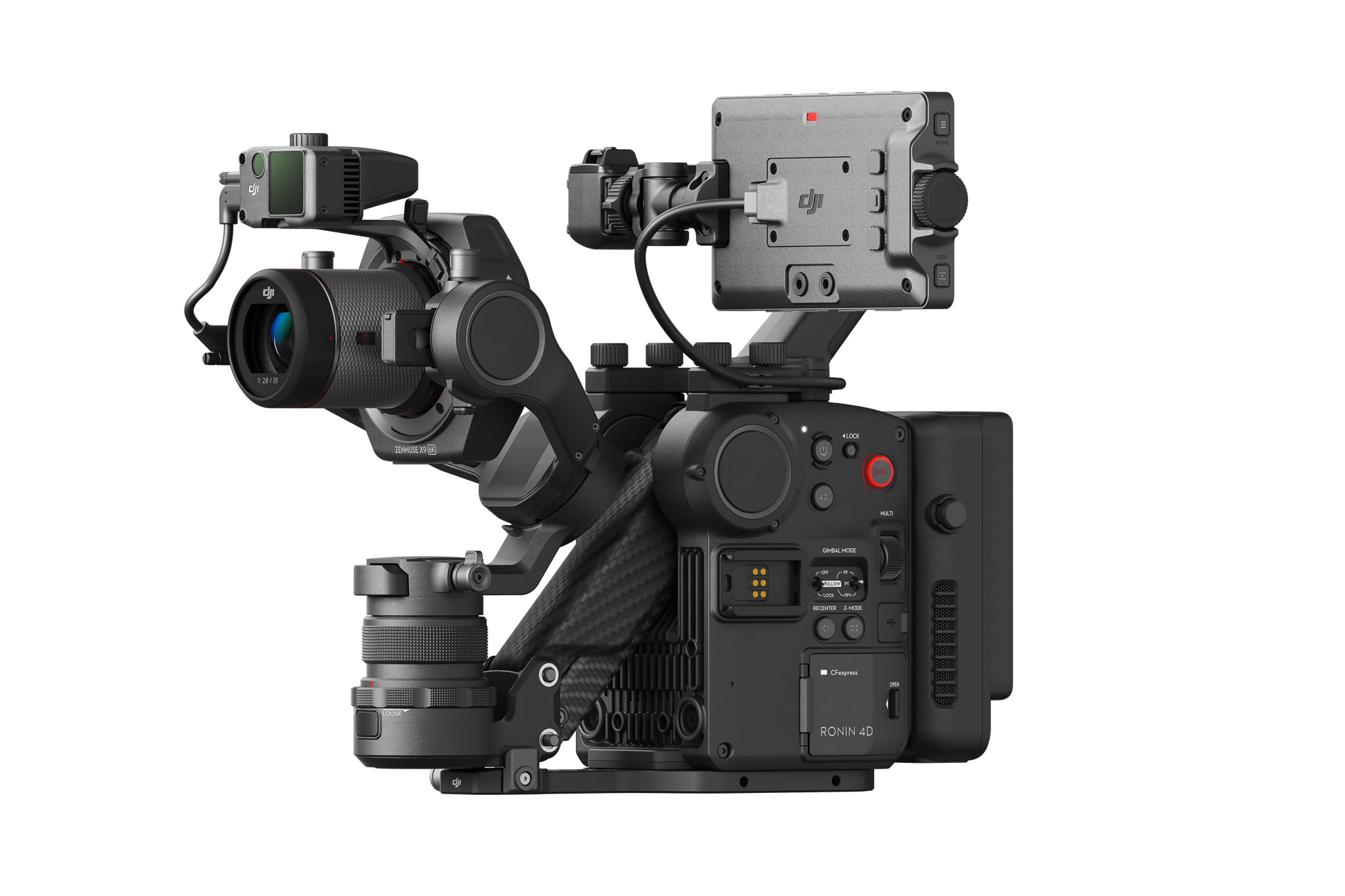 Complementing the imaging system is a brand-new, full-frame Zenmuse X9 gimbal camera – available in 8K and 6K versions – that allows cinematographers to capture footage in full cinematic quality. In addition to the commonly used H.264 codec, both X9-8K and X9-6K can internally record Apple ProRes and ProRes RAW, leaving more latitude for editing in post. Zenmuse X9-6K supports up to 6K/60fps and 4K/120fps, and Zenmuse X9-8K up to 8K/75fps, giving creators multiple options for capturing cinema-quality footage.
To create gripping, atmospheric shots, the dual-native EI of 800/5,000 and over 14 stops of dynamic range help capture scenes with rich color grades, regardless of shooting scenario. Even in complicated lighting situations, DJI Ronin 4D's proprietary DJI Cinema Color System (DCCS) delivers natural skin tones and enables effortless tonal consistency across a project when using different cinema cameras.