DJI, the world's leader in civilian drones and creative camera technology, today reimagines what an action camera can do with the new DJI Action 2. The interchangeable and adaptive magnetic design opens new vistas to make every video compelling, with unique tools to frame, shoot, and monitor a camera, featuring DJI's unparalleled expertise in stabilization systems. DJI Action 2 is smaller, more versatile, and more powerful than its predecessor, giving everyone the tools and the confidence to capture life's adventures in crystal-clear 4K.
Modular, Wearable Design
Weighing 56 grams, the new compact and innovative modular design allows users to take DJI Action 2 anywhere they go. It has options to attach to your helmet to film an FPV bike ride, mount on your surfboard to get right next to a breaking wave, and wear securely to your shirt to create an easy, hands-free timelapse of your tour in a new city. From vlogging to extreme sports, Action 2 is the triple threat – dustproof, waterproof, and drop-proof – and robust to withstand the ups and downs of all of life's adventures. DJI Action 2 comprises the camera unit and various modules – the front touchscreen module, power module, and various mounting peripherals – that can be interchanged.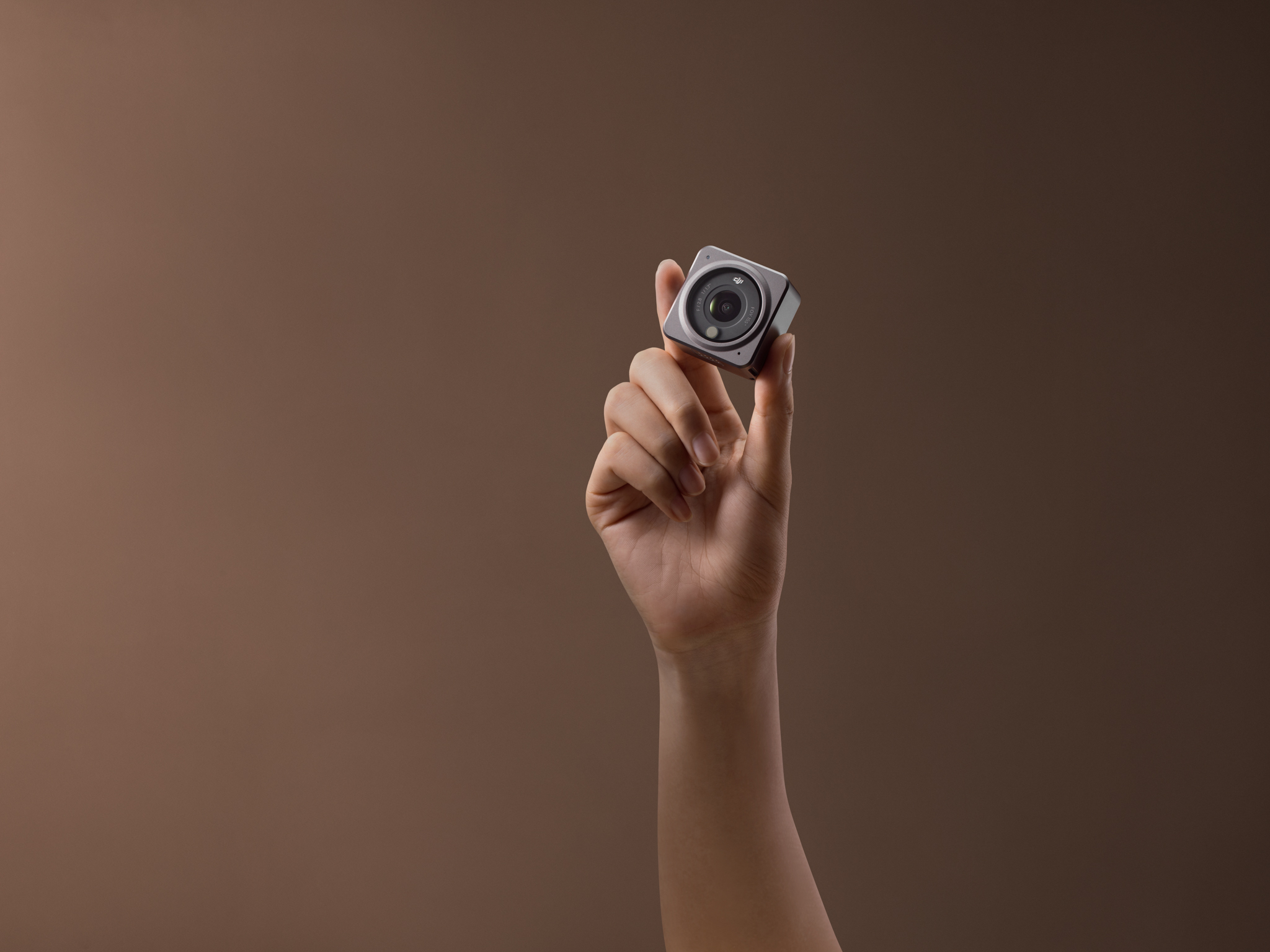 DJI Action 2's touchscreens are redesigned to make it easier and more convenient to control your photography so you can focus on the action. The camera unit features a 1.76-inch OLED touchscreen with an additional OLED screen on the front touchscreen module, which attaches securely to the bottom of the camera unit via magnetic locks, allowing users to set up a selfie-and vlog instantly. Protected with Gorilla Glass, the touchscreens use haptic feedback for more precise control so you can navigate through camera settings quickly.
Powerful Imaging System
A 1/1.7-inch sensor records up to 4K/120fps video for incredible detail, and a super-wide 155° FOV lets you capture your entire surroundings for immersive footage.  A newly implemented Color Temperature Sensor helps the camera restore color tones in complex lighting conditions and underwater recording for more natural, vibrant results.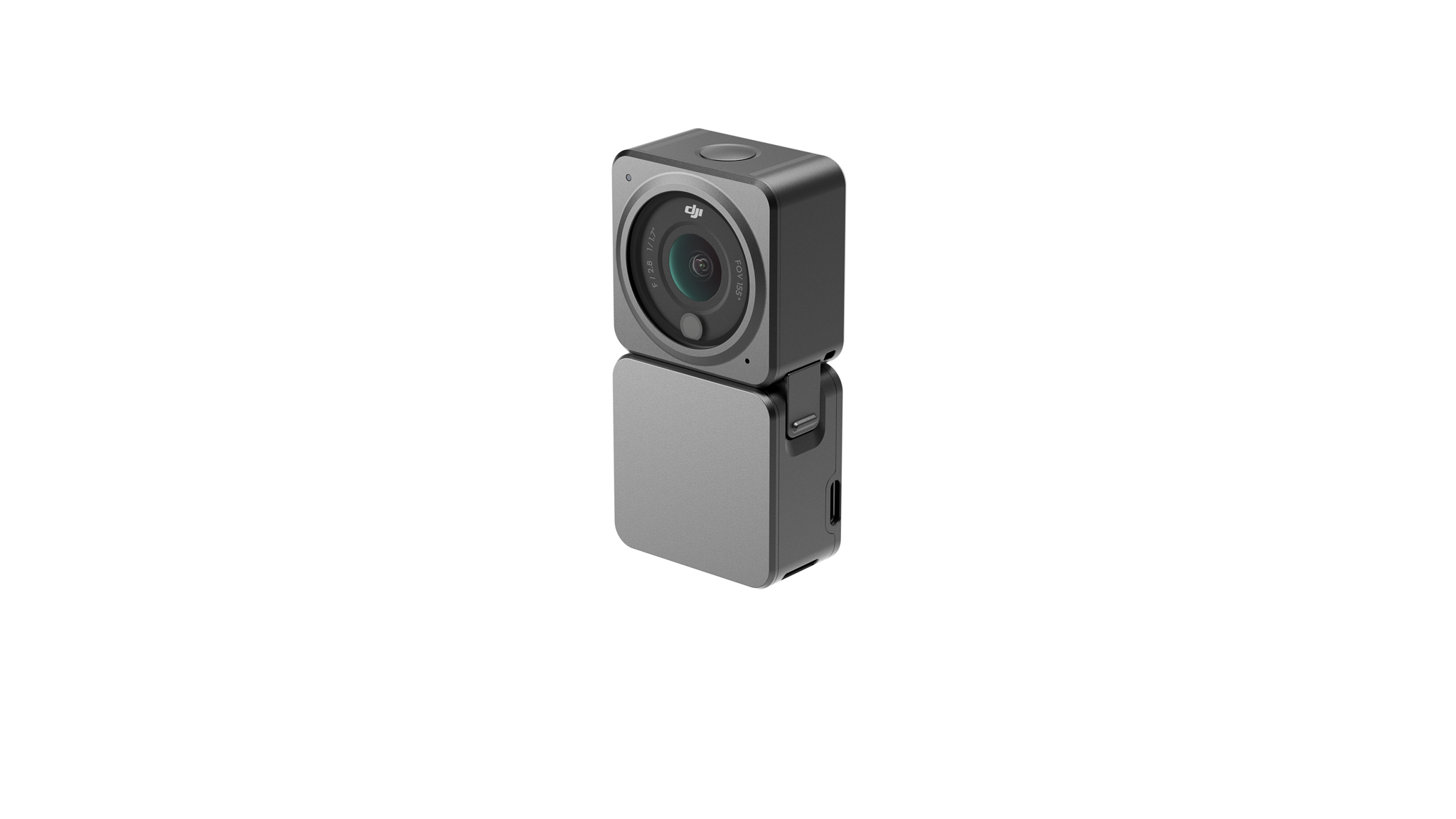 Following its predecessor, DJI Action 2 incorporates RockSteady 2.0, DJI's proprietary Electronic Image Stabilization (EIS) technology. For a new level of smoothness, HorizonSteady maintains a level frame throughout the shot, even during your more dynamic moments. The DJI Action 2 Camera Unit has a battery with a run time of up to 70 minutes on its own, 160 minutes when connected with the Front Touchscreen Module, and 180 minutes with the power module. Using DJI Action 2 with the front touchscreen Module also incorporates DJI Matrix Stereo technology, first seen in DJI Pocket 2. The single microphone from the camera unit combines with the three microphones from the module to record audio from every direction, creating immersive sound during playback.
Packed with Intelligent Features
DJI Action 2 offers a variety of intelligent features, including:
Slow Motion: Record video in slow motion (4x in 4K/120fps and 8x 1080p/240fps) to capture transient moments with permanence.
Hyperlapse and Timelapse: Control the perception of time with Timelapse and Hyperlapse to capture unique content with the effect of the world moving faster around you. During Hyperlapse recording, you can switch to and from regular-speed recording for even more creative options.
QuickClip: Set the device to take short 10, 15, or 30-second videos, perfect for social media.
Livestream: Use DJI Action 2 to broadcast a live stream with a stable stream output of up to 1080p/30fps.
UVC: Utilize DJI Action 2 as a USB video device class (UVC) for your computer and capture high-quality video for conference calls and live gaming broadcasts.
Price and Availability
DJI Action 2 is available for purchase today from store.dji.com and authorized retail partners in several configurations. The DJI Action 2 Dual-Screen Combo retails for $519 USD and includes the DJI Action 2 Camera Unit, Front Touchscreen Module, Magnetic Lanyard, Magnetic Ball-Joint Adapter Mount, and Magnetic Adapter Mount. The DJI Action 2 Power Combo retails for $399 USD and includes DJI Action 2 Camera Unit, Power Module, Magnetic Lanyard, and Magnetic Adapter Mount.