The top-tier ultra-short-throw projectors, known as UST projectors, possess the remarkable ability to project expansive images from an incredibly close proximity. These projectors offer an appealing alternative to conventional "long throw" projectors, which typically demand placement at the back of a room and necessitate a separate projection screen fixed to the opposing wall.
UST projectors are often complemented by specialized screens, including ambient light rejecting (ALR) screens tailor-made for UST models. In this configuration, the projector is strategically positioned directly below the screen. The screen material is ingeniously designed to filter out undesirable ambient light sources from above while efficiently reflecting the light emanating directly from the projector. This unique setup equips UST projectors to produce vibrant and luminous images, even in well-illuminated environments or rooms with overhead lighting.
Below, we've compiled a selection of the finest UST projectors we've rigorously assessed. These models employ diverse technologies, encompassing DLP and 3LCD, to render images, yet they share common attributes, including a laser-based light engine and a specified 4K on-screen resolution. Whether your interests center on cinematic viewing, sports spectating, or immersive gaming, we're confident that within this lineup, you'll uncover a UST projector that seamlessly aligns with your specific needs and preferences.
Number 1. Hisense L9G TriChroma Laser 4K TV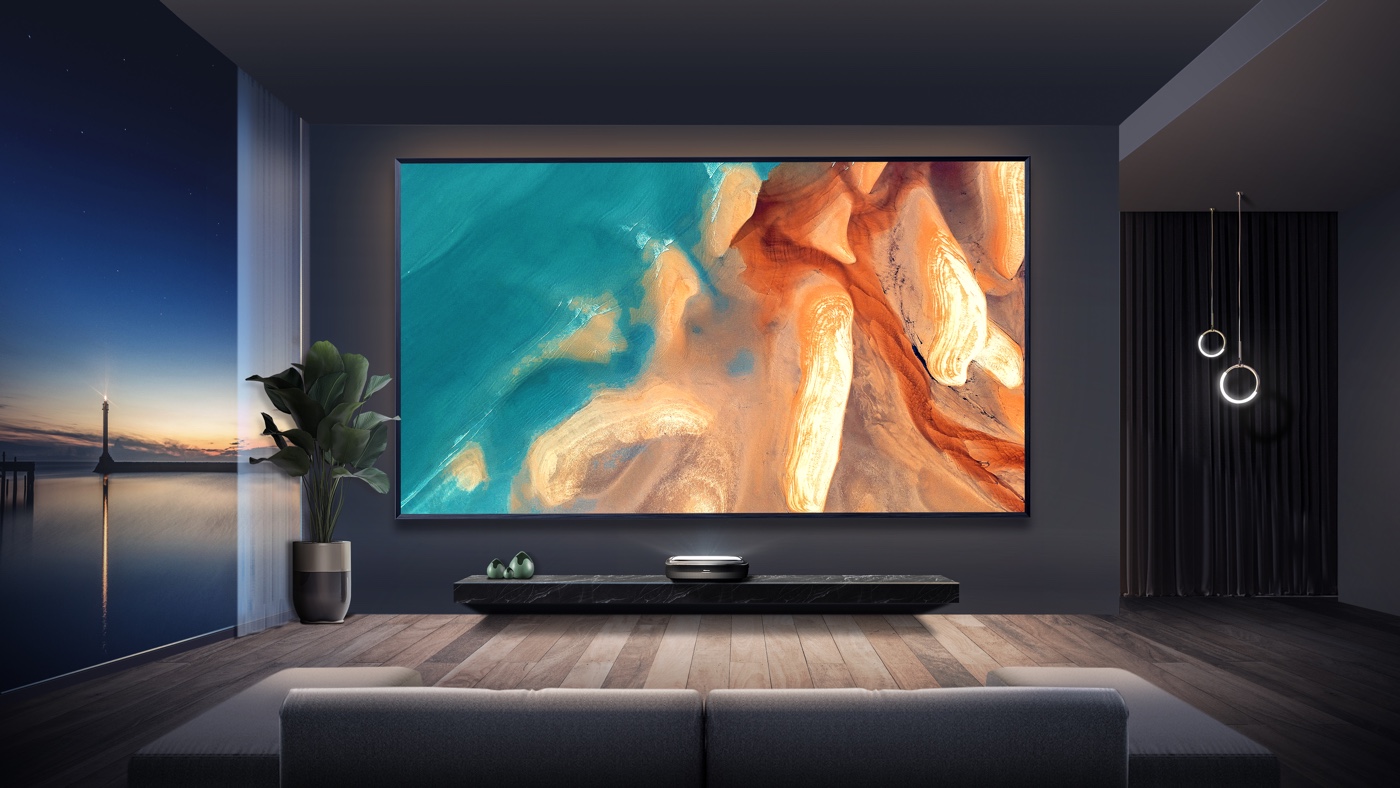 The Hisense L9G stands as a game-changer for the modern living room. This projector boasts an impressive array of cutting-edge features within its ultra-short throw design. Among its standout attributes are a tri-color laser light engine, HDMI 2.1 ports with eARC support, compatibility with High Dynamic Range (HDR) content, a user-friendly Android TV interface, and robust 40W speakers.
Rather than positioning the L9G as a conventional projector, Hisense markets it as a laser TV, complete with an accompanying ambient-light-rejecting projector screen. This specialized screen, available in 100- or 120-inch variants depending on the model chosen, caters to those with discerning taste in image quality. Its primary function is to minimize the impact of ambient room lighting on the projected picture, ensuring an optimal viewing experience.
While the projector impresses with its picture performance, it does encounter a few hiccups. At times, its attempts to fine-tune brightness on a shot-by-shot basis may result in overly aggressive adjustments that disrupt the viewing experience. Additionally, its motion smoothing feature, while effective in reducing panning judder, can introduce noticeable motion artifacts in other on-screen elements. Thankfully, the Hisense L9G offers an abundance of customizable settings, allowing users to fine-tune the display to their preferences.
Undoubtedly, the Hisense L9G delivers breathtaking visual quality, but it demands a certain commitment from potential buyers. It represents a more accessible option than investing in a massive 100-inch television, yet even the entry-level models come at a price point significantly higher than the L9G. For those seeking an immersive cinematic experience without the enormous expense of a giant TV, the Hisense L9G presents a compelling alternative.