DaVinci Resolve Performance
Despite its considerable complexity, DaVinci Resolve demonstrates commendable speed and stability in its operations. However, during my testing of the free version, I encountered a somewhat unusual message: 'Your GPU memory is full.' This was a first in my experience with video editing software.
The culprit turned out to be the default proxy resolution, which was set to full resolution. Lowering the resolution by half resolved the issue, although processing the proxies did take a bit of time, causing the preview to temporarily freeze. It's worth noting that DaVinci Resolve intelligently harnesses GPU power for acceleration but with some nuances.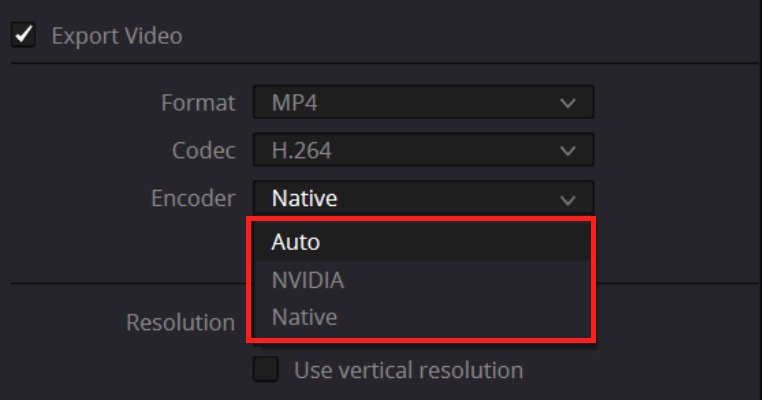 For assessing render speed, I subjected each video editing program to a rigorous test: combining seven clips of varying resolutions, ranging from 720p all the way up to 8K, and applying cross-dissolve transitions between them. The benchmark involves rendering the project to 1080p30 with H.264 compression and 192Kbps audio.
The resulting video spans just over five minutes. These tests were conducted on a Windows 11 PC sporting a 3.60GHz Intel Core i7-12700K, 16GB of RAM, an Nvidia GeForce RTX 3060 Ti, and a 512GB Samsung PM9A1 PCIe 4.0 NVMe SSD.
As illustrated in the chart, DaVinci Resolve performs admirably, landing in the middle of the group. In past assessments, the Native software encoder yielded notably slower results. However, with my current setup, it took approximately the same amount of time whether using that setting or the 'Auto' setting, which leverages your graphics hardware (in my case, Nvidia). Regardless, I recommend opting for the 'Auto' setting for an optimal performance experience
DaVinci Resolve Pricing 
The free download version of DaVinci Resolve has garnered a considerable following among YouTubers and gamers, primarily because it offers a substantial subset of the program's editing capabilities without the pro-level features that may not be essential for their needs. It stands as one of the most potent free video editing options available, boasting a surprisingly robust feature set that encompasses standard editing and cutting, effects, motion graphics, color correction, and audio editing.
However, it's worth noting that certain advanced functionalities, such as the DaVinci Neural Engine, stereoscopic 3D tools, a plethora of additional Resolve FX filters, Fairlight FX audio plug-ins, advanced HDR grading, and HDR scopes, are notably absent in the free version. During testing, I occasionally encountered messages indicating the need for a paid subscription to access specific tools. This is entirely reasonable, considering the extensive array of features still available for free.
For users seeking access to all the premium features, DaVinci Resolve offers a one-time payment option priced at $295. It's important to note that a full license can only be obtained through authorized resellers like B&H Photo Video. This approach is likely due to Blackmagic's offering of optional custom keyboards and panels designed to enhance the software's functionality. These range from the $295 Speed Editor keyboard to the premium $27,585 Advanced Panel. Blackmagic also caters to the professional market with cinema and studio cameras, spanning from the $1,295 Pocket Cinema Camera 4K to the $6,385 URSA Mini Pro 12K.
Comparatively, the $295 price point of DaVinci Resolve places it just slightly below the $299 cost of Apple Final Cut Pro. However, it's important to note that Final Cut Pro requires additional purchases, such as the $49.99 Motion and the $49.99 Compressor ancillary apps, to achieve feature parity.
On the other hand, Adobe Premiere Pro follows a subscription-based model, priced at $20.99 per month with an annual commitment. When considering the long-term cost, it becomes evident that after a year and three months, you would have spent more on Premiere Pro than on DaVinci Resolve.
Conclusion
Conclusively, DaVinci Resolve emerges as an exceptionally potent professional video editing application, offering a rich palette of adjustments and effects tailored to the most intricate editing demands. Nevertheless, it's imperative to recognize that newcomers should expect a substantial learning curve, given that the software's interface and workflows deviate from the standard conventions of video editing software. Furthermore, it's essential to be aware that DaVinci Resolve places greater demands on your system's capabilities compared to many of its counterparts, which can impact the editing process.
The free version of DaVinci Resolve is a standout offering, as it isn't time-limited and provides a substantial toolkit that proves highly valuable for many amateur video editors. It offers a taste of the software's capabilities without requiring an upfront investment. For those seeking to explore the depths of professional video editing, DaVinci Resolve unquestionably ranks among the top choices in the industry.
This assessment underscores the software's robustness and versatility, making it a potent tool for video editing enthusiasts and professionals alike. If you have any further questions or specific points to address, please feel free to share them.