Canon Middle East announces the LEGRIA mini – a new digital creative camcorder that gives users unparalleled flexibility and freedom to express and share their passions – reflecting a growing consumer trend for self-expression through video. Combining an ultra-wide angle Canon lens, multifunctional vari-angle LCD and built-in stand, with a first-class HD video imaging system and seamless Wi-Fi connectivity, the LEGRIA mini is a brand new way to tell – and share – amazing stories.
Capture a new perspective
The innovative design of the LEGRIA mini enables unrivalled self-expression by giving users the freedom to explore different and creative angles from which to tell their stories and share their interests. Available in black, silver and white, the portable and lightweight form breaks from traditional camcorder design, and thanks to its built-in stand, gives enhanced flexibility in hands-free recording and allows users to come out from behind the camera and participate in their videos. Hobbies and pastimes can be brought to life, turning road trips into road movies or making dinner into a video cooking class.
With a Canon-designed ultra-wide angle f/2.8 lens, which captures Full HD movies at 160° and stills at 170° for easy framing, the LEGRIA mini enables users to capture even more of the world around them. Those wanting to film in a more conventional style can simply tap the capacitive LCD screen to reduce the field of view to a close-up angle of 71°.
The innovative vari-angle 6.8cm (2.7") LCD touchscreen can be flipped out to either the rear side or subject side, giving users an array of different shooting options and styles to play with. For example, the screen can be flipped into a front-facing position to enable accurate self-shooting, or kept closed to capture creative low angles.  The camera's rotation detection switch system also ensures the image is always displayed the right way up, no matter how the device is held.
The built-in stand is perfect for hands-free recording, supporting the device at a wide range of angles up to 60° and reducing the need for a tripod. This also supports a variety of creative shooting angles, perfect for filming a beauty tutorial from a make-up table or capturing a dance routine from a studio floor.
Quality video for creative results
Canon's renowned image quality is central to the LEGRIA mini. The HS System combines a Canon-engineered high-sensitivity back-illuminated 1.2/3" CMOS sensor with Canon's own highly-advanced DIGIC DV 4 processing platform, to deliver video and still images with minimal artefacts and noise. Crisp and vivid Full HD (1920 x 1080) video, with outstanding low-light performance and wide dynamic range is produced, alongside beautiful stills in 12.8 MP resolution.
The LEGRIA mini also offers high-quality audio for all videos thanks to the built-in stereo microphone, ideal for situations such as filming a tutorial, or for recording conversation in a busy area. To boost this performance, users can choose scenarios such as Music or Speech from the Audio Scene Select function.
Share your passions with seamless Wi-Fi connectivity
For those that love to share their videos across different devices and social networks, the LEGRIA mini features built-in Wi-Fi connectivity to enable the sharing of high quality video . This includes a Live Streaming Remote Control feature, which allows iOS or Android users to shoot remotely via an application on their smart phone or tablet.
The Remote Browser feature enables images and videos taken with the LEGRIA mini to be viewed on other devices, such as tablets or large-screen monitors, via browsers such as Safari or Internet Explorer, eliminating the need to use specific software. For wirelessly uploading to social media platforms such as YouTubeTM and FacebookTM without the need for a computer, users with Apple iOS devices can take advantage of Canon's free and easy-to-use Movie Uploader application. Others can access the Canon Image Gateway to upload video without the need for a PC. DLNA support means that users can also wirelessly stream their video to compatible TVs or PCs.
Unleashing creativity
The LEGRIA mini has been designed with creativity and expression in mind – whether capturing hobbies, an alternative perspective on a trip or making engaging content for a video blog. Users have the option to manipulate time through Time Lapse Recording, with intervals ranging from five seconds to ten minutes, for fascinating footage of busy locations or slow activities such re-decorating a room.
The Fast Motion Capture function, which records at a maximum speed of 4x, can help create entertaining tutorials in areas such as cooking or beauty. Slow Motion Capture can be used to record at ¼ and ½ speeds – particularly helpful for people such as dancers looking to observe and learn techniques. Additionally, the Mirror Image Recording/Playback function, where the image is flipped horizontally, allows users to review their footage to help refine their moves.
For those looking to bridge the divide between still and video for extra effect, Video Snapshot mode records a four-second movie every time the shutter is pressed for a still photo, then merging them into a short movie of a day's events.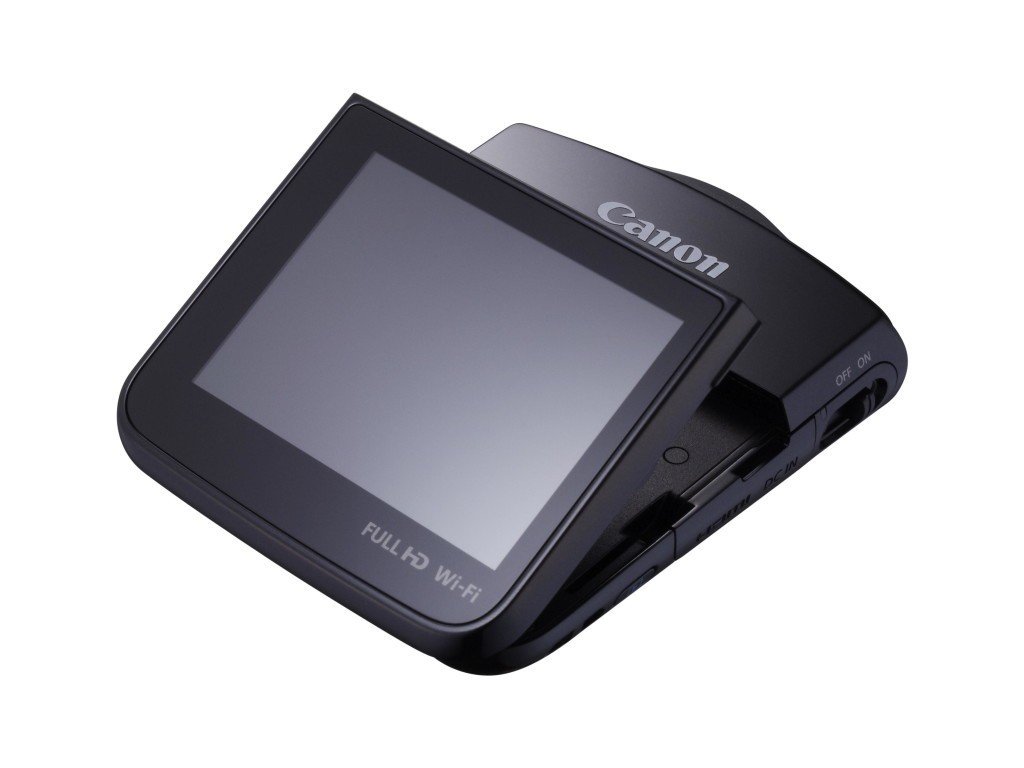 LEGRIA mini – key features:
•           170° ultra-wide  angle lens
•           Vari-angle LCD screen and built-in stand
•           Switch between ultra-wide and close-up
•           Wi-Fi; live streaming and sharing
•           Full HD recording
•           HS System: 12.8 MP CMOS, DIGIC DV4
•           Built-in stereo mic, Audio Scene select
•           Detection orientation
•           Mirror image recording/playback
•           Slow & Fast motion; interval recording