After the extraordinary digital launch of the Black Badge Cullinan, Rolls-Royce Motor Cars Middle East was the first region to showcase the entire Black Badge family, which has been recently completed with the introduction of Cullinan Black Badge – the darkest, most urban expression of a Black Badge motor car yet.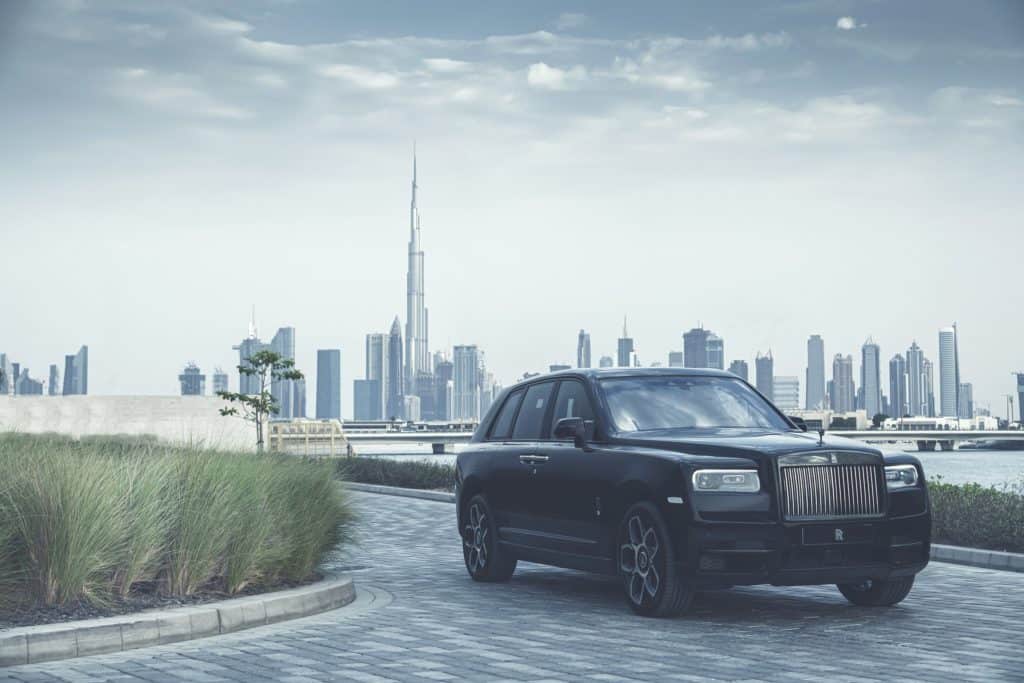 "It's incredible bringing together the entire Black Badge family in one place, and we're delighted to be the first region to organize fabulous events," said César Habib, Regional Director – Rolls-Royce Motor Cars Middle East and Africa.
Created to satisfy overwhelming demand from younger, more adventurous clients, Cullinan in its silver badge guise was launched to global acclaim in 2018, immediately becoming the world's pinnacle super-luxury SUV. Combining luxury in its purest form with genuine practicality and off-road capability, Cullinan delivered on the promise of an experience that is Effortless, Everywhere.
While clients can draw on the marque's 44,000 'ready to wear' paint options or commission an entirely individual Bespoke hue, it is anticipated that many will opt for Black Badge's signature Black. Multiple layers of paint and lacquer are meticulously applied and hand-polished 10 times at the Home of Rolls-Royce in Goodwood, West Sussex, representing the most comprehensive surface finish process ever applied to a solid paint color. 
The Spirit of Ecstasy mascot, which has taken many forms throughout the marque's history, is presented in high gloss black chrome. For the first time, this finish extends onto its mounting plate, creating the darkest Black Badge yet. 
The 'Double R' badge on the front, flanks and aft invert to become silver-on-black, while chrome surfaces such as the front grille surround, side frame finishers, boot handle, boot trim, lower air inlet finisher, and exhaust pipes are darkened. 
The marque's Colour and Trim experts sensationalized the engineering substance of Black Badge, blending comfort, bold aesthetics, advanced materials and precise, meticulous craftsmanship.
Each leaf of Technical Carbon is finished with six coats of lacquer before being left to cure for 72 hours then hand-polished to Rolls-Royce's hallmark mirror finish. This process takes 21 days and is only deemed complete once every piece is inspected by a craftsperson to ensure reflective uniformity across each of the 23 pieces within the car.
Presented in fine Black leather, handwoven with 1344 fiber optic lights, it is a true reflection of the sky at night and incorporates eight white shooting stars that dart at random predominantly over the front occupants, acknowledging the motor car's owner-driver appeal.  
A final touch completes the interior seating: the Infinity lemniscate motif is embroidered into the fold-down rear arm-rest as a reminder of the power contained within. This symbol is also incorporated in the illuminated treadplates and engraved on the steel clock case. Red-tipped clock hands and instrument display needles also serve as a discreet reminder of the motor car's dynamic prowess.
Key to the visceral thrill of Black Badge Cullinan is the Architecture of Luxury, Rolls-Royce's proprietary all-aluminum architecture that debuted with Phantom. The sub-structure not only delivers extraordinary body stiffness but its flexibility and scalability allowed Cullinan to be fitted with all-wheel drive and four-wheel steering in its silver badged guise. 
When the driver presses the 'Low' button situated on the gear selection stalk, they unlock Black Badge Cullinan's full suite of technologies. This is asserted by the amplification of the motor car's 6.75-litre twin-turbocharged V12 through an entirely new exhaust system. The flexibility of the twin-turbo V12 has been exploited to generate an extra 29PS creating a total output of 600PS. The sense of a single, infinite gear has also been sensationalized with the addition of a further 50NM of torque, bringing the total to a 900NM. 
The drive-train, ZF 8-speed gearbox and both front and rear steered axles work collaboratively to adjust the levels of engagement depending on throttle and steering inputs. Changes to suspension components and settings add to the suite of technologies that ensure an appropriate balance between dynamism and refinement. 
o bolster confidence when exploiting Cullinan's alter ego, the braking bite point has been raised and pedal travel decreased. Redesigned brake disc ventilation also allows consistency in these changes while braking at elevated temperatures. 
Black Badge Cullinan is now available to commission.