Power banks have become a must-have accessory for every smartphone user due to the sheer increase of use of devices today. There are many situations where you are busy on a task and your smartphone runs out of juice, but you cannot always expect a charging station to be there to bail you out. A power bank, however, can be on your person at all times, and when the time comes, charge your smartphone or device right then and there. There are many different power banks in the market, each with their own list of pros and cons, but one of the most powerful and reliable of the lot is the Belkin Boost Charge 20k.
Having had close to 35 years of experience in the industry, Belkin rarely gets it wrong with their devices, and with the Boost Charge Powerbank, their winning streak continues. Featuring a USB Type C one-cable solution, the Boost Charge high capacity power bank is made for the entire family of Apple devices, the Microsoft Surface Pro, and also the Nintendo Switch. The included USB-C cable supports USB Power Delivery 2.0 30W to rapidly power up your USB-C device and recharge the power bank. This single cable feature also makes the Boost Charge Powerbank very portable and easy to whip out anywhere and at any time. What's more, they have even bundled in a USB Type-A port to support charging of older devices. This is truly a fully loaded device, and we have no problems with the same.
Now, the question is – "Well, all power banks deliver power to our phones and tablets, what's different about the Belkin Boost Charge?"
The answer is that the Belkin Boost Charge Power Bank, not only provides power to your phones and tablets, it also provides up to 28 hours of extra power to the MacBook, which is amazing considering how powerful the MacBook really is and the kind of power it needs to perform to it's potential. But how does it accomplish this feat?
Equipped with USB Power Delivery 2.0, this power bank can charge a MacBook up to 30W. Just connect the included USB-C cable to a 27W wall charger to recharge the power bank.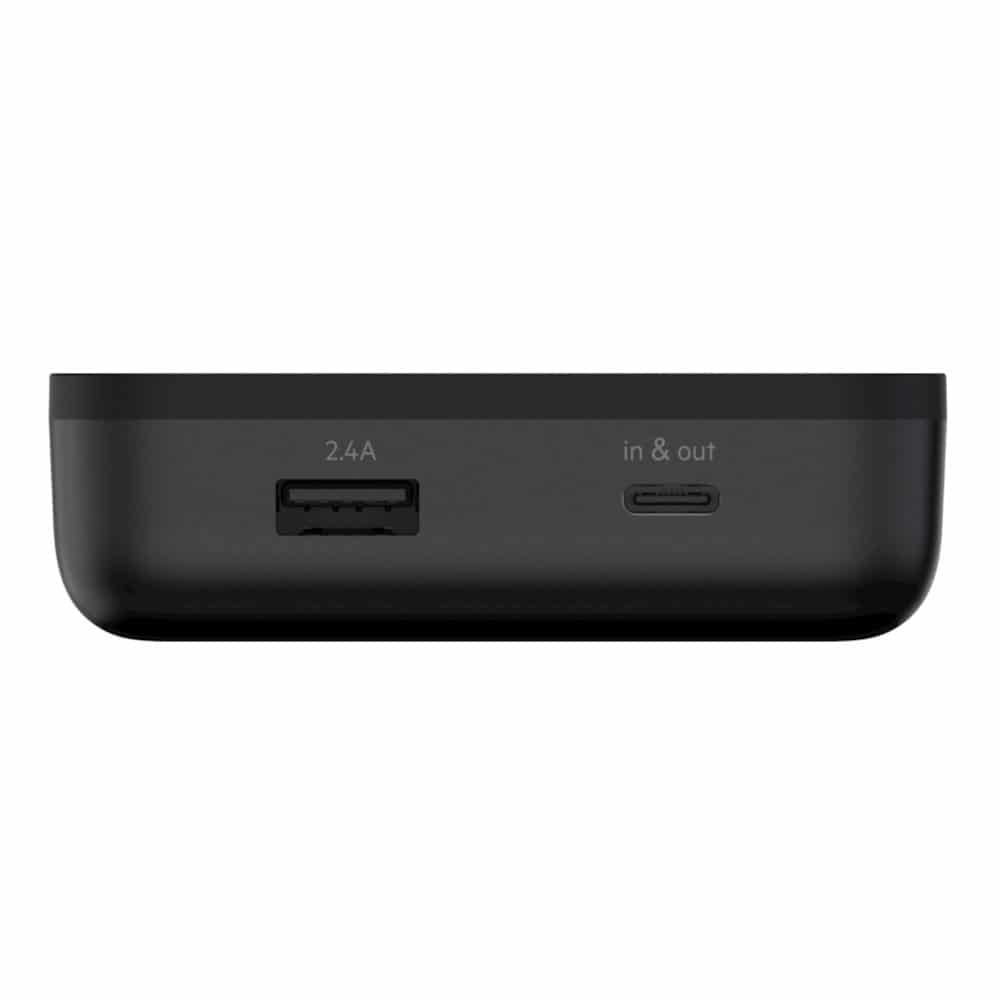 With so many features and such power delivery, safety is always the crucial parameter. When it comes to charging laptops, heating issues are always a point of concern, and if a power bank cannot handle the heat, then can spell trouble for the user. Belkin ha has taken care fo this matter with a whole range of safety features and protocols. Belkin batteries include sensors monitoring heat, voltage, and circuitry so the power bank will not overheat and harm your devices. Excess heat, voltage fluctuation or circuit abnormalities activate an override that shuts the battery down immediately for ultimate safety.
So, we have great features, excellent performance, class apart safety, and a beautiful and robust design. But what about the Warranty?
While most other brands offer a pretty rock-solid warranty on their power banks, Belkin takes it a step further.
Being a company dedicated to quality, Belkin provides a 2-Year Warranty with your power bank and a little bit extra.
The Belkin product warranty also extends to protect your connected devices for added peace-of-mind. If your device is damaged by an electrical charge while properly connected to the charger, Belkin will repair or replace it up to a value of $2,500. Now, this is a warranty that is not only rock-solid but also shows that Belkin cares.
All in all, the Belkin Boost Charge is a Power Bank that has great capacity, excellent power delivery and a warranty that makes it a truly compelling device to own. So, if you are looking for the best power bank in the market, go for the Belkin Boost Charge 20k Powerbank.