International tech innovator AVITA announces the official debut of its flagship products in the Middle Eastern. The launch series include LIBER V, ADMIROR, ESSENTIAL, and PURA notebooks in the region. Keeping in line with the demand for laptops in the region, the new notebook series is best-in-class and a well-designed modern range,  AVITA is all set to offer a cutting-edge experience as the launch series cater to offering a wide array of award-winning technology.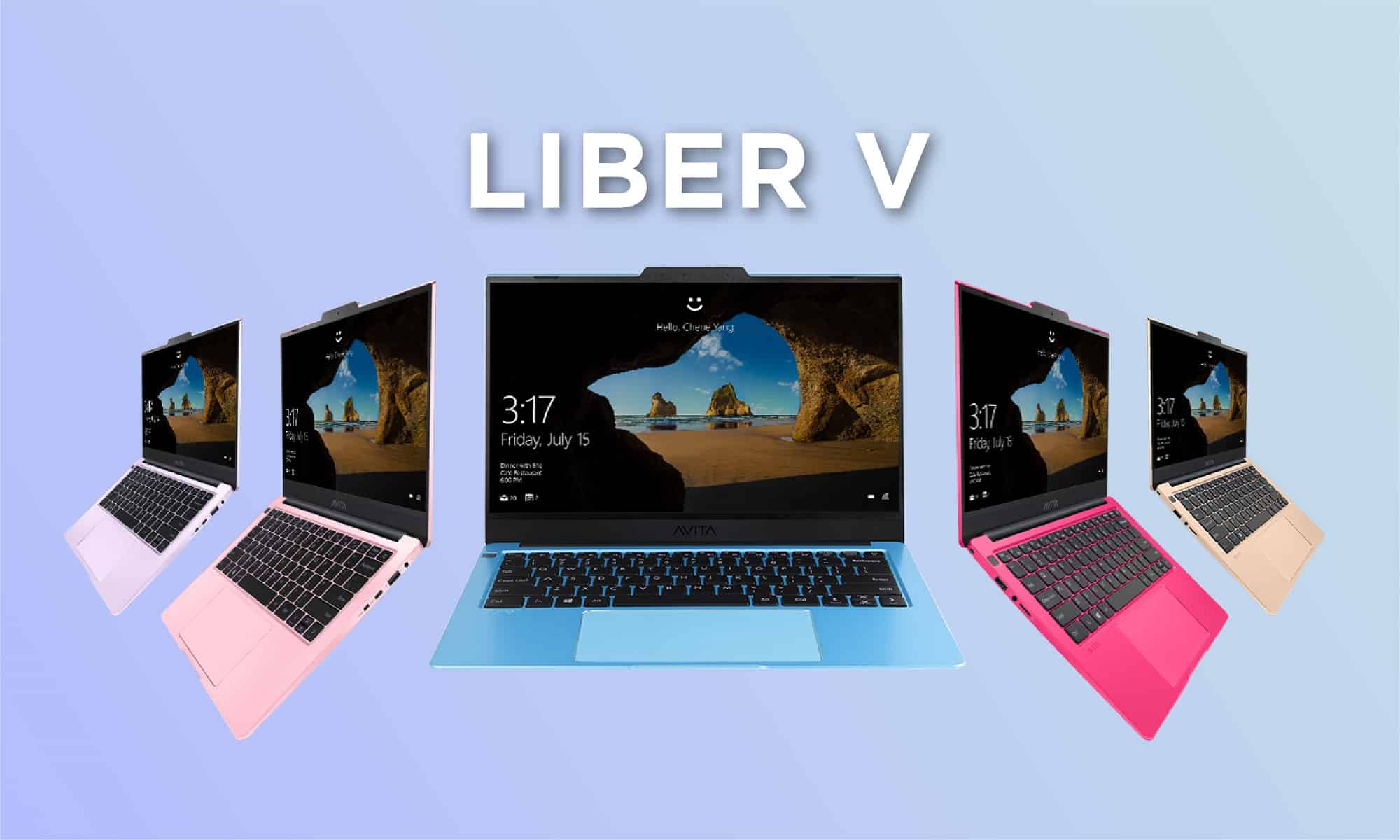 AVITA LIBER V: 
Post-modern aesthetic and breakthrough ultra-narrow bezel presents an extraordinary visual impression
LIBER V offers an unprecedented visual experience with its boundless ultra-narrow bezel and post-modern aesthetic. Equipped with professional-level functionality, whether for work, school, or entertainment, LIBER V meets diverse multi-tasking needs whilst showing off a notebook design, unlike anything that has gone before. The LIBER V series has achieved further advancements with its 78.2% screen-to-body ratio by compacting a 14-inch screen inside the 13.3-inch body. It's 3.7mm boundless ultra-narrow bezel is at least 10% slimmer than other similar products on the market.
AVITA understands the increasingly diverse needs of young professionals, and so LIBER V is equipped with multiple highly functional features. Adapting the new 10th Gen Intel Core i5-10210U/i7-10510U processors, 8GB DDR4 ROM, and large storage up to 1TB SSD, LIBER V can swiftly process and access files, allowing the user to work with ease, even with complex workflows.
AVITA ADMIROR: 
Bringing innovative technology, fashionable design, and gothic architecture elements into one
With the theme of "#YouCanbe", AVITA continues to break the traditional market perception of lightweight notebooks with its new ADMIROR series, available in a range of color options that contrast the norm: "Blazing Brown" and "Flaming Copper", as well as "Delight Pink", "Pride Blue" and "Traveler Green". The five colors create five unique overall characters to match the user's own personal sense of self.
ADMIROR also adopts ULTRA Slim design and a special metallic chassis. With its slimmest point at just 9mm thin and weighing from just 1.29kg, ADMIROR is extremely handy to carry as your always-on life partner. This series is also available in two different screen size options – 14-inch and 15.6-inch models, fulfilling the needs of a wide spectrum of user types.
AVITA PURA: 
Bringing iridescent colors with minimalist aesthetics, VITA will also launch the new PURA series. With the theme of "Simply You Need", the all-new AVITA PURA adopts a minimalistic design that takes the clutter out of the equation, bringing a wholly new, smartly designed laptop for the new generation. It offers something that is different, simple to use in busy daily life and has a chameleon-like ability to change functionality and support around daily moods and reactions. Its technical specifications give it responsive performance during daily computing tasks, so PURA can easily serve simple business, study, or entertainment duties. The space-gray body shows off a simple yet futuristic, light & slim, and non-slip design, weighing only 1.344kg making it easy to carry anywhere.
Globally bestselling model PURA launches with new specifications AMD (R5) and PURA Intel (i5), continuing the minimalist aesthetic. AVITA understands the increasingly diverse needs of young professionals, and so the certainly packs a punch. With AMD Ryzen 3 3200U and AMD Ryzen 5 3500U processor options for high-performance speed, Radeon Vega 8 Graphics chip, and 8GB DDR4 RAM, PURA can swiftly process and access files, allowing the user to work with ease; even with complex workflows. The superfast 256GB SSD internal memory (microSD card slot supporting up to an additional 2TB, subject to compatibility) ensures the notebooks are able to start up at a lightning-quick speed of fewer than 20 seconds.
AVITA ESSENTIAL:
The versatile entry notebook for all-day comfort, the 14″ model comes with a full-sized screen with a 4mm narrow bezel for maximized viewing comfort even after a long day of use. Coupled with professional design, the unique cloth design of Matt White, Matt Black, and Concrete Grey is perfect for everyday home or office use.
It features an enormous capacity offered by the SATA SSD of up to 128GB for faster data processing and near-instant booting up, making it a work-friendly entry-level laptop. With maximum power consumption as low as 2.6GHz, the laptop promises excellent power efficiency and guarantees a battery life longer than ever. Besides, the fan-less design eliminates distracting noises, allowing the device to run almost silently so you can stay focused on the tasks on hand. Measuring merely 20mm for the 14″ model, the lightweight, effortlessly portable Essential is designed to accompany you wherever you go.
Availability 
AVITA's flagship products are available at Nakheel Mall, Dubai Mall, Burjuman, Sharjah City Center, Wafi Mall, Khalidya Mall, Abu Dhabi, and Mushrif Mall, Abu Dhabi